The Top 9 Pest Control Franchise Businesses in USA for 2023
Update: 12.11.2021
Pest Control Franchise business will never lose importance. Their services are expected to see further improvement in terms of new product development such as air purification and others. Running through the list of Top 9 Pest Control Franchise Businesses in USA in 2022, you may notice brands which have been leading on the market for years.
Pest control is important for health, safety and comfort of people. The business generates up to 16 billion USD in the USA every year. The number suggests that owning a Pest Control Company is quite cost-effective. Franchising makes it easier and even cheaper, as an entrepreneur gets help and support. Pest Control Franchises offer a lot of solutions to residential and business consumers. There are businesses which deal with lawn care, mosquito removal, pest and vegetation control services, etc. View the list of the best Pest Control Franchise Businesses in the USA which includes only well-recognized and successful brands.
Here are the top 9 best pest control franchise businesses in the USA
Mosquito Shield
Founded in: 2001
Franchising since: 2013
Franchise units: 54
Initial investment: from $73,100
Royalty Fees: 6-9%
Since 2001, Mosquito Shield has been providing residential and commercial customers with professional mosquito & tick control services—with amazing results. Every Mosquito Shield franchise is built for success, on a foundation of proprietary resources and know-how. Best of all, the Mosquito Shield franchise opportunity allows you to bring a unique, exciting business approach with guaranteed customer results to a new and rapidly growing market. Our Training and Support Program is the foundation upon which we've built the success of the Mosquito Shield business.
---
Pestmaster Services Inc.
Founded in: 1979
Franchising since: 1991
Franchise units: 26
Initial investment: from $36,400
Royalty Fees: 4-7%
Pestmaster Services is a nationwide leader in pest and vegetation control and has ranked in the top 100 pest control companies in the nation by PCT Magazine for the past 15 years. Pestmatser Services prides itself in the fact that we are very good at matching existing talent of our franchise owners with the talents offered on staff at our corporate office and with the vast level of talent offered by our international franchisee network. We offer an extensive training program that includes technical services, managing a business, employee issues, marketing ideas/planning to budgeting direction and assistance.
---
Mosquito Squad
Founded in: 2004
Franchising since: 2005
Franchise units: 237
Initial investment: from $23,925
Royalty Fees: 10-8%
Mosquito Squad is North America's first and most trusted mosquito eliminator. We are the leading tick and mosquito control franchise with the largest footprint and the largest client base in the mosquito elimination category. Joining The Squad is a tremendous opportunity to pursue your personal, career, lifestyle, wealth, and income objectives. With a successful and robust franchise partnership like Mosquito Squad, you can be your own boss, build your own team and establish a great client base with a very strong recurring revenue stream.
---
Green Home Solutions
Founded in: 2010
Franchising since: 2010
Franchise units: 183
Initial investment: from $50,480
Royalty Fees: 7-10%
Green Home Solutions Franchise Owners are passionate about providing healthy indoor environments for homeowners and businesses in their communities. Our low-investment, high-margin business model makes it an attractive way for you to own a business of your own, as you help create a cleaner world. At Green Home Solutions, our franchise system will provide the support for Franchise Owners to become exceptional business owners. Our goal is to empower each Franchise Owner to reach their desired work-life balance, as well as their earning potential.
---
Cousins Maine Lobster
Founded in: 2011
Franchising since: 2014
Franchise units: 32
Initial investment: from $175,900
Royalty Fees: 6 - 8%
Brick & Mortar storefronts, standalones, in-lines, food halls & more. Cousins Maine Lobster franchise offers flexible models to fit your market. We will assist you every step of the way in choosing a location, building your restaurant, opening, and beyond! Our food trucks are world famous, and are the perfect way to bring the Maine lobster experience to your neighborhood. Being part of the Cousins Maine Lobster family means training in Maine. You'll bait and haul traps, measure lobsters for sustainability, and learn what makes our Maine lobster so special, following our product all the way from trap to truck or table.
---
Critter Control
Founded in: 1983
Franchising since: 1987
Franchise units: 72
Initial investment: from $63,530
Royalty Fees: 6%
Critter Control offers you the opportunity to operate an animal pest control franchise business in these markets. Our animal pest management exclusion and repair franchise opportunities are extremely affordable and allow you the flexibility of running your Critter Control franchise right out of your home. This means, low start-up costs and high profitability, giving you more time and money to do other things you enjoy. Critter Control is recognized as a Veteran Friendly Franchisor and is now offering a discount on the initial franchise fee for qualified veterans.
---
Mosquito Hunters
Founded in: 2013
Franchising since: 2015
Franchise units: 422
Initial investment: from $70,000
Royalty Fees: 10%
Mosquito Hunters exists to help thousands of residential, commercial & municipal clients enjoy their leisure time more by keeping the mosquitoes, fleas, and ticks at bay. At Mosquito Hunters, our corporate team takes pride in helping our Franchisees grow. We've come to understand that it's the Franchise Owners keeping us in business and we make ourselves available to them all hours of the day to provide the assistance they need. We want to enable our Owners to continually grow their businesses as the market evolves, including business development coaching, compliance assistance, and local marketing guidance.
---
Lawn Doctor
Founded in: 1967
Franchising since: 1967
Franchise units: 568
Initial investment: from $101,840
Royalty Fees: 10%
Lawn Doctor offers custom lawn care solutions to residential and business consumers, including lawn services, pest control, and tree and shrub care. Lawn Doctor provides franchisees with access to innovative technology and equipment to help run the business, greatly increasing efficiency and profitability. Lawn Doctor offers a home-based business model, meaning that franchisees do not take on costs, delays or risks associated with operating a retail location. Through our training process all of our franchisees learn what they need to know in every area of their new business, from agronomy to marketing, and compiling accurate proposals to sales.
---
Mosquito Joe
Founded in: 2010
Franchising since: 2012
Franchise units: 286
Initial investment: from $90,600
Royalty Fees: 7-10%
Are you at a crossroads in your professional life? Not sure what the best next step is? There's never been a better time to start your own mosquito removal franchise and be your own boss. Outdoor pest control is an emerging, high-growth market and Mosquito Joe stands out as a leader. When you own a Mosquito Joe franchise, you have a nationally recognized brand, continual support and best-in-class systems. No experience required. We'll give you the training and support you need to grow an amazing business! Find success and a satisfying lifestyle in the great outdoors.
---
Superior Mosquito Defense
Founded in: 1996
Franchising since: 2013
Franchise units: 18
Initial investment: from $23,800
Royalty Fees: 5%
Own your own business! If you have a passion for the outdoors, ridding homes and neighborhoods of annoying mosquitoes and a keen business sense, we'd love for you to join our Superior Mosquito Defense team, as a franchisee. You will receive a dedicated ongoing marketing support team to aid in the development and implementation of your marketing plan. You will receive training and continued support from the entire experienced team at the Superior Mosquito Defense corporate office as well as Superior Mosquito Defense franchise owners.
---
Conclusion
To summarize, we can say any of the listed above pest control franchises is worth buying. But there is a lot to consider while choosing the best one for you. Pay attention to the reputation of the brand, what training and support are offered, check if the other franchisees are successful. But the main thing you need to do is to align your budget with investment requirements of the brand. In order to ease the challenge, we have made the comparison flowchart of the best pest control franchises in the USA for you. It shows the minimum estimated initial investment of each brand. By using it, you can figure out the difference in financial requirements for each franchise, and decide which one fits you the most.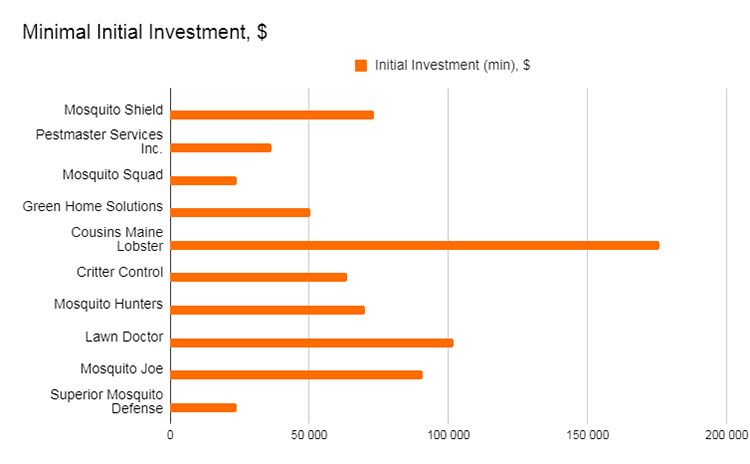 View all Pest Control Franchises
Want to advertise your franchise with us and successfully boost your business?
Please send us your request and we will get back to you shortly!
DIDN'T FIND WHAT YOU WANT?
ASK THE EXPERTS