Top 8 Car Scratch Repair Franchise Opportunities in USA for 2023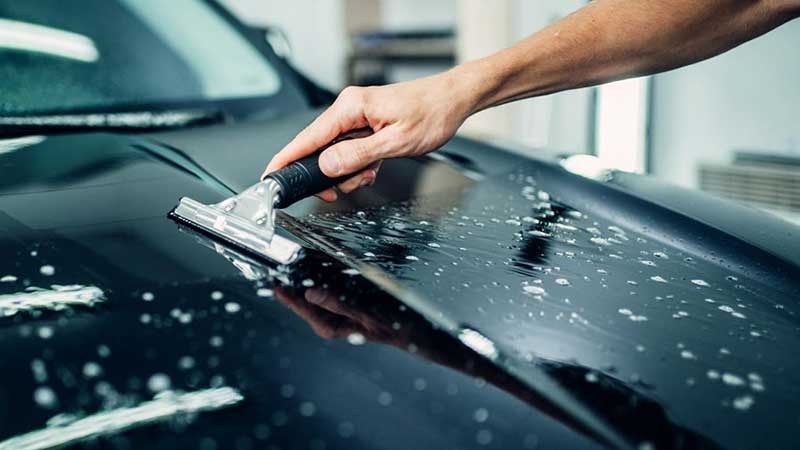 Car Scratch Repair franchises specialize in car body repair services which include automotive finishes, fabric and rust protection, window tinting, paint protection films, car panel and glass repair, and others. The businesses operating in the field are successful as the demand for the services always grows due to the increasing number of vehicles in the USA. 2022 is expected to bring the best Car Scratch Repair franchise opportunities as the market offers more technologically advanced tools and equipment. If you have ever thought about starting your own business, the Car Scratch Repair shop franchise is for you. The industry doesn`t require mandatory automotive experience to become a successful franchisee. All you need is just to catch the main practices the franchisor will share with you, and do a training program. You will be constantly and consistently advised and supported by a professional franchise team in your future endeavors.
Here is the 8 car scratch repair franchise business opportunities in the US
Carstar
Founded in: 1989
Franchising since: 1989
Franchise units: 719
Initial investment: $298,200 - $804,300
Franchise Fee: $20,000
Royalty Fees: 1,5%+
Ad Royalty Fee: 1%
Carstar is the leading industry leader in post-crash repair and one of the largest MSO networks in North America. CARSTAR provides high-quality car body repair services after damage. The service centers of the company are equipped with modern equipment. Here, customers can get one-piece body and frame repairs, towing assistance, car scratch repair, expert paint jobs and a nationwide repair warranty. Carstar has been the largest car crash repair franchise in North America since 1989. Store owners reap huge benefits: benefit from a national fleet program, the ability to leverage the purchasing power of managed brands, and benefit from partnerships with leading suppliers.
---
Ziebart
Founded in: 1959
Franchising since: 1962
Franchise units: 388
Initial investment: $297,800 - $469,100
Franchise Fee: $36,000
Royalty Fees: 5% - 8%
Ad Royalty Fee: 5%
Ziebart International Corporation was founded in 1959 in the field of rust protection and currently has about 400 offices in 34 countries and more than 1200 service centers around the world. The company is headquartered in Troy, Michigan. Ziebart is the worldwide leader in vehicle appearance and protection services. Ziebart specializes in professional car finishes, fabric and rust protection, window tinting, paint protection films, bed linen spraying, scratch repair, glass repair and various accessories. Ziebart offers high quality proprietary products and services and a diverse business model. The franchisee of the company, in addition to partnering with a globally recognized brand, receives all the tools necessary for long-term success.
---
SuperGlass Windshield Repair
Founded in: 1992
Franchising since: 1993
Franchise units: 336
Initial investment: $18,685 - $84,205
Franchise Fee: $5,000 - $17,500
Royalty Fees: 4%
David Casey, Bill Mitchell and Bill Costello founded SuperGlass Windshield Repair in 1992. The company started franchising in 1993. To date, more than 300 franchises have been created around the world. SuperGlass Windshield Repair is the world's largest franchise specializing in windshield repair only. Today the company provides services for car windshield repair, scratch removal and headlight restoration. SuperGlass's marketing and technical staff are experienced professionals. There is a trend every year that instead of replacing damaged windshields, more motorists, car dealerships and insurance companies choose to have their windshields repaired. Therefore, the SuperGlass Windshield Repair franchise is a profitable investment with a good earning potential.
---
Maaco
Founded in: 1972
Franchising since: 1972
Franchise units: 425
Initial investment: $301,585 - $619,918
Franchise Fee: $40,000
Royalty Fees: 9%
Maaco was founded in 1972 by AAMCO Transmissions co-founder Anthony Martino. Maaco is a leader in automotive paints and collision protection with over 400 owner-operator franchises. The Maaco franchise involves the management of an automotive repair center specializing in car painting and body repair. The company provides geographic protection for the service center of its franchisee. Maaco is a retail-oriented auto repair franchise company with successful owners from various walks of life. No automotive experience is required to become a famous brand franchisee with nearly 50 years of experience. It is a proven business model, like a family business.
---
Midas
Founded in: 1954
Franchising since: 1956
Franchise units: 2,010
Initial investment: $212,150 - $595,512
Franchise Fee: $35,000
Royalty Fees: 10%
Midas, Inc. was founded in 1954. Midas is an iconic brand that has been part of American car culture since the 1950's. It is an American network of automotive service centers providing high quality car repair services from scratch repairs to transmission replacements. Today the Midas network has more than 2000 offices around the world. In 2012 company TBC acquired the Midas franchise system, becoming its parent company. The company offers its customers comprehensive car care. The Midas franchisee will certainly reap the benefits of joining one of the most recognizable names in the automotive market. Worldwide brand awareness gives the franchisee and their business a competitive edge. In addition, the company offers exclusive benefits.
---
Tuffy Tire & Auto Service
Founded in: 1970
Franchising since: 1971
Franchise units: 165
Initial investment: $224,000 - $418,500
Franchise Fee: $30,000
Royalty Fees: 2,5 - 5%
Ad Royalty Fee: 5%
The Tuffy Auto Service Center was first opened in 1970 in Toledo, Ohio, by Charles Amy. A year later, the company started franchising and now has stores in many states. Tuffy offers a full range of vehicle maintenance and repair services with labor and parts warranty that the customer can take to any store. Tuffy franchisees benefit from cooperation. Thanks to their massive purchasing power, the company is able to offer quality parts from well-known manufacturers in the country at prices that most of their competitors cannot match. The company operates Tuffy Technical Centers, state-of-the-art training facilities used for the initial and ongoing training of Tuffy personnel. Tuffy Auto Service franchises offer good business opportunities.
---
Precision Tune
Founded in: 1975
Franchising since: 1978
Franchise units: 289
Initial investment: $127,000 - $253,600
Franchise Fee: $25,000
Royalty Fees: 6 - 7,5%
Ad Royalty Fee: 1,5%
Since their founding in 1975, Precision Tune Auto Care has provided motorists with a variety of vehicle maintenance and light repair services, including scratch repairs. Car maintenance is carried out at subsidiaries throughout South America, North America and Asia. The company has been operating in the auto parts market for over 40 years. Precision Tune helps you start and manage a successful auto repair franchise by providing your franchisees with all the tools they need. Precision Tune Service Centers provide comprehensive vehicle care, diagnostics, scheduled maintenance, and vehicle repairs. Here you can get a full range of services, from oil changes, cosmetic repairs to engine replacements.
---
Christian Brothers Automotive
Founded in: 1982
Franchising since: 1996
Franchise units: 242
Initial investment: $454,250 - $582,400
Franchise Fee: $135,000
Royalty Fees: Varies
Christian Brothers Automotive was founded in 1982 in Houston, Texas, by Mark Carr. Today, more than 200 franchisees are successfully doing automotive repair and maintenance business with Christian Brothers. The main mission of the company is to change the attitude of customers towards car service by providing qualified, honest and genuine car repairs. A potential franchisee does not need to understand cars. It is enough that he has a strong and proven leadership experience and a commitment to being the best at what he does. Each new franchisee undergoes over 275 hours of extensive training prior to opening a new Christian Brothers Automotive dealership. The company is looking for franchise owners who strive not only to build a business, but also to serve people.
---
Conclusion
To summarize, we can say any of the listed above car scratch repair franchises is worth buying. But there is a lot to consider while choosing the best one for you. Pay attention to the reputation of the brand, what training and support are offered, check if the other franchisees are successful. But the main thing you need to do is to align your budget with investment requirements of the brand. In order to ease the challenge, we have made the comparison flowchart of the best dent and scratch repair franchises in the USA for you. It shows the minimum estimated initial investment and initial franchise fee of each brand. By using it, you can figure out the difference in financial requirements for each franchise, and decide which one fits you the most.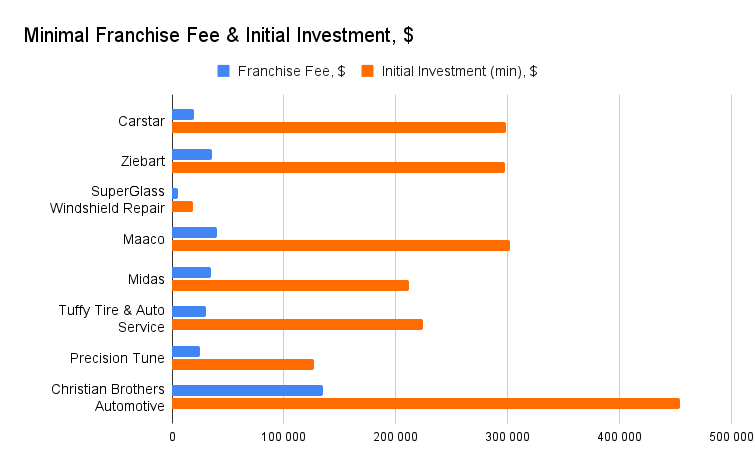 View all Car Scratch Repair franchises
Want to advertise your franchise with us and successfully boost your business?
Please send us your request and we will get back to you shortly!
DIDN'T FIND WHAT YOU WANT?
ASK THE EXPERTS