Top 10 Fast Food Franchise Business Opportunities in the UK for 2023
Update: 04.11.2021
Fast life pace, quick service, and tasty dishes made a modern person hooked on fast food cafes and restaurants. The fast-food industry stays always profitable despite the constant changes it undergoes. The fast-food franchise sector is considered to be one of the most successful as four out of five franchises become profitable within the first two years. The fast-food franchise market in the United Kingdom is quite saturated, mostly by international brands. For the last 3 years, more than 4000 new fast food outlets have been started across the country. If you think fast food business is right for you to own, check out the list of Top 10 Fast Food Franchise Business Opportunities in the United Kingdom to choose the one.
Here are the top 10 best fast food franchises in the United Kingdom
Five Guys
Founded in: 1986
Franchising since: 2002
Franchise units: 1500+
Initial investment: from $400,000 to $730,000
Royalty Fees: 6%
Five Guys is a fast food restaurant focused on serving gourmet hot dogs, hamburgers and french fries. It offers fast casual food that is not only America's favorite but also a staple in fast food restaurants across the world. Five Guys restaurants are typically located in retail shopping centers and other urban locations which are acceptable to the franchisor.
---
Nando's
Founded in: 1987
Franchising since: 1992
Franchise units: 1000+
Initial investment: from $800,000
Royalty Fees: 7%
Nando's is an international food chain originating in South Africa. Founded in: 1987, Nando's operates over 1,000 outlets in 35 countries. Thanks to the delicious food and casual dining experience, Nando's has been a success since the very beginning. The brand was introduced to the UK in 1992, and now with nearly 400 restaurants, has more Nando's outlets than any other country.
---
Domino's Pizza
Founded in: 1960
Franchising in UK since: 1985
Franchise units: 13,200
Initial investment: from $370,000
Domino's Pizza Group is officially Britain's favorite pizza chain. The company sells one pizza in Britain every 3 seconds. The success of Domino's Pizza business is built around having a simple business approach — deliver hot and freshly made pizzas in the quickest time possible.
---
McDonald's
Founded in: 1955
Franchising since: 1955
Franchise units: 37,000+
Initial investment: $1,058,000 - $2,230,000
Initial Franchise Fee: $45,000
Ongoing Royalty Fee: 4%
Ad Royalty Fee: $4%+
McDonald's is the world's largest restaurant chain by revenue, serving over 69 million customers daily in over 100 countries. A new McDonald's restaurant is opened in every 14.5 hours. McDonald's sells over 75 burgers every single second. Approximately 7% of the potatoes grown in the U.S. are turned into McDonald's fries.
---
Papa John's
Founded in: 1985
Franchising since: 1986
Franchise units: 5000+
Initial investment: from $130,000 - $844,500
Royalty Fees: 5%
John Schnatter dreamed of opening his own pizza restaurant from the time he was a high school student working at a local pizza parlor. Today, Schnatter's dream has resulted in thousands of Papa John's restaurants worldwide. There are more than 400 Papa John's stores in the UK.
---
KFC
Founded in: 1930
Franchising since: 1952
Franchise units: 23,000+
Initial investment: $1,442,550 - $2,771,500
Initial Franchise Fee: $45,000
Ongoing Royalty Fee: 5%
Ad Royalty Fee: $5%
KFC, also known as Kentucky Fried Chicken, is an American fast food restaurant chain that specializes in fried chicken. KFC is the traditional Christmas eve dinner in Japan. KFC's original product is pressure-fried chicken pieces, seasoned with Sanders' recipe of 11 herbs and spices. The constituents of the recipe represent a notable trade secret.
---
SUBWAY
Founded in: 1965
Franchising since: 1974
Franchise units: 42,000+
Initial investment: $150,050 - $328,700
Royalty Fees: 8%
Subway is an American privately held fast food restaurant franchise that primarily sells submarine sandwiches and salads. The story of the Subway brand started more than 50 years ago by 17-year-old Fred DeLuca. Today Subway serves about 5,300 sandwiches every 60 seconds, which is roughly 320,000 sandwiches every hour.
---
Pizza Hut
Founded in: 1958
Franchising since: 1959
Franchise units: 14,645
Initial investment: $302,000 - $2,185,500
Initial Franchise Fee: $25,000
Ongoing Royalty Fee: 6%
Ad Royalty Fee: 4.25%
Pizza Hut is known for its Italian-American cuisine menu including pizza and pasta, as well as side dishes and desserts. Pizza Hut delivered a pizza to the International Space Station in 2001, paying the Russians $1 million to transport the pizza. The company is the largest user of cheese in the world. The most successful Pizza Hut is located in Moscow and sells £6,500 in pizza, pasta and drinks per day.
---
Burger King
Founded in: 1956
Franchising since: 1956
Franchise units: 16,770
Initial investment: $323,100 - $3,076,600
Royalty: 4.5% of monthly gross sales
Advertising: 4% of monthly gross sales
Burger King Corporation, restaurant company specializing in flame-broiled fast-food hamburgers. It is the second largest hamburger chain the the United States, after McDonald's. Worldwide, over 11 million customers visit Burger King Restaurants for their burger.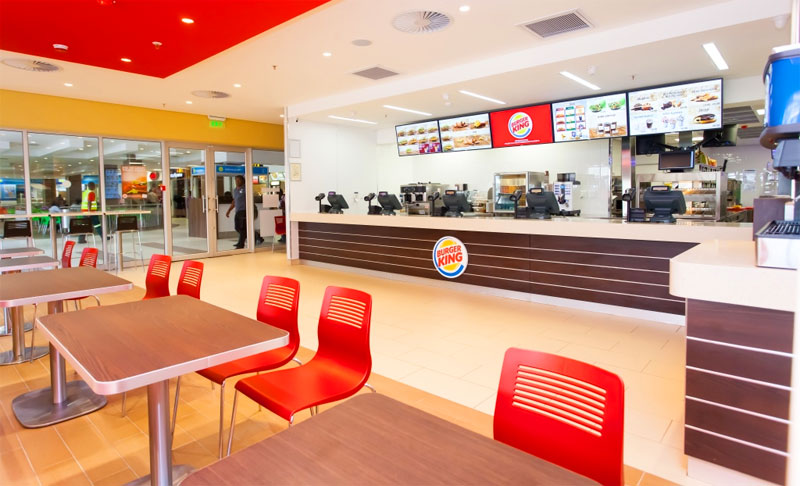 ---
Marugame Udon
Founded in: 2001
Franchising since: 2005
Franchise units: 1000+
Initial investment: $660,000
Royalty Fee: 6%
Marugame Udon is an established Japanese restaurant concept that brings some of the best freshly-made on site udon noodles, tempura and omusubi rice balls in a self-service casual setting. Customers can enjoy superior quality Japanese cuisine and order and be served in as quick as 2 minutes thanks to Marugame's seamless system. Unit economics are compelling: it is not uncommon for a Marugame store to serve over 1,000 customers a day.
---
View all fast food franchises
Want to advertise your franchise with us and successfully boost your business?
Please send us your request and we will get back to you shortly!
DIDN'T FIND WHAT YOU WANT?
ASK THE EXPERTS