The Best 10 Kids Gym Franchise Business Opportunities in USA for 2022
Update: 04.11.2021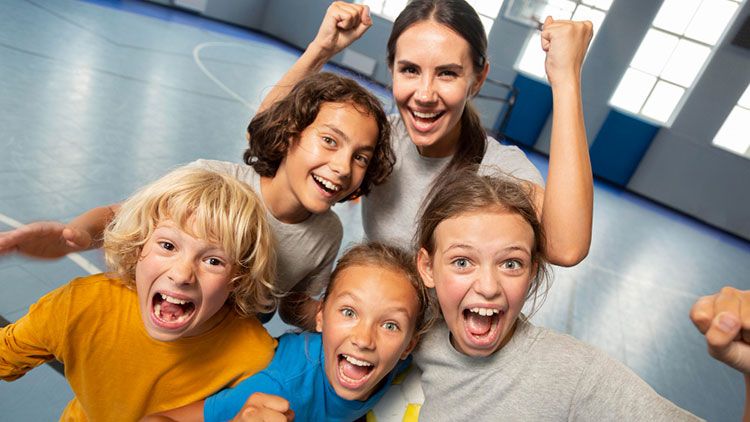 A kids gym franchise business is on the one hand very rewarding, as you make a contribution to the health and quality of life of children. On the other hand, it is always actual as parents are always ready to invest in their kids. Moreover, the necessity of gym services cannot be underscored enough because nowadays kids do not have an active lifestyle as they spend a lot of time sitting at their tables and playing on gadgets. They also consume a lot of junk food which leads to obesity. Therefore, kids gym franchise businesses are always profitable and a good choice for own business. However, the success of it depends on what brand you choose. The best kid's gym opportunities of franchising are offered by experienced companies with proven business processes, well-established marketing, and a good reputation. Here is the list of top kid's gym franchises that have all mentioned above and are willing to share their values and knowledge with you.
Here is the best 10 Kids Gym franchise businesses in USA
Amazing Athletes
Founded in: 2002
Franchising since: 2006
Franchise units: 144
Initial investment: $33,450 - $64,950
Franchise Fee: $30,000 - $40,000
Royalty Fees: 8%
Now is a great time to invest in an Amazing Athletes franchise. Our children's fitness business has been steadily growing as more and more people see for themselves the positive impact we have on early childhood physical education. Amazing Athletes kids fitness franchises can easily be run from a home office. Why invest in a franchise that requires a costly business lease when you can save money and work from home? We give our franchisees knowledge and tools to help them run their own business.
---
We Rock the Spectrum
Founded in: 2013
Franchising since: 2013
Franchise units: 78
Initial investment: $133,000 – $157,000
Franchise Fee: $35,000 - $50,000
Royalty Fees: 5%
We Rock the Spectrum Kid's Gym is a sensory gym franchise that is committed to providing a safe, nurturing, and fun environment for our kids by providing the support and amazing sensory gym equipment to create these safe spaces. Our spaces foster learning, exploration and safe sensory experiences. Through our nonprofit My Brother Rocks The Spectrum Foundation®, we provide social skills groups and activities for children across the spectrum. Join the fastest growing international franchise of sensory gyms, and become your own boss today.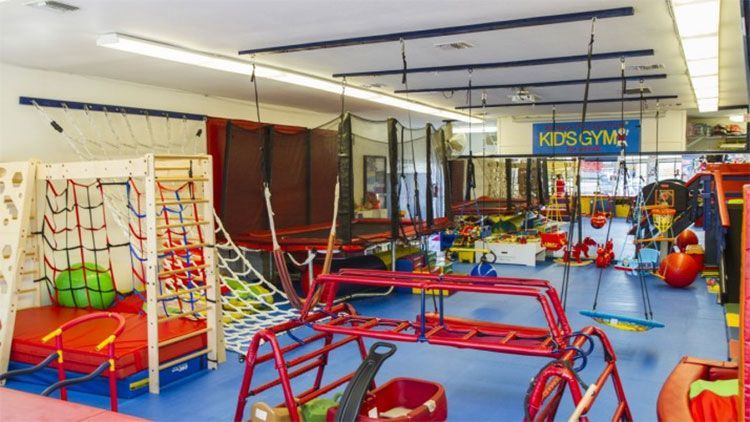 ---
Tumbles
Founded in: 1988
Franchising since: 1993
Franchise units: 8
Initial investment: $198,500 - $282,500
Franchise Fee: $42,000
Royalty Fees: 7%
Tumbles is a growing kids' gym and STEAM (Science, Technology, Engineering, Art and Math) franchise. Our mission is both simple and ambitious: Shaping the minds and bodies of the future. Based on developmental milestones, our proven programs encourage kids to get active, take measured risks, explore independently, and interact with their peers in a fun, safe and clean environment. As a member of the Tumbles family, you can build a profitable franchise business​ while fighting childhood obesity, challenging young minds and bodies, and making a difference in your community.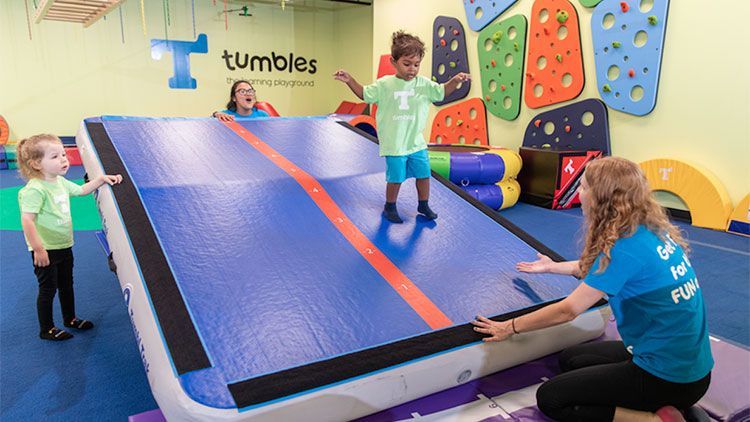 ---
My Gym
Founded in: 1983
Franchising since: 1994
Franchise units: 694
Initial investment: $36,760 - $277,200
Franchise Fee: $25,000 - $55,000
Royalty Fees: 7-8%
Since 1983, My Gym has empowered kids to have a positive self-image with award-winning programs that nurture them to become healthy adults. And since 1994, we've empowered passionate business owners like you to make a living while making a difference in their communities. My Gym Children's Fitness Center has responded to the demand in the marketplace by creating the most innovative program in the children's educational fitness industry. Our program has been devised to help children 3 months to 13 years of age develop physically, cognitively and emotionally.
---
Romp n' Roll
Founded in: 2004
Franchising since: 2006
Franchise units: 357
Initial investment: $198,700 - $399,150
Franchise Fee: $45,000
Royalty Fees: 6%
With our exclusive focus on 3-month to 5-year old children, Romp n' Roll is the leading franchisor in early childhood development & enrichment in kids gym franchise concepts. As a Romp n' Roll franchise owner, you will be able to build a successful family friendly business that is unique in this highly in-demand market for children. Parents and children are addicted to our continually rotating curriculum that offers fantastic gym, music & art classes for kids - all within a single remarkable indoor playground franchise!
---
The Little Gym
Founded in: 1976
Franchising since: 1992
Franchise units: 358
Initial investment: $223,400 - $466,500
Franchise Fee: $59,500
Royalty Fees: 8%
The first Little Gym location was opened in 1976 by Robin Wes, who had degrees in psychology, physical education, and motor development. The company has been franchising since 1992, a motor skill development center providing non-competitive developmental gymnastics and sports skills classes for kids ages four months to 12 years. The Little Gym curriculum has been designed to help children build motor skills while still having fun. If you qualify to open a The Little Gym franchise, it seems like an excellent financial opportunity as well as a very rewarding experience.
---
Tutu School
Founded in: 2008
Franchising since: 2012
Franchise units: 43
Initial investment: $88,600 - $150,100
Franchise Fee: $42,000
Royalty Fees: 5%
Tutu School is a collection of boutique-style ballet schools that cater specifically to children 18 months to 8 years-old. Our mission is simple: We believe that exposing children at the earliest possible age to creativity, movement, and classical music will only serve them well in whatever they choose to do with their lives, that dancing like swans and Sugar Plum Fairies not only exercises little bodies but also nurtures big imaginations, and that twirling should be a fundamental part of any childhood. Owning your own Tutu School gives you the unique opportunity to pair a thoughtful mission with an exciting brand, all wrapped up in the sweetest of packages.
---
i9 Sports
Founded in: 2002
Franchising since: 2003
Franchise units: 172
Initial investment: $59,900 - $69,900
Franchise Fee: $24,900
Royalty Fees: 7.5%
Based in Tampa, Florida, i9 Sports® is the nation's first and largest youth sports league franchise business with more than 3,000,000 player registrations and nearly 160 franchise locations operating nationwide, from New York to Hawaii. Our franchise owners offer youth sports leagues, camps, and clinics for boys and girls ages 3-14 in today's most popular sports, such as flag football, soccer, basketball, baseball, ZIP Lacrosse™ and volleyball. Our franchise is affordable to start, has low overhead and is inexpensive to scale, thanks to our work-from-home setup, volunteer and part-time staffing model and cost-effective, geo-targeted local marketing strategy.
---
Goldfish Swim School
Founded in: 2006
Franchising since: 2008
Franchise units: 120
Initial investment: $1,375,283 - $3,286,858
Franchise Fee: $50,000
Royalty Fees: 6%
Family-owned since its inception, Goldfish Swim School is more than a franchise – it's a business that franchisees truly treasure. Goldfish Swim School is more than an investment to its franchisees – it's a tropical, family-friendly environment that teaches kids crucial, life-saving and life-changing skills. We know what it takes to help a franchisee thrive in this industry and in the franchisee's community. What we need from you is passion – for kids, for the water, for owning a business, and for the chance to make a difference in the lives of children.
---
Great Play
Founded in: 2006
Franchising since: 2008
Franchise units: 12
Initial investment: $189,000 - $426,500
Franchise Fee: $40,000
Royalty Fees: 6%
After years in development, the first patented Great Play Interactive Gym™ opened in Stamford in 2006 to rave reviews. In 2008 the second site opened in Scarsdale and grew even faster, and Great Play (and its loyal customer base) has been growing rapidly ever since! Our mission is for every child to develop a love of physical activity that will lead to an active, healthy and confident life, whether they choose to pursue competitive athletics or simply play and move for fun. We design our activities to minimize kids' time waiting in line, while maximizing the hands-on experience that keeps it fun and helps develop skills.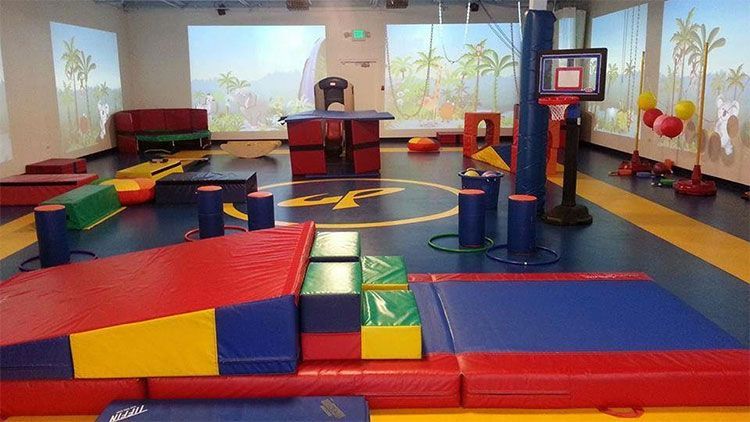 ---
Conclusion
To summarize, we can say any of the listed above kids gym franchises is worth buying. But there is a lot to consider while choosing the best one for you. Pay attention to the reputation of the brand, what training and support are offered, check if the other franchisees are successful. But the main thing you need to do is to align your budget with investment requirements of the brand. In order to ease the challenge, we have made the comparison flowchart of the best kids gym franchises in the USA for you. It shows the minimum estimated initial investment and initial franchise fee of each brand. By using it, you can figure out the difference in financial requirements for each franchise, and decide which one fits you the most.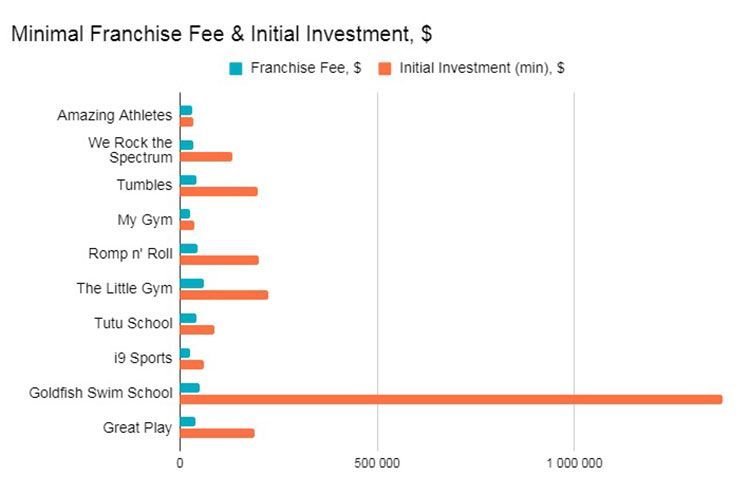 View all Kids Gym franchises
Want to advertise your franchise with us and successfully boost your business?
Please send us your request and we will get back to you shortly!
DIDN'T FIND WHAT YOU WANT?
ASK THE EXPERTS