5 Best Laundromat Franchise Business Opportunities in USA in 2023
Update: 04.11.2021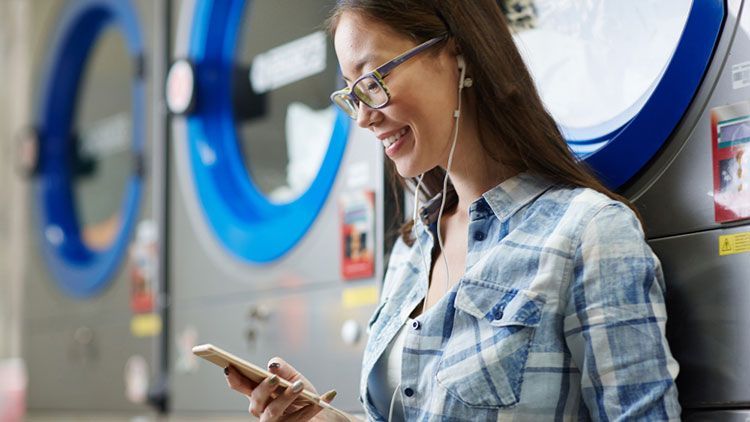 Americans are used to laundromats as the service has always been demanded especially by students, tourists, and people who rent apartments. According to statistics, the laundromat business brings about $5 billion in nationwide gross annual revenue. The laundromat franchise business is also diverse and profitable. It offers a lot of services including washing, dry cleaning, commercial laundry services, self-service, and others. If you are browsing to find the best laundromat franchise opportunities, stop here. We have made a list of the top companies in the industry for you to consider. All of them are looking for new smart franchisees ready to invest in the business and receive a good profit from it. They also offer their partners a proven business model, successful marketing and management strategies, and a good brand reputation. If you join one of the laundromat franchise teams, they will help you with training and provide you with any type of support.
Here is top 5 Laundromat Franchise businesses in USA
The Eco Laundry Company
Founded in: 2010
Franchising since: 2015
Franchise units: 2
Initial investment: $229,700 - $500,000
Franchise Fee: $30,000
Royalty Fees: 6%
The Eco Laundry Company, headquartered in New York City with a third location in Buenos Aires, Argentina, is the world's first certified B Corporation dry cleaner and laundry service franchise. The company is aligned with 1% for the Planet, a group of businesses dedicated to giving at least one percent of annual net revenue to environmental organizations. In January 2015, the company unveiled targeted franchising opportunities in New York and the tri-state area to expand the business and share its mission with a wider audience.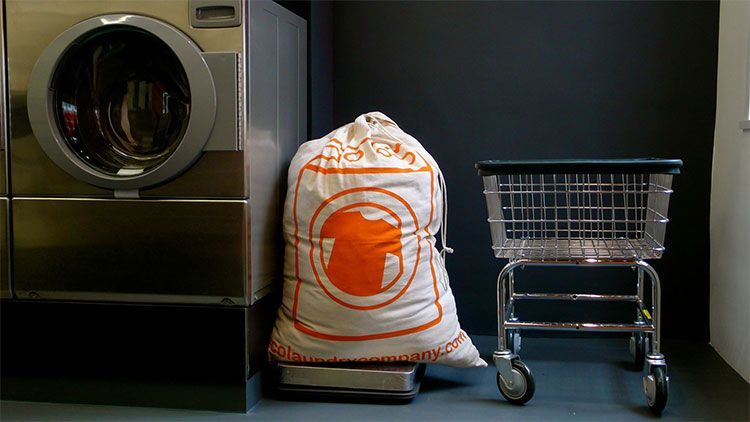 ---
Speed Queen
Founded in: 1908
Franchise units: 43
Initial investment: $490,000 - $1,275,000
Franchise Fee: $30,000
Royalty Fees: 4%
As a leader in commercial laundry, Speed Queen understands the industry from the inside out. While we have been making world-class laundry equipment since 1908, we are much more than a manufacturer. From advanced controls and cloud-based management platforms to laundry-focused financing and hundreds of Speed Queen Laundry stores around the world, Speed Queen technology makes the business of laundry more efficient, accessible and advantageous.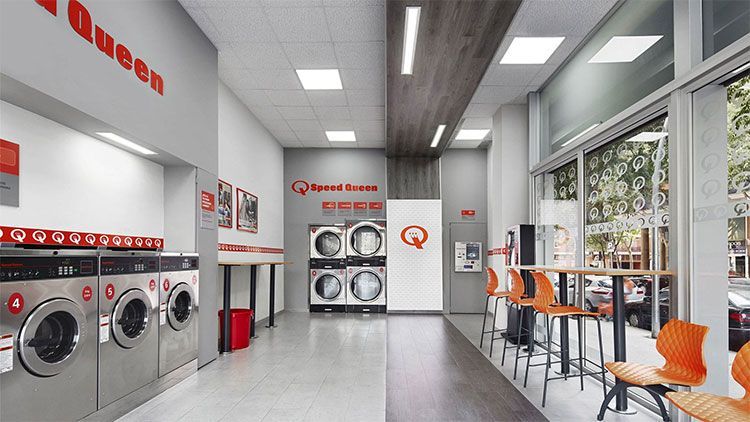 ---
Express Laundry Center
Founded in: 2011
Franchising since: 2011
Franchise units: 5
Initial investment: $75,000
Franchise Fee: None
Royalty Fees: None
The Express Laundry Center package is a proven and complete turnkey solution for new vended laundries. The Express Laundry Center brand teams highly efficient, high-speed laundry equipment and multiple services with local marketing and management support. It is a complete store solution available to vended laundry investors only through Continental Girbau. The Express Laundry Center offers a complete store solution to investors looking for a proven, self-service laundry brand and concept. The Express Laundry Center brand is free of franchise restrictions, costs and red tape.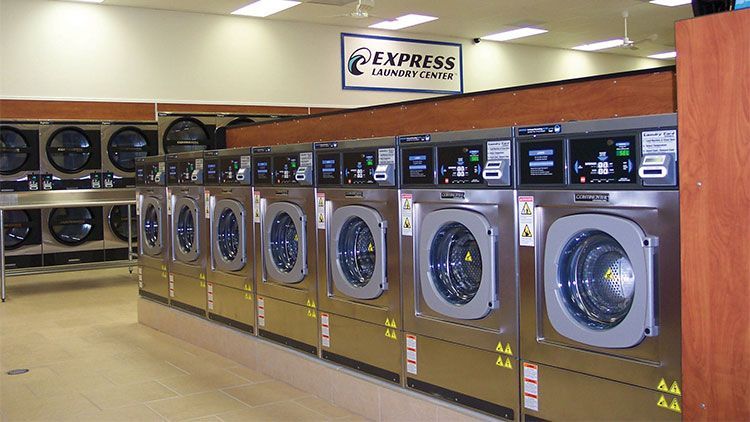 ---
WaveMax
Founded in: 2012
Franchising since: 2016
Franchise units: 27
Initial investment: $234,455 - $999,950
Franchise Fee: $49,950
Royalty Fees: 6%
Since 2012 WaveMAX® Laundry based in Jacksonville FL has focused its business model on developing the prototypical market & store that can scale and sustain a national chain of only laundromats. The Franchise Development is being led by Dennis Mulgannon who successfully built Home Care Assistance, Junk King & The Flying Locksmiths into National Franchise Brands. The equipment we specify is one of the largest commercial laundry manufacturers in the world. We utilize their AWS feature which determines the use of the precise amount of water needed to wash the clothes.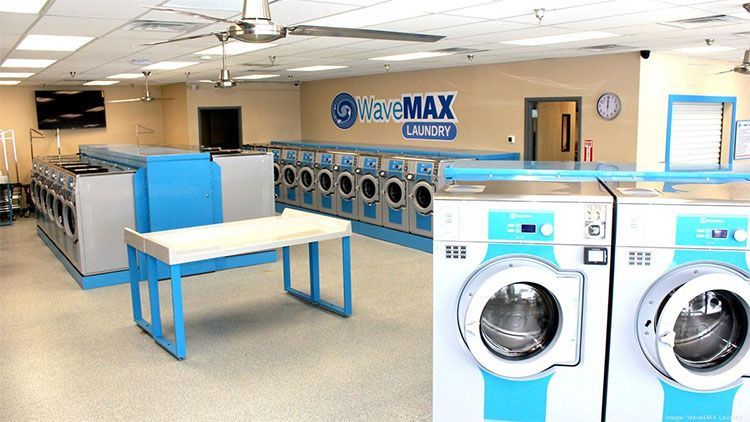 ---
Zoom Express Laundry
Founded in: 1988
Franchising since: 1990
Franchise units: 9
Initial investment: $682,300 – $1,347,750
Franchise Fee: $39,500
Royalty Fees: 6%
The laundromat industry is a very lucrative industry that has been proven time and time again to be successful. Below are some of the key market figures that you may find interesting. Here at Zoom Express Laundry, in order to build on the success of this already lucrative business, we have found a gap in the market and a way to accommodate these customers' needs in a cost-effective manner. We help each franchisee throughout the process by helping select location, getting in contact with our reputable vendors, and even assistance with promoting the new location.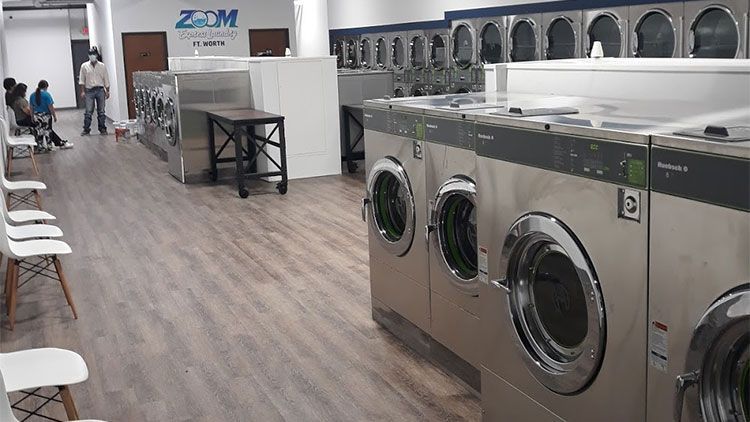 ---
Conclusion
To summarize, we can say any of the listed above laundromat franchises is worth buying. But there is a lot to consider while choosing the best one for you. Pay attention to the reputation of the brand, what training and support are offered, check if the other franchisees are successful. But the main thing you need to do is to align your budget with investment requirements of the brand. In order to ease the challenge, we have made the comparison flowchart of the best self service laundry franchises in the USA for you. It shows the minimum estimated initial investment and initial franchise fee of each brand. By using it, you can figure out the difference in financial requirements for each franchise, and decide which one fits you the most.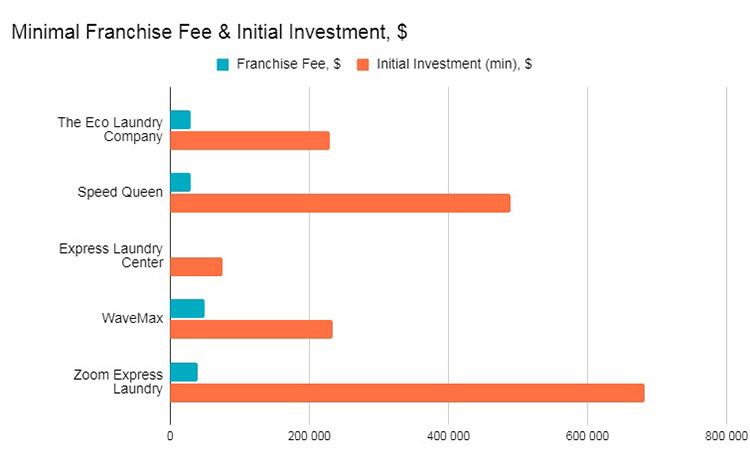 View all Laundromat franchises
Want to advertise your franchise with us and successfully boost your business?
Please send us your request and we will get back to you shortly!
DIDN'T FIND WHAT YOU WANT?
ASK THE EXPERTS