Best 10 Pet Franchises in USA in 2022
Update: 04.11.2021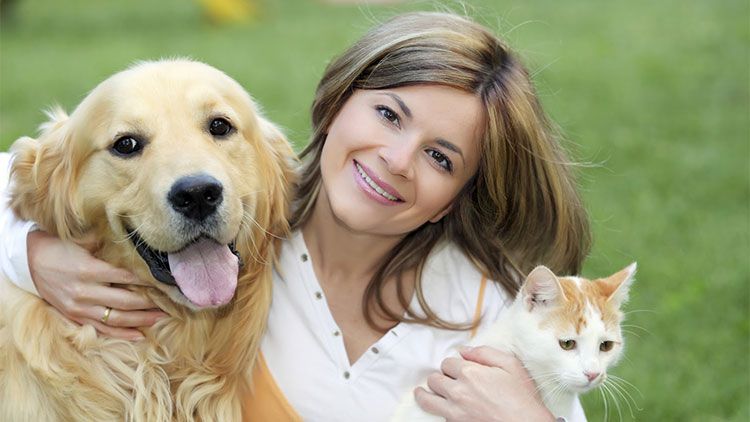 Pet franchise business is always flourishing despite tight competition on the US market. New trends and innovations are constantly taking place. Among the biggest trends of 2022 we should notice the increasing demand for supplements products and spa services. If you are interested in the segment and want to get to know more about it, here are the best pet franchise opportunities for you to consider. The list includes a wide variety of concepts. There is the kennel boarding business, veterinary wellness clinic, silver jewelry production with pet's paw prints, pet pampering and training service companies. The choice is really big. As for the budget, there are top pet franchises for sale which will cost you 50K to start and the ones which require up to $1million investments. Regardless of the price and the concept, our selection of franchises consists of only reputed brands. We assure you that the franchisors will train and support you from the very beginning so that you can easily take advantage of your investments.
Here is top 10 Pet franchise businesses in USA
Pets Are Inn
Founded in: 1982
Franchising since: 1982
Franchise units: 15
Initial investment: $59,950 - $85,150
Franchise Fee: $45,000
Royalty Fees: 10-5%
The Pets Are Inn concept was founded in 1982 when Harry & Kal Sanders-Greenberg discovered that the family dog Chopin did not do well when boarded in a kennel. After that, they, like most people, boarded Chopin with friends. Even though this was much better than a kennel, they grew uncomfortable always having to impose on friends and relatives. It seemed that they had inadvertently stumbled upon an ideal alternative to kennel boarding. Finding individuals who would be willing and excited to care for their pet as one of their own while their owners traveled. Pets Are Inn solves the problem of owner guilt at leaving their pets for an extended period. Meanwhile, franchise owners enjoy making money doing something they love – working with pets and providing a truly wonderful pet care alternative to kennel boarding.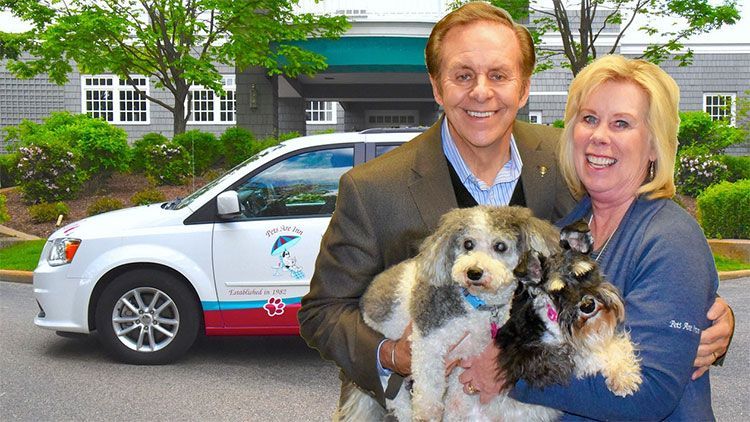 ---
PetWellClinic
Founded in: 2012
Franchising since: 2017
Franchise units: 6
Initial investment: $250,000 - $1,000,000
Franchise Fee: $49,250
Royalty Fees: 7%
PetWellClinic® is a first-of-its-kind walk-in veterinary wellness clinic. We are dedicated to providing excellent wellness, preventative, and sick care for dogs and cats on an on-demand basis. There is no need for an appointment and PetWellClinic's technology, design, and operational systems provide customers with a modern-day experience in an antiquated industry. etWellClinic is growing fast; however, none of that growth would be possible without leaders in place that share our vision, values, and passion for providing quality care for each and every pet that comes through our doors. That is why we take such care in assessing who joins our team as a franchisee!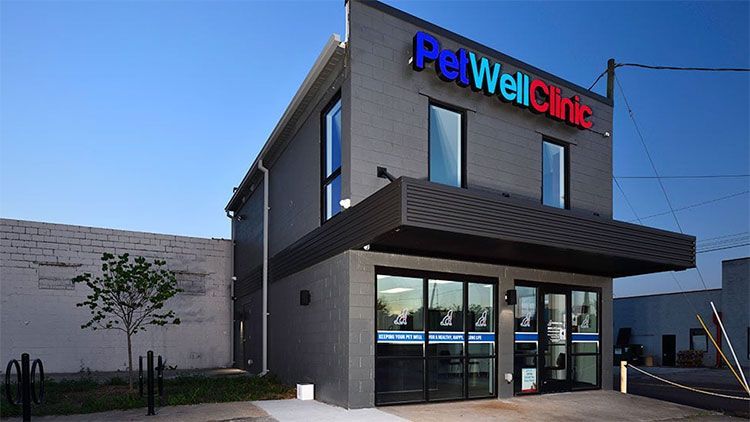 ---
Silver Pet Prints
Founded in: 2013
Franchising since: 2013
Franchise units: 11
Initial investment: $18,500 - $22,300
Franchise Fee: $11,000
Royalty Fees: 10%
Silver Pet Prints has been founded by creators of the successful Smallprint franchise which makes jewelry capturing children's fingerprints, hand and footprints and drawings on sterling silver jewelry. Smallprint currently has 100 franchisees in 20 countries around the world. We are now recruiting Silver Pet Prints franchisees with a view to replicating this success in the world of pets. Silver Pet Prints franchisees create precious keepsakes which capture pet's paw prints on sterling silver jewelry... and get to call it to work! Silver Pet Prints is a business based on professionalism and quality, both in the way we interact with customers and our relationship with our franchisees.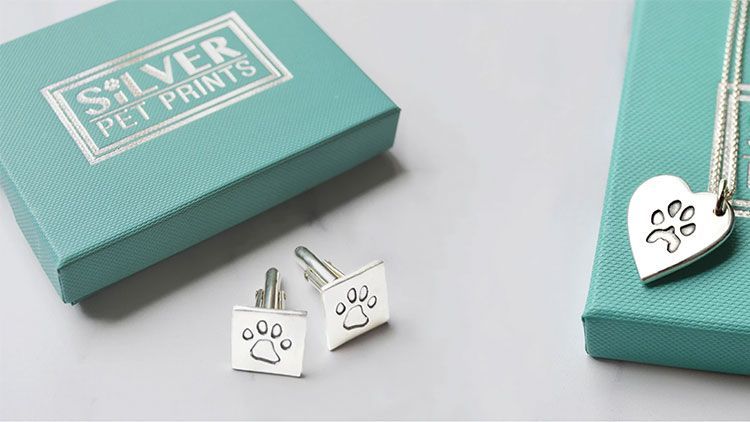 ---
Salty Paws
Founded in: 2018
Franchising since: 2019
Franchise units: 6
Initial investment: $99,270 - $175,650
Franchise Fee: $25,000
Royalty Fees: 5%
People love spoiling their pets, they are family, we vacation with them, pamper them and humanize them in every way...No matter what place they hold in our lives, from rescues to "grandpuppies" we can all agree that our lives aren't complete without them! What better way to celebrate them than to open a Salty Paws Doggie Ice Cream Shop to enhance your local community! A retail shop full of the best natural products we can find...a place to socialize, relax and enjoy where the pets are always welcome and treated with the highest level of respect! The excitement is overwhelming! So many avenues of Revenue! Salty Paws is one of the most innovative concepts in the pet industry. Affordably priced our program sets you up for success! We are actively involved from start to finish with support, training, grand openings, marketing and press releases!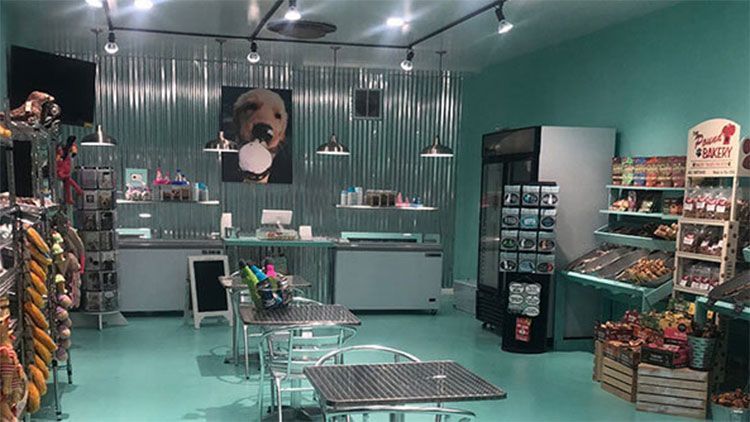 ---
Bark Busters Home Dog Training
Founded in: 1989
Franchising since: 1994
Franchise units: 123
Initial investment: $67,700 - $99,500
Franchise Fee: $37,500
Royalty Fees: 10%
The Bark Busters Home Dog Training franchise system is an innovative, holistic and unique pet training service for dogs and their owner families. Bark Busters is a tremendous opportunity for you to make a difference in your own life and in the lives of dogs and people everywhere. It is extremely important to us that everyone involved in this business has similar goals and a drive for success. If you believe yourself to be a match for the Bark Busters system, then read on. A Bark Busters behavioral therapist, you will face each day with new and exciting challenges. You will work with a variety of clients, network with veterinarians, other pet industry business owners and, of course, our canine companions.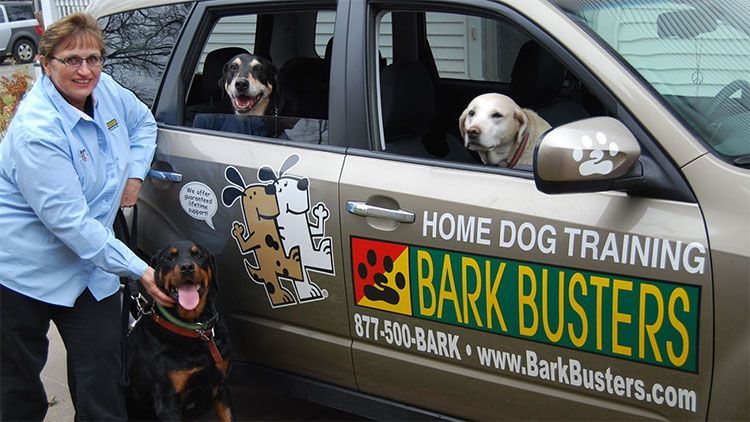 ---
Ben's Barketplace
Founded in: 2005
Franchising since: 2015
Franchise units: 5
Initial investment: $189,800 - $350,500
Franchise Fee: $45,000
Royalty Fees: 5%
Ben's Barketplace was founded out of a passion to provide superior products to maintain pet health and educate pet owners about the best health and nutrition practices. We stock the highest threshold pet foods available in North America. At Ben's Barketplace, we offer a fully-developed business structure for our franchisees. To maintain the reputation of the Ben's Barketplace brand, we thoroughly vet all our franchisees, and even if you feel like owning your own Ben's and it's a perfect fit for you, we want to make sure. Before you invest in your franchise we have a series of steps to be sure we're the right fit for each other.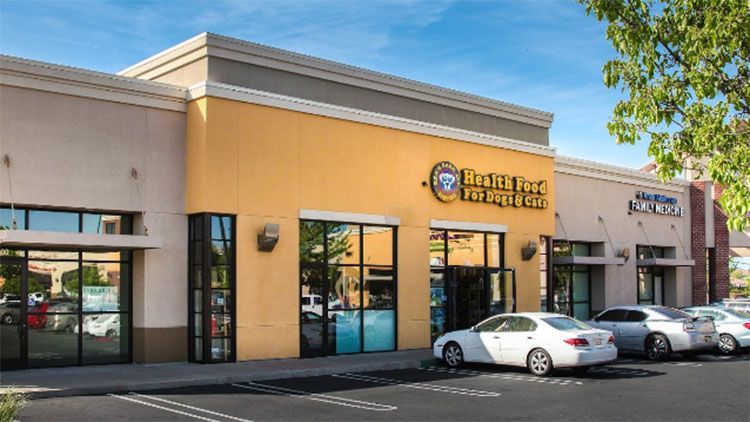 ---
Aussie Pet Mobile
Founded in: 1996
Franchising since: 1996
Franchise units: 350
Initial investment: $156,500 - $164,475
Franchise Fee: $60,000
Royalty Fees: 8-4%
Founded in Australia in 1996, Aussie Pet Mobile established its global headquarters in the United States in 1999 and has grown to become the number one brand in mobile pet grooming worldwide. If you want to gain control of your life, build a legacy, and work for a better financial future, you should consider whether Aussie Pet Mobile is your vehicle towards financial independence. With a modest initial investment and relatively low capital outlays, you can be on the road to a better future, typically in about 90 days. Over the last 25 years, the Aussie Pet Mobile Franchise Model has provided effective and comprehensive methods, tools, and training. Our goal is to get you on the road to success quickly and help you grow your franchise.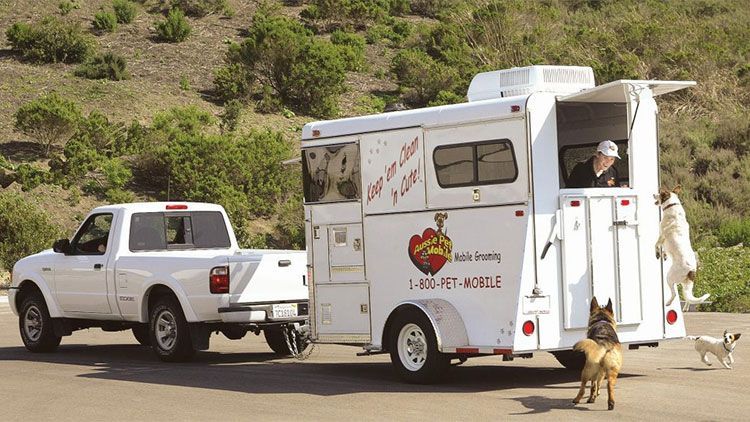 ---
Wild Birds Unlimited
Founded in: 1981
Franchising since: 1983
Franchise units: 350
Initial investment: $185,180 - $311,040
Franchise Fee: $40,000
Royalty Fees: 4%
Wild Birds Unlimited is an outdoor wildlife franchise dedicated to meeting the growing consumer wildlife hobbyist demand. Each of our more than 350 stores are strategically located within their communities ̶ serving as a true neighborhood resource. WBU franchise owners provide expert knowledge about the bird feeding hobby and offer an exceptional shopping experience. We train every Wild Birds Unlimited franchisee how to help customers transform their yards into a bird feeding habitat that not only brings song, color, and energy to their lives, but also one that benefits the visiting wild birds and the overall ecosystem. We support each Wild Birds Unlimited franchisee with best-in-class training along with perational and marketing resources to help you realize your dream of owning a successful bird franchise.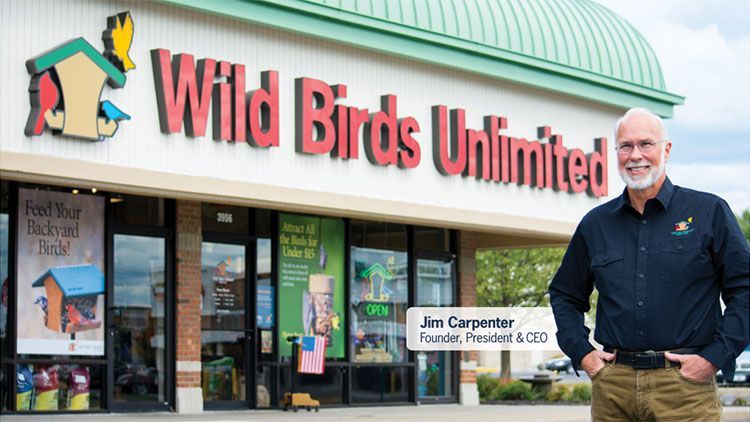 ---
DoodyCalls
Founded in: 2000
Franchising since: 2004
Franchise units: 41
Initial investment: $73,025 - $92,000
Franchise Fee: $60,000
Royalty Fees: 7.5%+
If you're ready to make your entrepreneurial dreams come true with a proven national brand that is poised for continued growth, DoodyCalls has an exciting opportunity for you. We are looking for passionate and hard-working individuals to bring our pet waste removal services into new communities throughout the United States. We have over 20 years of experience and a current presence in 15 states. Though a pooper scooper service might not seem like the most conventional choice for entrepreneurs, the fast success of our company is a strong endorsement for why we are a great choice for prospective franchisees. Plus we offer reduced franchise fees through our membership with the International Franchise Association to both Veterans as well as Women and Minority owners. Now is the time to join our team and enjoy the ride!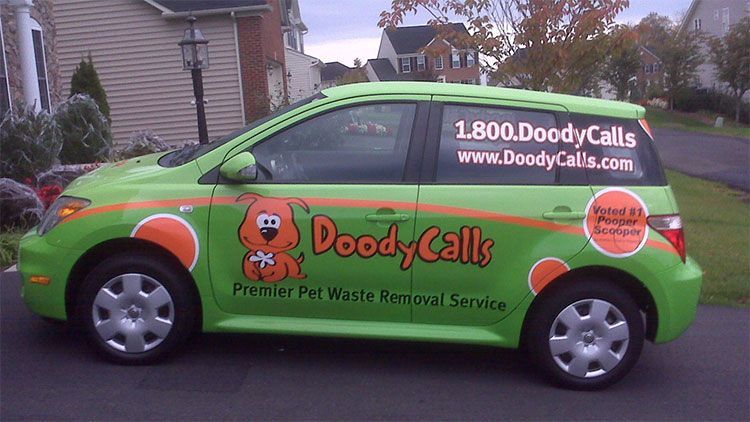 ---
Dog Training Elite
Founded in: 1995
Franchising since: 2015
Franchise units: 59
Initial investment: $82,800 - $104,750
Franchise Fee: $49,000
Royalty Fees: 8%
Since its inception, Dog Training Elite has distinguished itself as the best dog training experience available to our customers. We have earned a reputation for excellence through our highly personalized training programs, convenience, and emphasis on positivity in our proven methods. Franchise Owners at Dog Training Elite enjoy the freedom and flexibility that's tailored to their lifestyle. Work is on your schedule, not the other way around! 80% of Owners own multiple territories because there is no reason not to! All that is required is the additional franchise fee, marketing, and trainer to cover the area. We perform training sessions in our clients' homes, so there is no need for a physical facility. Because there is no physical space required, Owners can get their business up and running in as little as 4-6 weeks from signing their agreement!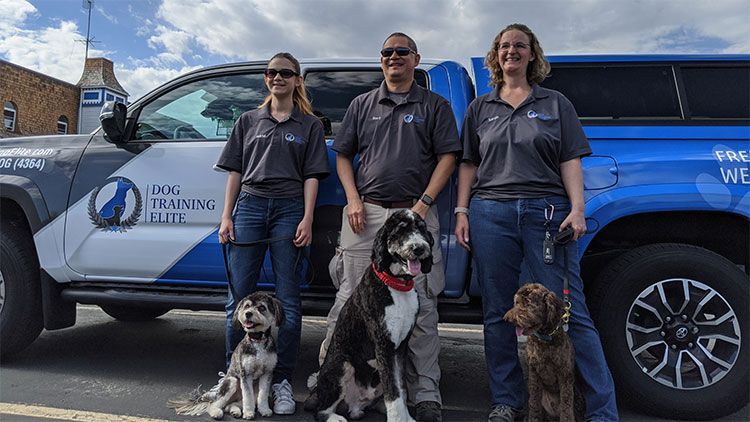 ---
Conclusion
To summarize, we can say any of the listed above pet franchises is worth buying. But there is a lot to consider while choosing the best one for you. Pay attention to the reputation of the brand, what training and support are offered, check if the other franchisees are successful. But the main thing you need to do is to align your budget with investment requirements of the brand. In order to ease the challenge, we have made the comparison flowchart of the best pet franchises in the USA for you. It shows the minimum estimated initial investment and initial franchise fee of each brand. By using it, you can figure out the difference in financial requirements for each franchise, and decide which one fits you the most.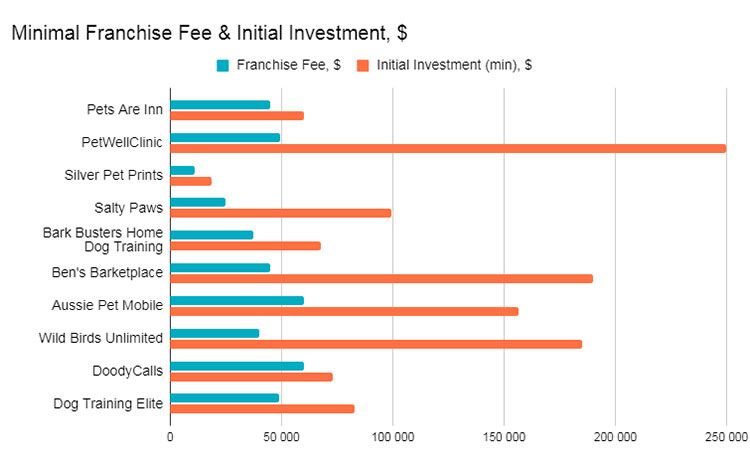 View all Pet franchises
DIDN'T FIND WHAT YOU WANT?
ASK THE EXPERTS