Best 7 Organic Fast Food Franchises in USA in 2022
Update: 04.11.2021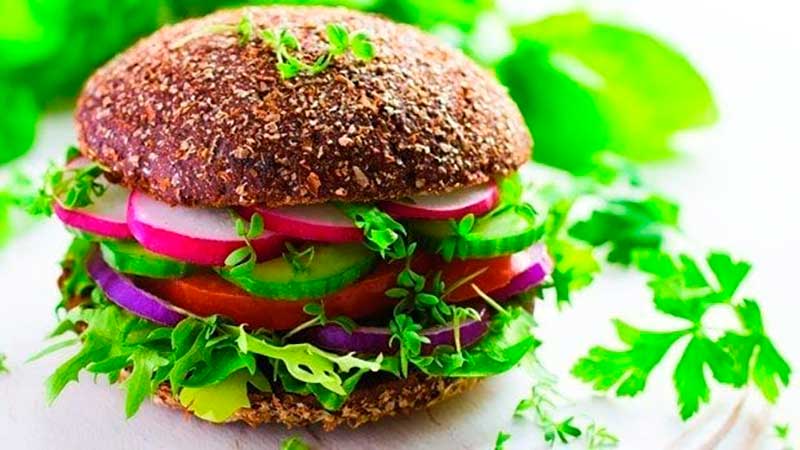 Organic fast food franchises are confidently gaining their popularity in the USA due to a growing demand for healthy products. They are a good alternative to highly popular fast foods which offer very convenient quick service concepts including drive-through and delivery services. But organic healthy fast food franchise restaurants serve ecologically clean food without preservatives and other unhealthy additions. An average restaurant operating in the field has a diverse menu. It in most cases includes Açaí, Graviola and other bowls, fresh salads, smoothies, juices as well as products with vitamin supplement. The majority of them don't use plastic cups, straws and other plastic tools. However, organic fast food philosophy is quite trendy, a huge amount of restaurants operating in the field in the USA have more than 10 years of experience and well-established business concepts. If you`d like to join in and are looking for a reliable and proven franchise to buy, check out our selection of brands below. We are absolutely sure about their high professionalism and perfect reputation.
Here is the best 7 organic fast food franchise businesses in USA
Acai Express Superfood Bowls
Founded in: 2013
Franchising since: 2014
Franchise units: 15
Initial investment: $107,850 - $359,000
Franchise Fee: $20,000
Royalty Fees: 6%
Acai promotes healthy living and offers natural, fresh, delicious, organic acai bowls. A menu of high quality, organic ingredients and acai fruit pays homage to the healthy lifestyle of surfers. There is the Surfer Bowl, Rainbow Bowl, Wolfpack Bowl (named after the Puerto Rican Jiu-Jitsu Academy) and more.
---
Vitality Bowls
Founded in: 2011
Franchising since: 2014
Franchise units: 68
Initial investment: $198,300 - $554,640
Franchise Fee: $39,500
Royalty Fees: 6%
Vitality Bowls is an 750 – 1,500 sq. ft. Superfood Café focused on delivering top quality organic Açaí, Acerola, Pitaya and Graviola Bowls®, smoothies, fresh juices, soups, salads, and panini. The achievements of the franchise model are generally achieved via a strong level of support from a corporate office. At Vitality Bowls, we provide support in identifying the right location, helping you construct the perfect café, extensive initial training and then of course, ongoing support to ensure you have every opportunity to succeed.
---
Clean Juice
Founded in: 2015
Franchising since: 2016
Franchise units: 91
Initial investment: $279,500 - $523,000
Franchise Fee: $45,000
Royalty Fees: 6%
Clean Juice was founded in 2015, and they have been franchising since 2016, that is, about four years ago. Clean Juice's headquarters are located at 10,000 Twin Lakes Pkwy., #B Charlotte, NC 28269 and they currently have 70 franchise businesses. The Clean Juice franchise is more of a food and wellness business than a simple bar chain.
---
Grabbagreen
Founded in: 2013
Franchising since: 2015
Franchise units: 20
Initial investment: $266,000 - $482,075
Franchise Fee: $30,000
Royalty Fees: 6%
Focused on being one of the top healthy food franchise opportunities, Grabbagreen's food + juice menu is made up of fresh ingredients and 100% whole foods that are preservative-free, and naturally gluten-friendly (with the exception of wraps). Our franchising team is just the right mix of old school and new. We have the wisdom of industry veterans, fresh new faces with fresh new ideas and some in-between, but all with the same passion to spread the health with Grabbagreen! Training is at corporate headquarters in Arizona for 4 weeks (50 hours) depending on skill set. Join the Grabbagreen movement!
---
The Source Bulk Foods
Founded in: 2010
Franchising since: 2014
Franchise units: 66
Initial investment: $400,000
The Source Bulk Foods stores offers 450 bulk foods including organic wholefoods, cooking liquids and oils, healthy snacks and sustainable personal and household products. All plastic free to make zero waste journey easier. The company was founded by Paul Medeiros and Emma Smith in 2012 in Australia. It also provides franchise opportunities. As of 2021, The Source Bulk Food operates 66 stores in Australia.
---
Chipotle
Founded in: 1993
Franchising since: 1993
Franchise units: 2,200
Initial investment: $125,000
Steve Ells, founded Chipotle with the philosophy that fast food can also be good food, and prides itself on serving high quality food with no added colorings or preservatives. Chipotle opened its first restaurant in Denver in 1993 and now operates over 2,200 restaurants. The Chipotle franchise is a chain of fast food restaurants that offer delicious Mexican menus, including burritos and tacos you can make yourself.
---
Smoothie King
Founded in: 1973
Franchising since: 1988
Franchise units: 1,289
Initial investment: $268,900 - $858,900
Franchise Fee: $15,000 - $30,000
Royalty Fee: 6%
Smoothie King is the # 1 health and fitness smoothie brand offering smoothies and healthy retail products including sports drinks, energy bars, healthy snacks, vitamin supplements, herbs, minerals and other sports nutrition products.
---
Conclusion
To summarize, we can say any of the listed above organic fast food franchises is worth buying. But there is a lot to consider while choosing the best one for you. Pay attention to the reputation of the brand, what training and support are offered, check if the other franchisees are successful. But the main thing you need to do is to align your budget with investment requirements of the brand. In order to ease the challenge, we have made the comparison flowchart of the best organic fast food franchises in the USA for you. It shows the minimum estimated initial investment and initial franchise fee of each brand. By using it, you can figure out the difference in financial requirements for each franchise, and decide which one fits you the most.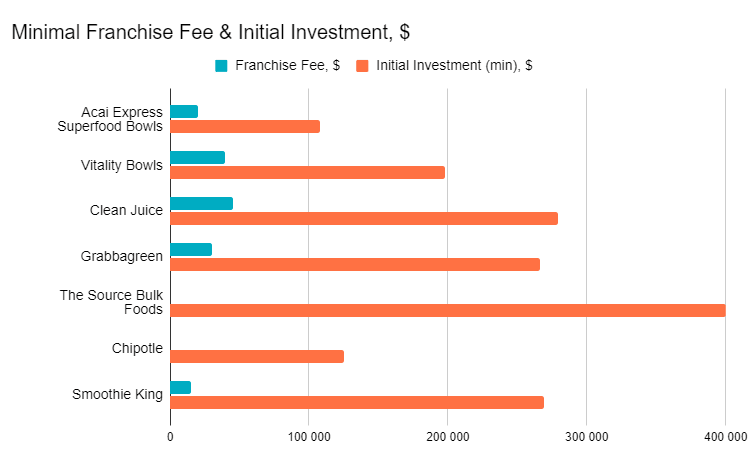 View all Organic Fast Food franchises
DIDN'T FIND WHAT YOU WANT?
ASK THE EXPERTS