Best 5 Roof Cleaning Franchise Opportunities in USA in 2023
Update: 04.11.2021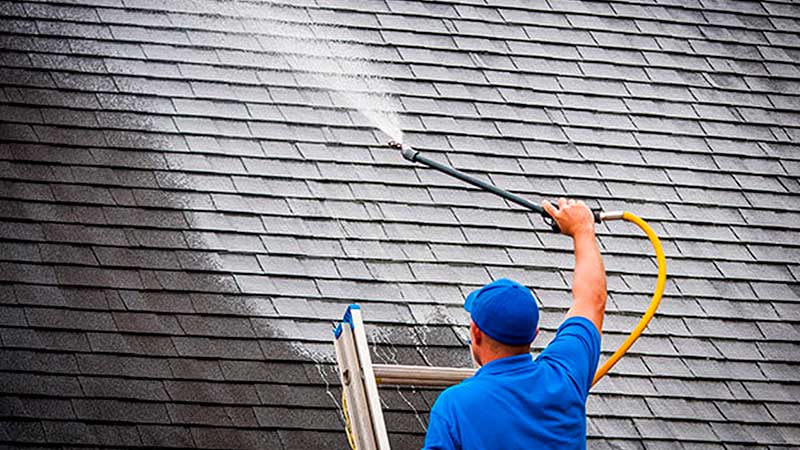 Roof cleaning franchise business provides a good opportunity for those entrepreneurs who are looking for an inexpensive concept which will always be in demand. One can buy a franchise operating in the field for up to 100K and spend only on equipment, cleaning detergents and salary of a few employees. Nevertheless, roof cleaning business caters to the needs of a wide range of customers. It includes both residential and commercial services. The ones embrace mold, dirt, dust, grime removal; ventilation, window, chimney and gutter cleaning; lightning installation, and a lot of others. The most advanced roof cleaning companies try to use up-to-date cleaning tools and methods. A lot of them apply environmentally friendly cleaning materials as well as modern devices. If you`d like to become an owner of a roof cleaning franchise, take a glance at our selection of top companies operating in the industry. There is sure to be something special for you to buy!
Here is the top 5 best Roof Cleaning franchise business in USA
ReNEW Softwash
Founded in: 1998
Initial investment: $43,600 - $65,500
Royalty Fees: $50,000
ReNEW Solutions, Inc. was founded in 1998 by Larry Wiggins. The company was founded to create an environmentally friendly and efficient cleaning system for building facades and roofs. With years of experience and knowledge, Larry was able to develop this innovative concept and environmentally friendly cleaning materials. The ReNew Softwash System gently and effectively removes algae, mold, mildew, dirt, dust, grime, cobwebs and wasp nests from outside your home with a unique proprietary cleaning solution and very low pressure. As a ReNEW Softwash franchisee, you are automatically associated with an affordable leading system and products for external low pressure cleaning (softwash). You will become part of a corporate structure and a strong business model to run your own business.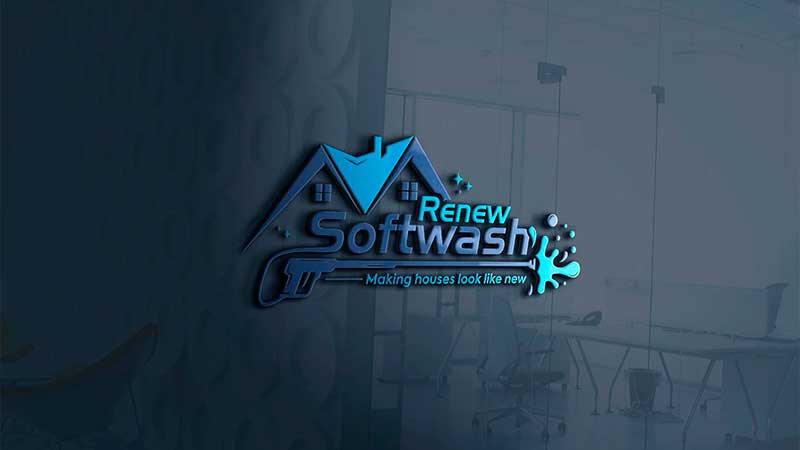 ---
Window Gang
Founded in: 1986
Franchising since: 1996
Franchise units: 223
Initial investment: $80,900 - $118,300
Franchise Fee: $60,000
Royalty Fees: 7%
Window Gang was founded in 1986 in the small town of Rightsville Beach, North Carolina. The company provides a wide range of services, including: cleaning roofs and gutters, washing windows, cleaning various surfaces of external walls under pressure, cleaning chimneys and cleaning the ventilation holes of the dryer. Window Gang works with both commercial organizations and private households. The founder of the company is Tim McCullen. In 1996, McCullen opened the franchise for the first time.
---
Shine Window Care and Holiday Lighting
Founded in: 2000
Franchising since: 2012
Franchise units: 46
Initial investment: $106,900 - $181,600
Franchise Fee: $49,900
Royalty Fees: 7%
Shine Window Care and Holiday Lighting was founded in 2000. The founder of Shine Window Care and Holiday Lighting is Chris Fisher. The company began offering the franchise 12 years later. The aim of the company is long-term customer service. Among the services provided by Shine Window Care and Holiday Lighting are: holiday lighting installation, roof and gutter cleaning services, window cleaning services, as well as pressure washing services and home cleaning services. The company works with both private and commercial clients. Shine offers a great mix of growth potential, people and systems that can be found in a franchise system.
---
Yellow Duck Roof And Exterior Cleaning
Founded in: 2013
Franchising since: 2015
Franchise units: 86
Initial investment: $35,800 - $44,000
Franchise Fee: $20,000
Royalty Fees: 12%
The company was founded in 2013 and has been involved in franchising since 2015. The founders of the company are Randy and Cindy Matz. Roof and exterior cleaning is one of the most exciting growth businesses available to entrepreneurs today. The Yellow Duck System is a low cost, proven and complete business in a box concept. The main advantages of the yellow duck cleaning system are: proven and safe cleaning system, roof cleaning system without pressure washing or walking on it, quick start and low cost, wide range of services, and elimination of costly trial and error when starting a new business.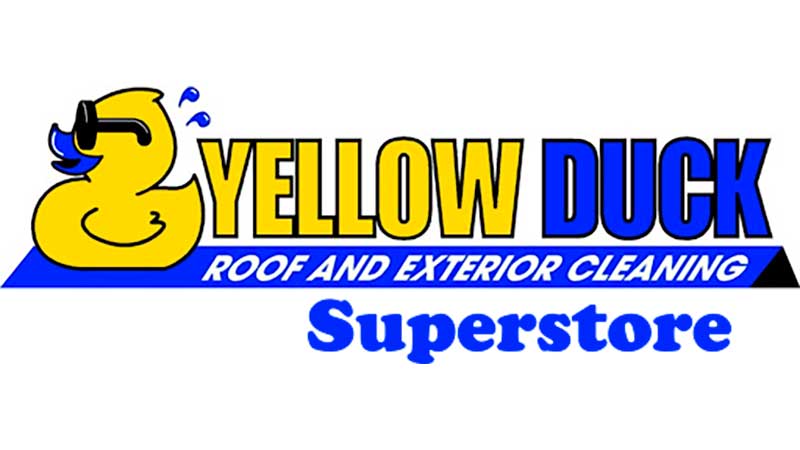 ---
Shack Shine
Founded in: 2013
Franchising since: 2015
Franchise units: 42
Initial investment: $67,600 - $129,050
Franchise Fee: $32,000 - $44,000
Royalty Fees: 8%
Although Shack Shine was officially founded in 2013, its history dates back to 1989, building 1-800-GOT-JUNK. Dave Notte - предприниматель, который основал компанию, спустя 10 лет после начала своей деятельности предложил, чтобы Shack Shine, компания по очистке окон и водостоков, присоединилась к семье O2E Brands. O2E Brands launched its fourth franchised company. Shack Shine is a home care service that makes routine window washing and roof and gutter cleaning exceptional. Shack Shine is one of the best franchise opportunities out there as there is no clear market leader in the industry.
---
Conclusion
To summarize, we can say any of the listed above roof cleaning franchises is worth buying. But there is a lot to consider while choosing the best one for you. Pay attention to the reputation of the brand, what training and support are offered, check if the other franchisees are successful. But the main thing you need to do is to align your budget with investment requirements of the brand. In order to ease the challenge, we have made the comparison flowchart of the best roof cleaning franchises in the USA for you. It shows the minimum estimated initial investment and initial franchise fee of each brand. By using it, you can figure out the difference in financial requirements for each franchise, and decide which one fits you the most.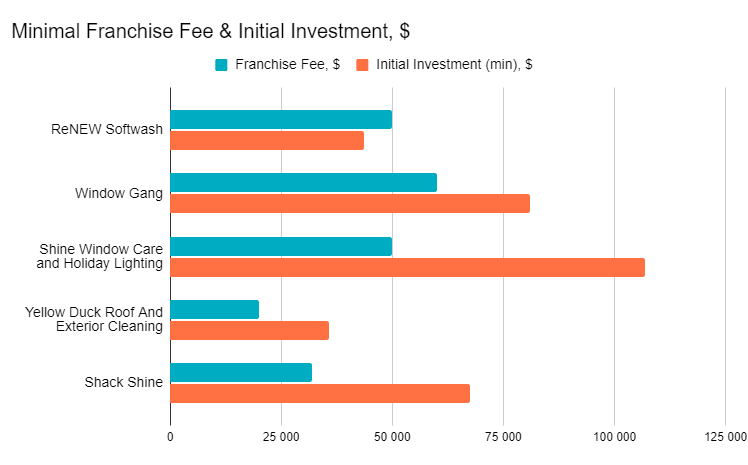 View all Roof Cleaning franchises
Want to advertise your franchise with us and successfully boost your business?
Please send us your request and we will get back to you shortly!
DIDN'T FIND WHAT YOU WANT?
ASK THE EXPERTS