Best 10 Steakhouse Franchise Opportunities in USA for 2023
Update: 04.11.2021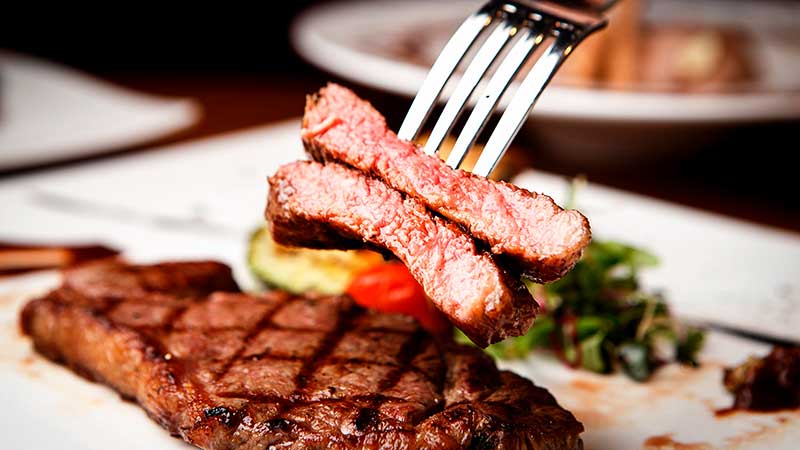 Steakhouse franchise businesses are especially popular in the USA. As it is a great tradition for American families to get together in steakhouse restaurants. True to the name, the main dish in the menu of steakhouse restaurant is steak. Different establishments have their own unique recipes for cooking it. But steakhouse opportunities of franchising are not limited only in cooking and serving meat. They also serve a lot of other food like grilled vegetables, salads, sandwiches, chicken and seafood. The concept of the business also varies from on-site consumption to online ordering and delivery. If you find a steakhouse business to be suitable for you to own, browse through our list of the best steakhouse franchise restaurants. We have made the list of proven companies with impeccable reputation, successful marketing and tons of experience on the market. The brands are ready to offer their training sessions , assistance at opening, and constant support at running the business to smart franchisees.
Here is the top 10 best Steakhouse franchise businesses in USA
Outback Steakhouse
Founded in: 1988
Franchising since: 1996
Franchise units: 800
Initial investment: $1,600,000
Franchise Fee: $10,000
Royalty Fees: 3,5%
Outback Steakhouse is an Australian style restaurant with beef and steak as the main menu. Outback also serves a variety of chicken, ribs, seafood and pasta dishes. Outback Steakhouse strives to surpass other restaurants with a focus on consistently high quality food and service, generous portions, reasonable prices and a laid-back atmosphere reminiscent of the Australian outback. Founded in 1988, Outback Steakhouse has grown to nearly 800 restaurants worldwide. Outback Steakhouse is owned by Bloomin 'Brands. International franchise opportunities are available.
---
Texas Roadhouse Steakhouse
Founded in: 1993
Franchising since: 2004
Initial investment: $1,600,000 - $3,000,000
Franchise Fee: $40,000
Texas Roadhouse is a western-themed steakhouse chain with an extensive menu of steaks, ribs, chicken and seafood. Founded in 1981 in Atlanta, Georgia, LongHorn Steakhouse currently has over 520 locations with an average annual restaurant sales of $ 3.3 million. Texas Roadhouse prides itself on its steaks, which are always fresh, not frozen, in the restaurant. Texas Roadhouse is helping to solidify its Western theme with waiters who learn to dance in line and perform all night to popular country songs.
---
Ruth's Chris Steak House
Founded in: 1965
Franchise units: 20
Initial investment: $2,539,500 to $5,932,500
Franchise Fee: $150,000
Royalty Fees: 5%
Ruth's Chris Steak House is a chain of upscale restaurants that offer steaks, hot and cold side dishes, and a full-service bar for on-site consumption. It all started with the opening of the first Ruth's Chris restaurant in the Buckhead area of ​​Atlanta in 1986, when founder Ruth Fertel, a working mom with her family, mortgaged her home to buy a small 60-seat restaurant in New Orleans. When a kitchen fire destroyed Chris's steakhouse in 1976, Ruth was forced to move to the restaurant to continue working. But the name Chris Steak House was not allowed to move with him. So after spending a little time and a mischievous smile, Ruth added her name to the sign, making it "Steakhouse Roots Chris".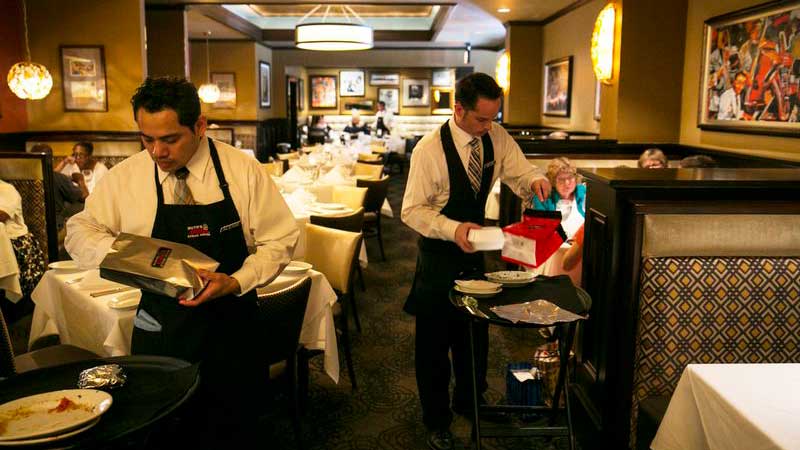 ---
Great Steak
Founded in: 1985
Franchising since: 1986
Franchise units: 50
Initial investment: $132,500 - $513,300
Franchise Fee: $30,000
Royalty Fees: 6%
The history of the franchise dates back to 1982, when two brothers from Ohio came to Philadelphia and fell in love with a cheese steak. Determined to share the joy of thinly sliced ​​tenderloin steak and melted cheese pressed into a home-made French roll, the brothers founded the Great Steak & Potato Company in Ohio. Its menu, now known simply as the Great Steak, has grown from one cheese steak to a full line of signature sandwiches, fries and baked potatoes. In addition to cheese steaks, Great Steak restaurants offer many other mouth-watering dishes. Guests can prepare baked potatoes, French fries and fresh salads. A selection of signature grilled sandwiches is also available, made with the same commitment to quality and freshness as the original Great Steak Cheese Steak.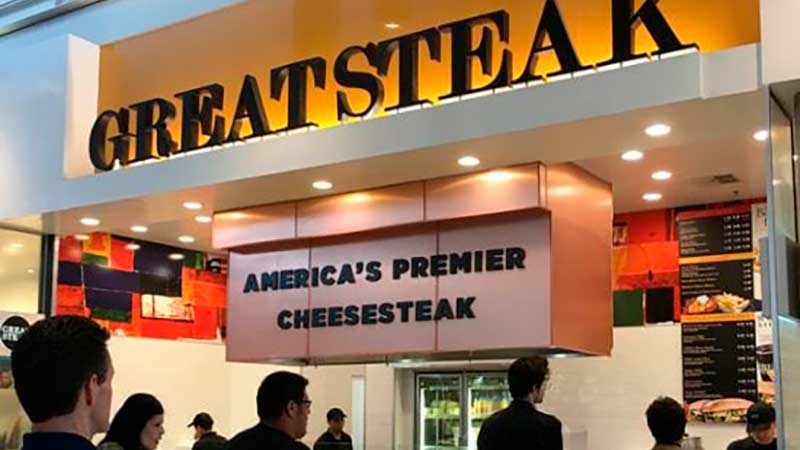 ---
Ponderosa & Bonanza Steakhouse
Founded in: 1963
Franchising since: 1994
Franchise units: 100+
Initial investment: $657,200 - $1,168,305
Franchise Fee: $50,000
Royalty Fees: 5%
Ponderosa & Bonanza has always been renowned for its flame-grilled steaks, chicken and seafood dinners. The company's motto is unlimited happiness, freedom on the plan. In practice, this gives visitors complete freedom to choose what to put on their plate, just like at home. Although Ponderosa & Bonanza claimed their steak share for decades, they expanded the menu to include all sorts of delicious snacks.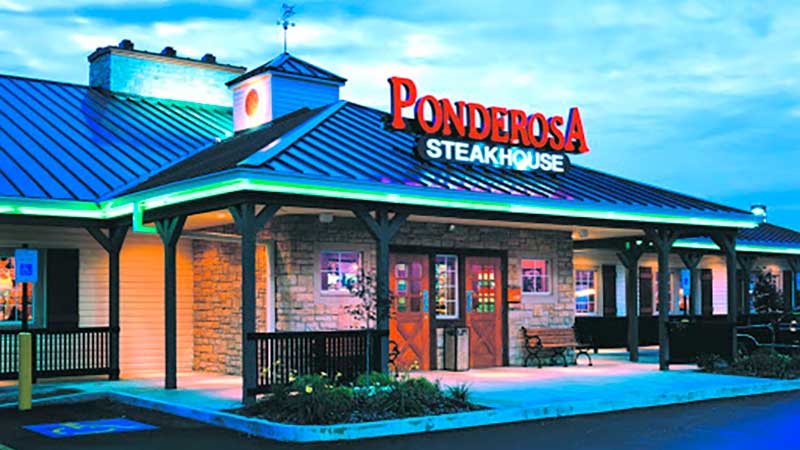 ---
Johnny's Italian Steakhouse
Founded in: 2002
Franchising since: 2013
Franchise units: 4
Initial investment: $1,275,000 - $4,000,000
Franchise Fee: $75,000
Royalty Fees: 5%
Johnny's first Italian steakhouse opened its doors to the public in Des Moines, Iowa in April 2002. The atmosphere at Johnny's is reminiscent of classic 40s and 50s nightclubs, creatively combining the sophistication of the past with modern touches. At Johnny's, steaks take center stage and are complemented by fine Italian cuisine that doesn't require Iron Chef skills. The concept's versatility has already proven successful in stand-alone developments, living centers, retail offices and annex hotels. Johnny's Italian Steakhouse, with exceptional cuisine and furnishings, caters to a wide variety of backgrounds.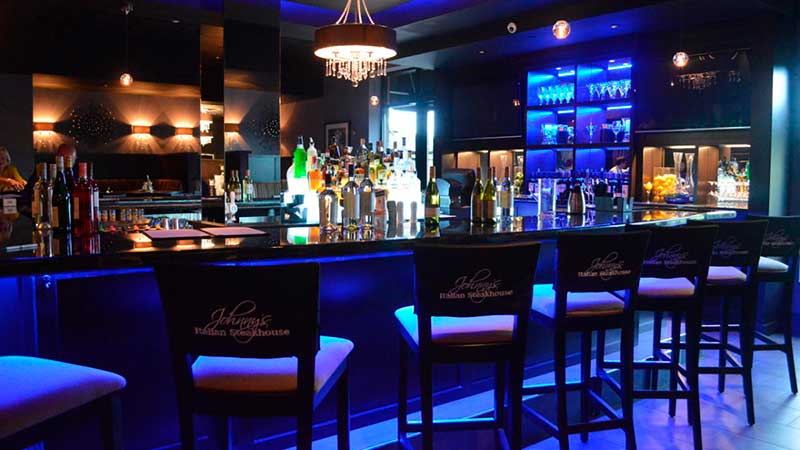 ---
Steak Escape Sandwich Grill
Founded in: 1982
Franchising since: 1983
Franchise units: 62
Initial investment: $148,250 - $561,000
Franchise Fee: $35,000
Royalty Fees: 6%
Steak Escape was founded in Columbus, Ohio in 1982 by Ken Smith and Mark Turner. Restaurants offer the comfort of dining along with ease of travel by car. At airports and colleges, customers are offered a unique menu with fast service. Linear strip centers are characterized by a cozy atmosphere inside and the convenience of online ordering and delivery. Finally, the seats in the center of the end cap strip are where everyday quality meets a dynamic lifestyle.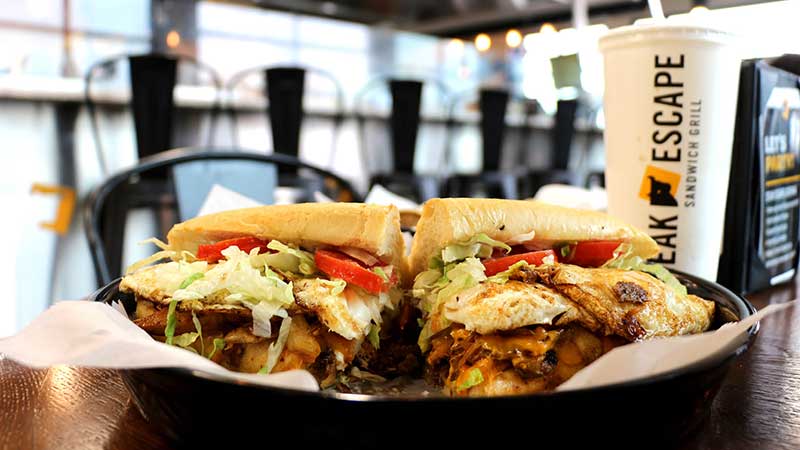 ---
Charleys Philly Steaks
Founded in: 1986
Franchising since: 1991
Franchise units: 569
Initial investment: $258,469 - $739,248
Franchise Fee: First unit is $24,500 ($15,000 for each additional unit)
Royalty Fees: 6%
Charleys Philly Steaks was founded in 1986 by our CEO Charlie Sheen and has since become the world's largest cheese steak franchise in Philadelphia. With a new restaurant design, addition of wings to the menu, simplified operation, and exceptional training, Charleys Philly Steaks is ready to expand nationally.
---
Quaker Steak & Lube
Founded in: 1974
Franchising since: 1997
Franchise units: 32
Initial investment: $473,500 - $4,106,000
Franchise Fee: $30,000 - $40,000
Royalty Fees: 5%
Quaker Steak & Lube, one of the nation's leading casual family restaurant chains, has its roots in 1974, as gas prices rose and gas stations closed across the country, George "Jig" Warren III and Gary "Mo" Mesaros sought to preserve the culture of these old gas stations by opening Quaker Steak & Lube, a restaurant adorned with old car muscles. The menu for visitors includes chicken wings, steaks, hamburgers, sandwiches, salads, ribs, snacks, desserts and much more. Quaker Steak & Lube has won hundreds of national and international awards for its wings and over 25 wing sauces.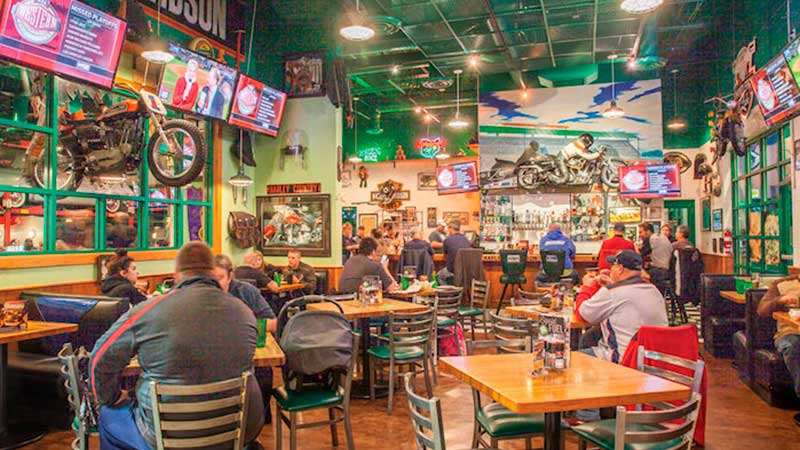 ---
Freddy's Frozen Custard & Steakburgers
Founded in: 2002
Franchising since: 2004
Franchise units: 356
Initial investment: $640,552 - $2,077,046
Franchise Fee: $25,000
Royalty Fees: 4,5%
Freddy's Frozen Custard & Steakburgers, was founded in 2002 by Scott Redler and Bill, Randy and Freddie Simon, and opened its first establishment in Wichita, Kansas. Freddie Simon's family values, huge heart and patriotic service are at the heart of the concept of a fast-casual restaurant. Visitors are presented with an extensive menu that includes steakburgers, hot dogs, French fries and frozen custard that is just whipped throughout the day. Today, more than 300 Freddy's restaurants serve 31 US states.
---
Conclusion
To summarize, we can say any of the listed above steakhouse franchises is worth buying. But there is a lot to consider while choosing the best one for you. Pay attention to the reputation of the brand, what training and support are offered, check if the other franchisees are successful. But the main thing you need to do is to align your budget with investment requirements of the brand. In order to ease the challenge, we have made the comparison flowchart of the best steakhouse franchises in the USA for you. It shows the minimum estimated initial investment and initial franchise fee of each brand. By using it, you can figure out the difference in financial requirements for each franchise, and decide which one fits you the most.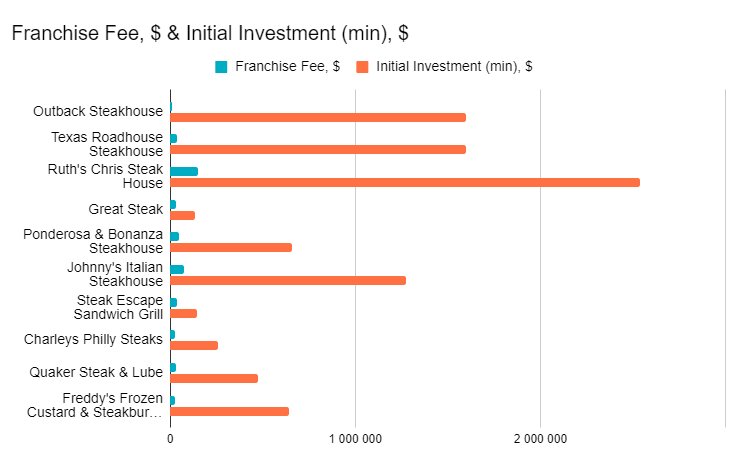 View all Steakhouse franchises
Want to advertise your franchise with us and successfully boost your business?
Please send us your request and we will get back to you shortly!
DIDN'T FIND WHAT YOU WANT?
ASK THE EXPERTS