Popular 10 Education Franchises for 2023
Update: 12.11.2021
Education Franchise business in the USA is projected to grow in 2022. Although innovative approaches and methods are being implemented, the leading brands retain their positions on the market. Having a look at our list of the most popular Education franchises to invest into, you may notice the same successful brands as a few years ago.
Education franchise has several benefits over the others. The main one is that the business person who deals with education makes the valuable contribution to common good and the future. Compared to previous decades when education was considered to be a privilege for young people, today the courses for adults are also in demand. Education franchises offer absolutely different services like math learning business education, educatement, brain training, music education and dozens of other concepts. For more ideas, browse through our list of Top Education Franchises in 2022.
Here are the popular 10 education franchises
Sylvan Learning
Founded in: 1979
Franchising since: 1980
Franchise units: 574
Initial investment: $68,680 - $159,085
Franchise Fee: $24,000
Royalty Fees: 16%
Sylvan Learning consists of franchised and corporate supplemental learning centers which provide personalized instruction in reading, writing, mathematics, study skills, homework support, and test preparation for college entrance and state exams. Sylvan provides personalized learning programs and primarily serves students in primary and secondary education. Sylvan has been franchising since 1980 and has learning centers in North America and Asia.
---
School of Rock
Founded in: 1998
Franchising since: 2005
Franchise units: About 180
Initial investment: $170,000 - $400,000
Franchise Fee: $49,900
Royalty Fees: 8%
School of Rock is the leading music education franchise. For entrepreneurs looking to buy into a franchise, SoR provides an opportunity to invest in a scalable, proven business model with over 20 years of experience. You don't have to be a musician to join one of the most successful franchises in music education.
---
Tutor Doctor
Founded in: 2000
Franchising since: 2003
Franchise units: 550+
Initial investment: $84,295 - $200,695
Franchise Fee: $44,700 - $104,400
Royalty Fees: 8%
Tutor Doctor franchises offer in-home, one-on-one tutoring for students from kindergarten through college. Tutors tailor their teaching to each student's homework and sometimes work collaboratively with the students' teachers. If you're looking for a franchise opportunity with low startup costs and overhead, Tutor Doctors might be the one for you. Because the company offers in-home tutoring services you don't even necessarily need a dedicated location in order to get started.
---
e² Young Engineers
Founded in: 2008
Franchising since: 2008
Franchise units: 85+ Worldwide
Initial investment: $36,400 - $59,183
Franchise Fee: $20,000
Royalty Fees: 7%
The e² Young Engineers fostering program combines education and entertainment, offering a variety of program options in science, technology, engineering, and mathematics (STEM). Students participating in this educational community will have more inspiration and interest in learning about computing, physics, and mechanical engineering, software engineering. Franchise partners will be supported by company's management, business model, and child training model.
---
Eye Level
Founded in: 1976
Franchising since: 1976
Franchise units: More Than 800 Worldwide
Initial investment: From $52,300
Franchise Fee: $5,000
Royalty Fees: $32-36/subject/mo
The motto of Daekyo is encapsulated in the words "eye-level" - seeing the world through the eyes of young children to understand their feelings, thoughts, abilities and thinking. Eye Level is the best education franchise in the field of mathematics and English. The mathematics program at Eye Level is a curriculum that is able to balance arithmetic and critical thinking techniques.
---
LearningRx
Founded in: 1986
Franchising since: 2003
Franchise units: 67
Initial investment: $91,500 - $198,000
Franchise Fee: $23,000-$35,000
Royalty Fees: 10%
LearningRx works with kids and adults of all ages, training the cognitive skills the brain uses to think, read, learn, remember, and pay attention. They are a one-on-one brain training center that focuses on the underlying skills that are critical for learning and performance. Their cognitive enhancement center puts clients with their own brain trainers for mental workouts that are challenging, enjoyable, and consist of game-like exercises. They help turn mental weaknesses into strengths.
---
Huntington Learning Centers
Founded in: 1977
Franchising since: 1985
Franchise units: 255
Initial investment: $147,000 - $266,100
Franchise Fee: $36,000
Royalty Fees: 9,5%
Huntington Learning Center is a chain of educational service centers in the United States which helps expand children's academic skills with individualized tutoring services & test preparation. For franchisee no previous education experience required. Huntington offers outstanding support with tools to assist partners in every step of their business journey.
---
ActionCOACH
Founded in: 1993
Franchising since: 2011
Franchise units: 500 - 1000
Initial investment: $77,315 - $155,460
Franchise Fee: $44,500 - $70,000
Royalty Fees: 20%
ActionCOACH is the World's # 1 Business Coaching Firm focussed on SME's. The vision is to create abundance by providing a business re-education to SME Business Owners. Interested persons may take the Coach Test at their website for an initial no commitment consultation to see if there is a match between their goals and aspirations with what this franchise opportunity provides.
---
Kumon
Founded in: 1954
Franchising since: 2005
Franchise units: 25000+ Worldwide
Initial investment: $7,000 - $14,000
Franchise Fee: $1,000
Royalty Fees: 45%
The Kumon Method has consistently worked for more than fifty years. However, the worksheet is always revised to ensure smooth student progress while continuing to maximize its potential. There are several programs offered by Kumon, including mathematics programs, English programs (EE programs), English language programs (EFL programs) and skills programs using pencils.
---
Mathnasium Learning Centers
Founded in: 2002
Franchising since: 2003
Franchise units: 275
Initial investment: $112,750 - $149,110
Franchise Fee: $49,000
Royalty Fees: 10%
Mathnasium, the nation's leading math-only learning center franchise, specializes in teaching kids math in a way that makes sense to them. The curriculum employs the Mathnasium Method, a proprietary system that was developed over 35 years by co-founder Lawrence Martinek. If you'd like to own a business that focuses specifically on helping kids with math, Mathnasium is one of the most recognizable franchise names in the world.
---
Conclusion
To summarize, we can say any of the listed above education franchises is worth buying. But there is a lot to consider while choosing the best one for you. Pay attention to the reputation of the brand, what training and support are offered, check if the other franchisees are successful. But the main thing you need to do is to align your budget with investment requirements of the brand. In order to ease the challenge, we have made the comparison flowchart of the best education franchises in the USA for you. It shows the minimum estimated initial investment and initial franchise fee of each brand. By using it, you can figure out the difference in financial requirements for each franchise, and decide which one fits you the most.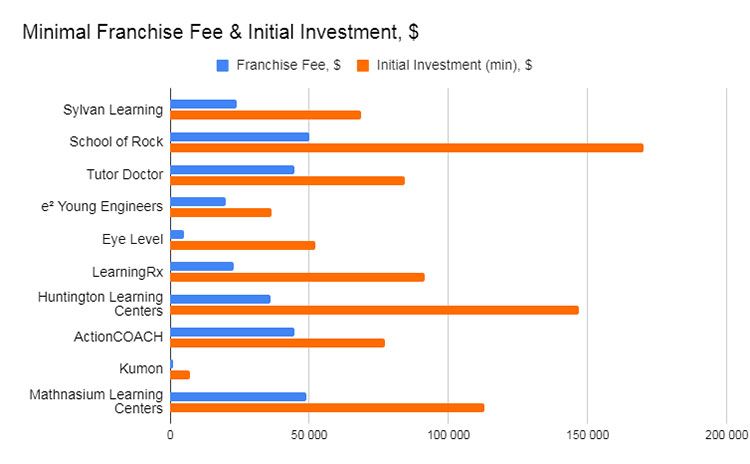 View all Education Franchises
Want to advertise your franchise with us and successfully boost your business?
Please send us your request and we will get back to you shortly!
DIDN'T FIND WHAT YOU WANT?
ASK THE EXPERTS