The 10 Best Entertainment Franchise Businesses in India for 2023
Update: 12.11.2021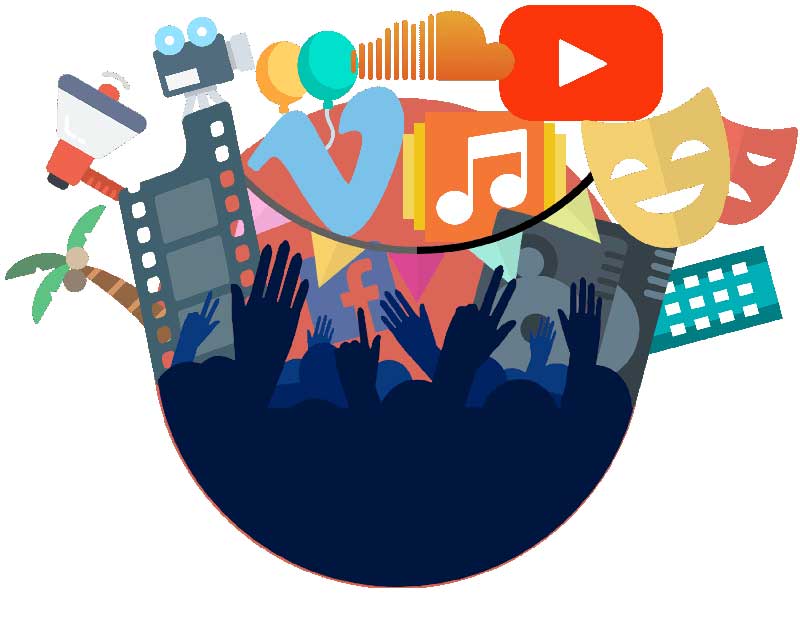 Despite limitations and lockdowns, the Entertainment franchise business in India remains afloat in 2022. However, in order to adapt to new conditions, brands implement innovative services. Speaking about entertainment franchises which remain successful, we should mention the leaders on our list of the best. They never give up their top positions.
A growing income of Indians and the changes in their lifestyle caused the development of entertainment industry in the country. International Entertainment Franchises have made a great impact on the market. Indian entertainment business offers a wide variety of services. They include kids' entertainment centers, pre-school football academies, virtual reality entertainment, adventure sport clubs, family entertainment centers, and others. The best franchisors assist their franchisees in the recruitment of staff, marketing, management, and staff trainings. If you feel like opening an entertainment franchise in India, discover The 10 Best opportunities in the list below.
Here are the top 10 best entertainment franchises in India
Zero Reality VR
Founded in: 2017
Franchising since: 2018
Franchise units: Less than 10
Initial investment: From Rs 50 Lakhs
Royalty Fees: 7%
Zero Reality VR is a place where you can go to experience the most advanced Virtual Reality in a relaxed setting with friends and family. There are numerous virtual reality experiences and games to choose from. Each lounge is equipped with an advanced VR headset, controllers, 4K TV, and couch so you can watch your friends or family experience while waiting for your turn. Zero Reality VR is a successful business model tapping into the latest trends in technology, entertainment and social engagement.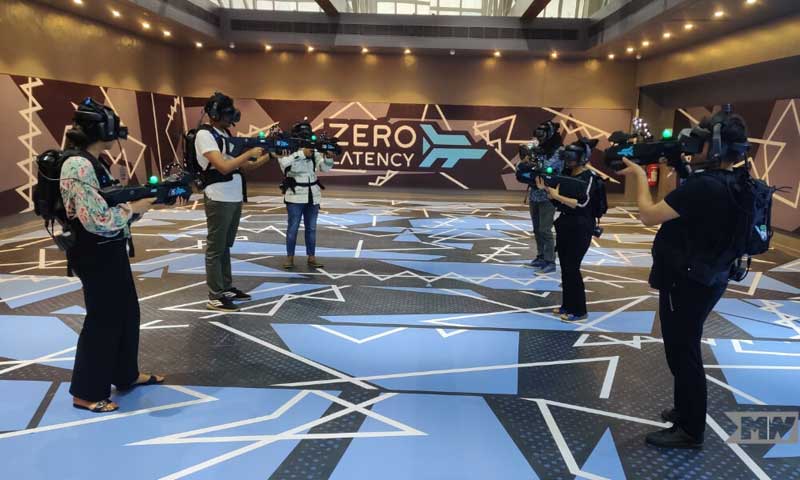 ---
Gamerz Pride
Founded in: 2014
Franchising since: 2015
Franchise units: Less than 10
Initial investment: From Rs 10 Lakhs
Royalty Fees: 10%
Gaming in India is in its nascent stage. With the growth of Internet connectivity, we are just waiting to see it boom. We started our first gaming cafe at the end of 2014 In Navi Mumbai. Our specialty is the proposition we provide by catering to genuine gamers as well as those who wish just have fun. The same has ensured that since inception, we have always maintained the profitability of all our outlets till date where even those who have tried to copy us locally have failed and closed shop. Join us in this exciting future where work becomes play and play becomes work.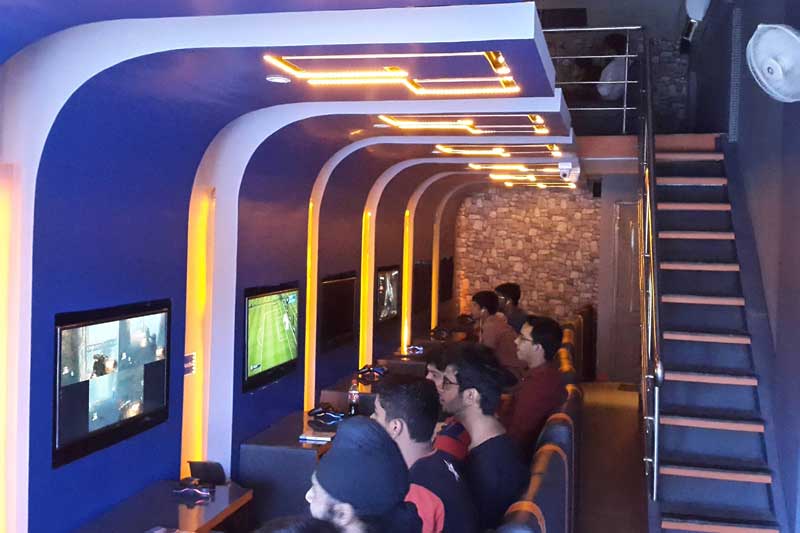 ---
Little Kickers
Founded in: 2002
Franchising since: 2002
Franchise units: 200-500
Initial investment: From Rs 5 Lakhs
Little Kickers is UK's biggest and most successful pre-school football academy that believes in child development through fun, frolic, play and not push. Founded in 2002, HQ in Canada, it began its operations with two core beliefs. Firstly, to give children a positive introduction to sport as a whole, encouraging health and fitness and secondly using football as an educational tool which can aid early development skills such as learning colors and numbers, mathematics, counting, and social development. With 270+ franchises in 20 countries globally, Little Kickers is looking for Franchise Partners in India.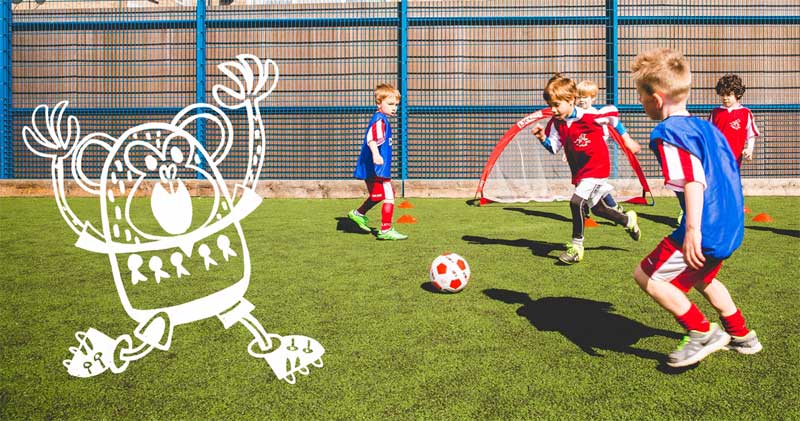 ---
Chi Chi's SkyJumper
Founded in: 2017
Franchising since: 2019
Franchise units: Less than 10
Initial investment: From Rs 10 Lakhs
Royalty Fees: 6%
Chi Chi's SkyJumper is a new-age sensation in the field of Amusement. It's a huge success and great customer feedback inspired the company to develop a similar but smaller scale (500-1500 SQFT) concept of Trampoline Park by the brand name "Chi Chi's SkyJumper" that is easy to setup at substantially lower costs. Chi Chi's SkyJumper is great fun and resonates very well with kids in the age bracket of 2 Years to 15 Years. This innovative concept has received multiple accolades and recently has been awarded by govt of India as one of the best scalable business models of the year 2019.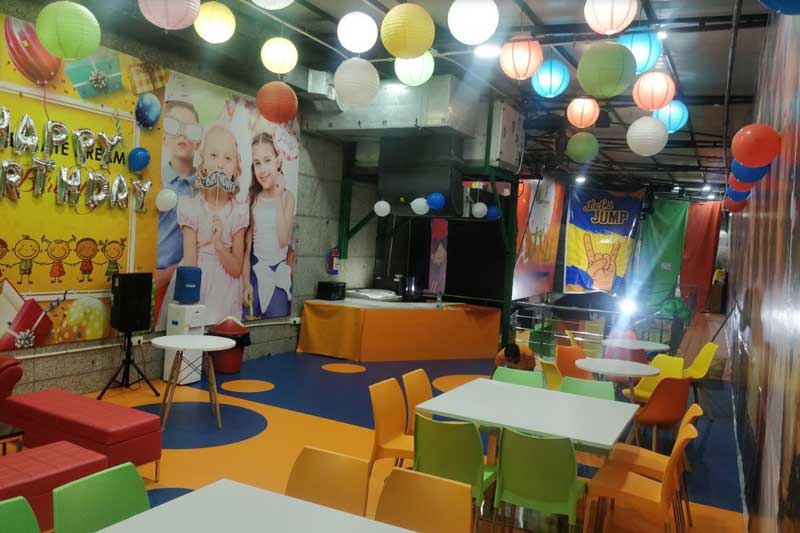 ---
Univrse Virtual Reality Arcade
Founded in: 2016
Franchising since: 2018
Franchise units: 10-20
Initial investment: From Rs 20 Lakhs
Royalty Fees: 15%
Univrse is the next level entertainment destination featuring world-class top-rated virtual reality experiences, games and more. With more than 25 exciting titles for all age groups, the arcades are a fun place for everyone to spend great times with their friends and families. The top-notch hardware at the arcade allows the users to feel and get inside the games and experiences using VR headset, interact and play using controllers, move around, jump, dodge and thus forget the real world. Users can be in the game instead of just looking at it! Univrse tends to be a social fun a place where the customers can come, enjoy & experience next-level VR entertainment.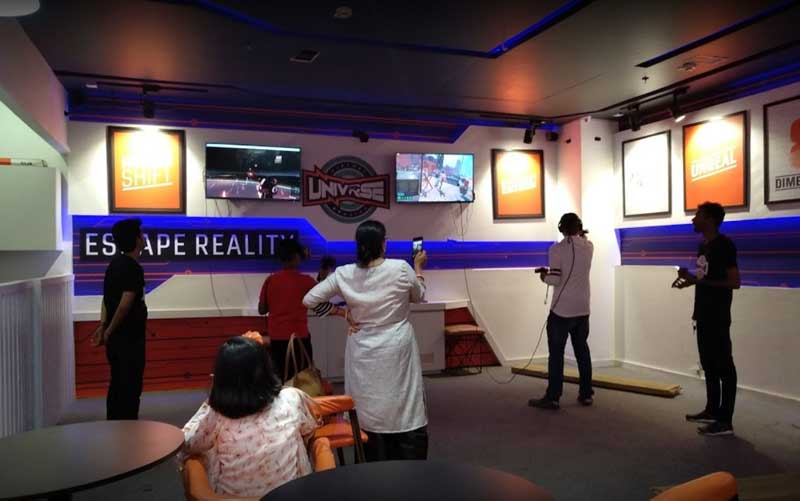 ---
Funderland
Founded in: 2016
Franchising since: 2019
Franchise units: Less than 10
Initial investment: From Rs 50 Lakhs
Royalty Fees: 10%
Funderland is a new state of the art family entertainment center, which is not just another gaming zone or toddler zone, its a comprehensive center that offers play n party facility and promotes festivities and events. Funderland, a Soft play area in west Delhi, allows kids aged 6 months to 8 years to actively play and develop new motor skills such as learning to climb, balance, build blocks, and hone social skills by playing with other kids. This Soft Play Area helps stimulate and encourage children to think and make the most of this exploratory playtime. The area is ideal for kids of our city as there's a dearth of parks and other public spaces around.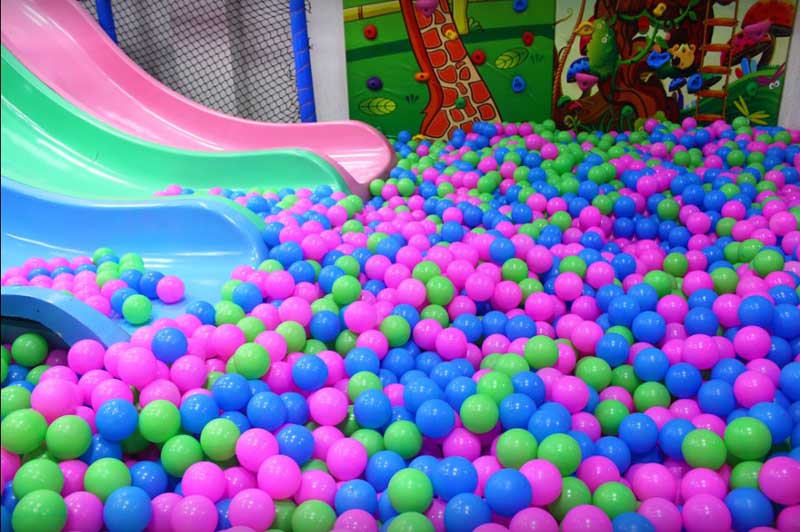 ---
Clip'N Climb
Founded in: 2006
Franchising since: 2015
Franchise units: Less than 10
Initial investment: From Rs 5 Cr
Royalty Fees: 6%
Clip 'N Climb is an amazing indoor climbing theme created to build enthusiasm among adventure sports followers. It has created a sensation among all age groups. All challenges are unique. And there are specific challenges based on age groups. Safety being our top priority quality matters the most. Clip 'N Climb history indicates a sustainable and successful venture. Indian Market has huge potential for Clip 'N Climb theme.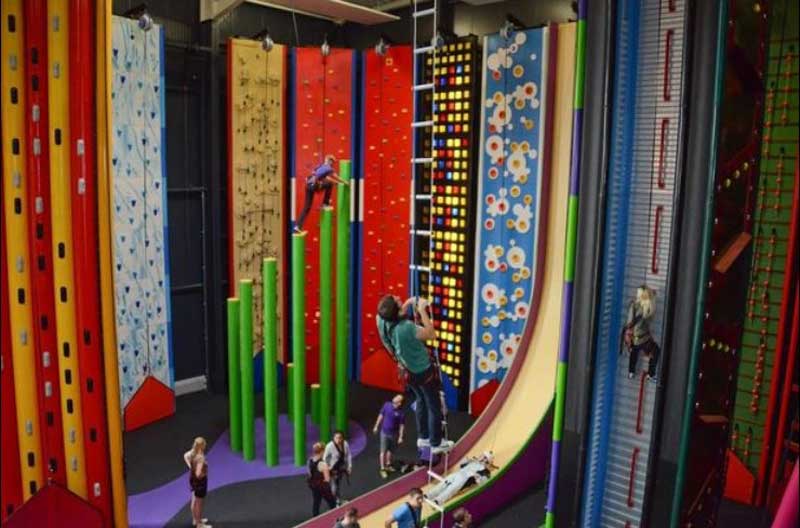 ---
Dino World
Founded in: 2012
Franchising since: 2015
Franchise units: Less than 10
Initial investment: From Rs 2 Cr
Royalty Fees: 6%
As the name suggests, Dino World is set to be developed in the era of 150 million years old giants! – dinosaurs. Notably, dinosaurs are the most popular attraction all over the world in every form of entertainment, be it movies, theme parks, games or books. All age groups love them. The Company will assist franchisees in the recruitment of staff for the amusement park. The company will provide comprehensive training to the staff at the franchisee's cost.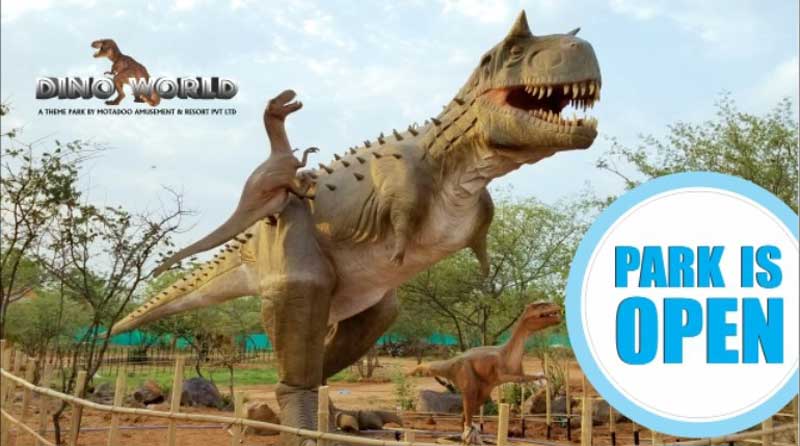 ---
HotFut
Founded in: 1950
Franchising since: 2015
Franchise units: Less than 10
Initial investment: From Rs 1 Cr
HotFut is one of India's leading sports infrastructure development and management company providing world-class infrastructure for multiple sports for communities at the grassroots level. Through its robust management systems and SOPs, HotFut runs these sports venues commercially to generate revenue through rental services to individuals/ corporate offices/ organizations. Overall, HotFut combines state-of-the-art infrastructure, fine-tuned technical and management systems, and talented people in an economically viable business model.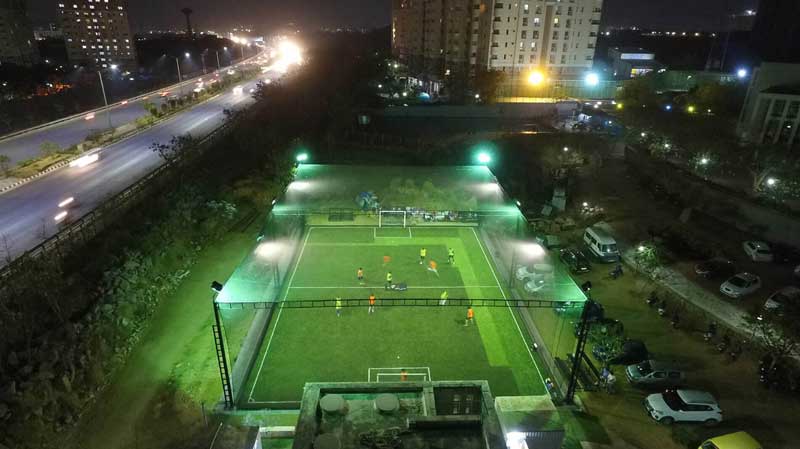 ---
Koolkidz
Founded in: 1988
Franchising since: 2018
Franchise units: 20-50
Initial investment: From Rs 10 Lakhs
Royalty Fees: 10%
Koolkidz specializes in setting up kids' entertainment centers in malls and other areas, as per investors budget and space, using high-quality products and equipment, matching American and European standards. The brand is based in Kolkata, the company started with a single entertainment center in the year 2000 by the name of Kool kidz Play Area, and today operates more than 28 centers in top malls in India. Targeting primarily the age group of 2 to 7 years, Koolkidz houses soft play area and toddler zone designed and created in designates spaces in malls and other public places with high footfall.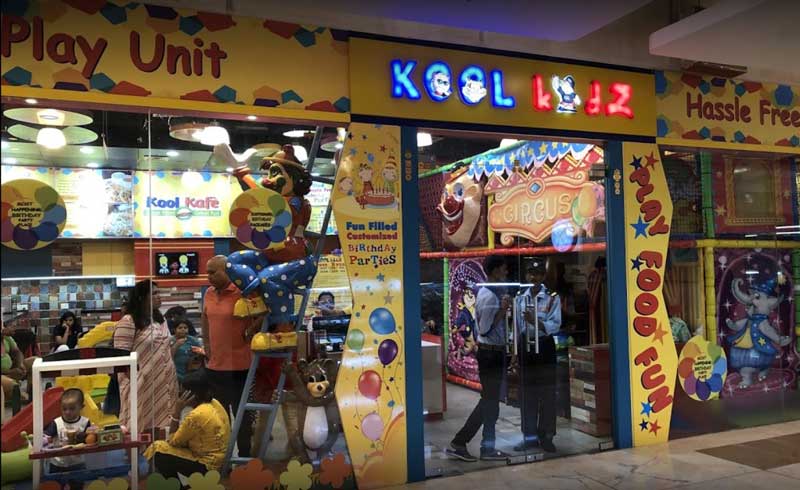 ---
Conclusion
To summarize, we can say any of the listed above entertainment franchises is worth buying. But there is a lot to consider while choosing the best one for you. Pay attention to the reputation of the brand, what training and support are offered, check if the other franchisees are successful. But the main thing you need to do is to align your budget with investment requirements of the brand. In order to ease the challenge, we have made the comparison flowchart of the best entertainment franchises in India for you. It shows the minimum estimated initial investment of each brand. By using it, you can figure out the difference in financial requirements for each franchise, and decide which one fits you the most.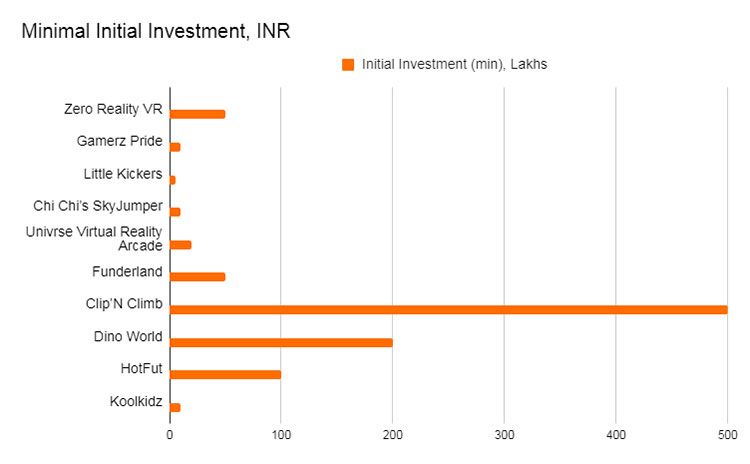 View all Entertainment Franchises in India
Browse franchises by countries

USA

India

Canada

The UK

Indonesia

The Philippines

Australia

The UAE

Saudi Arabia

South Africa

Germany

Pakistan

Singapore

Malaysia
Other countries
Want to advertise your franchise with us and successfully boost your business?
Please send us your request and we will get back to you shortly!
DIDN'T FIND WHAT YOU WANT?
ASK THE EXPERTS