The 10 Best Hotel Franchise Businesses in Canada for 2023
Update: 20.11.2021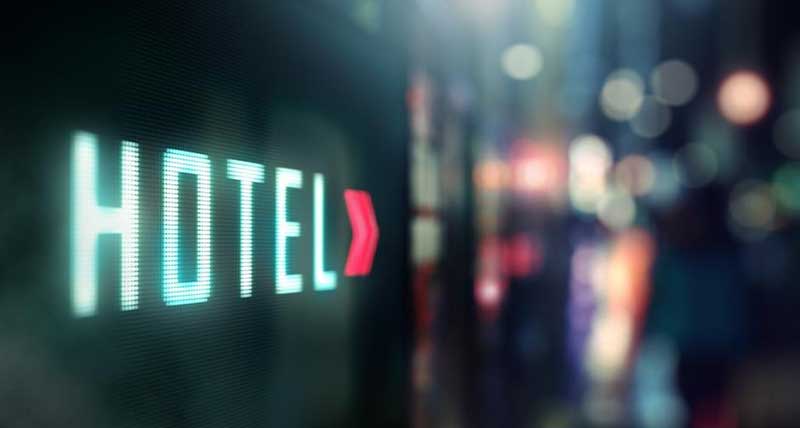 In 2022 Hotel franchise business in Canada is expected to recover after a setback caused by the pandemic. Running through the recent list of the best businesses within the industry, we noticed just a small rotation among the leaders for two previous years. The tendendency shows the reliability of the brands.
As traveling becomes more affordable due to lower airline prices, the demand for quality hotel services is increasing. Canada is one of favourite tourist destinations therefore it is quite welcoming for hotel franchises. The best hotel franchises are powerful brands, with diverse marketing programs and industry-leading services. They are looking for smart and responsible franchise partners and are ready to assist them in their endeavours of running the business. If you`d like to start your own business with a support of a friendly team, here's a list of top 10 hotel opportunities of franchising available right now.
Here is the top 10 hotel franchises in Canada
Wingate by Wyndham
Founded in: 1996
Franchising since: 1996
Franchise units: 188
Initial investment: from $422,532
Franchise Fee: $36,000
Royalty Fees: 6%
Wingate by Wyndham is a hotel for modern travelers, offering inviting lobbies, ergonomic workspaces, welcoming lounges, and flexible meeting spaces for guests looking to stay connected and productive. Wingate offers a value engineered, midscale prototype, making the brand an ideal choice for new builds, as well as for certain conversion properties. Guests enjoy clean, comfortable rooms and amenities such as free breakfast and Wi-Fi, ergonomic workspaces, flat-screen TVs, mini-refrigerators, microwaves, and coffee makers. With their higher annual income, the Wingate guest requires an experience that suits their modern lifestyle.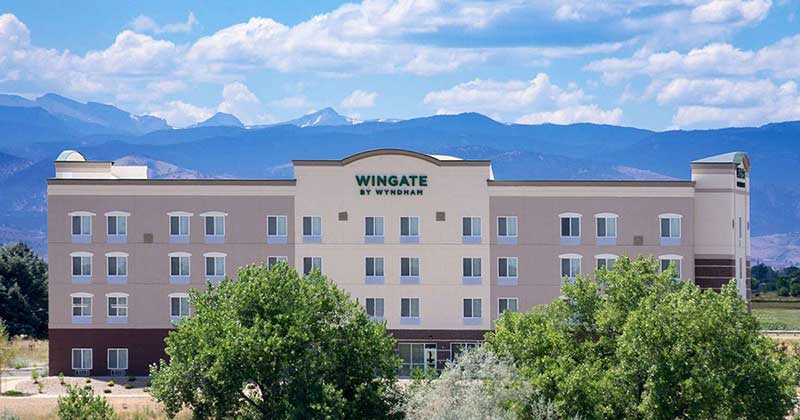 ---
Park Inn by Radisson
Founded in: 2000
Franchising since: 2000
Franchise units: 149
Initial investment: from 2,663,000
Franchise Fee: $35,000
Royalty Fees: 4.5%
Park Inn® by Radisson delivers stress-free experiences, good food and upbeat environments. We positively lift our guests' moods for a happy stay – with clever use of color, inspired, contemporary design, and friendly, personalized service with surprising, feel-good extras. The upper midscale brand with 200 hotels in operation and under development worldwide, offers functional rooms and flexible meeting spaces, and is located in capital and secondary cities, near airport and railway stations.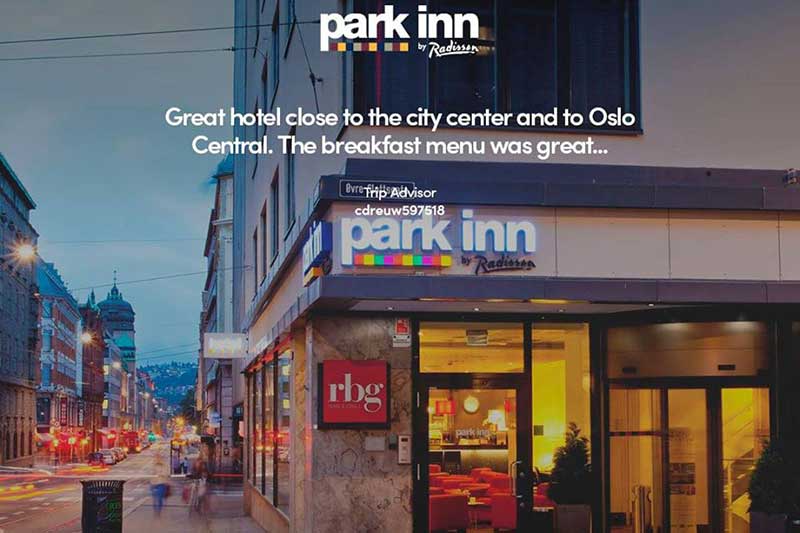 ---
Microtel Inn by Wyndham
Founded in: 1988
Franchising since: 1988
Franchise units: 327
Initial investment: from $5,824,000
Franchise Fee: $40,000
Royalty Fees: 6%
Microtel Inn & Suites by Wyndham attracts travelers looking for a simple and streamlined experience that still feels stylish and modern. Designed for peak efficiency at a reasonable price, Microtel offers kitchenettes, dual desks, and a modernized common area that invites guests to socialize and stay productive. Every Microtel is purpose-built, making it the only all new construction hotel chain in the economy segment. The cutting-edge prototype allows for short construction times and low startup costs, an attractive feature for developers and an important attribute for owners.

---
Days Inns - Canada
Founded in: 1992
Franchising since: 1992
Franchise units: 113
Initial investment: from $197,000
Franchise Fee: $35,000
Royalty Fees: 6.5%
In 1992, Realstar Hospitality acquired Canadian master franchise rights to the Days Inn brand. Days Inns - Canada is one of the country's leading hotel chains with over 110 independently owned and operated properties and over 8,800 rooms. Its franchises cover a wide range of urban, airport and resort properties in primary and secondary markets across Canada. Every Days Inn by Wyndham in Canada participates in the Wyndham Rewards guest reward program.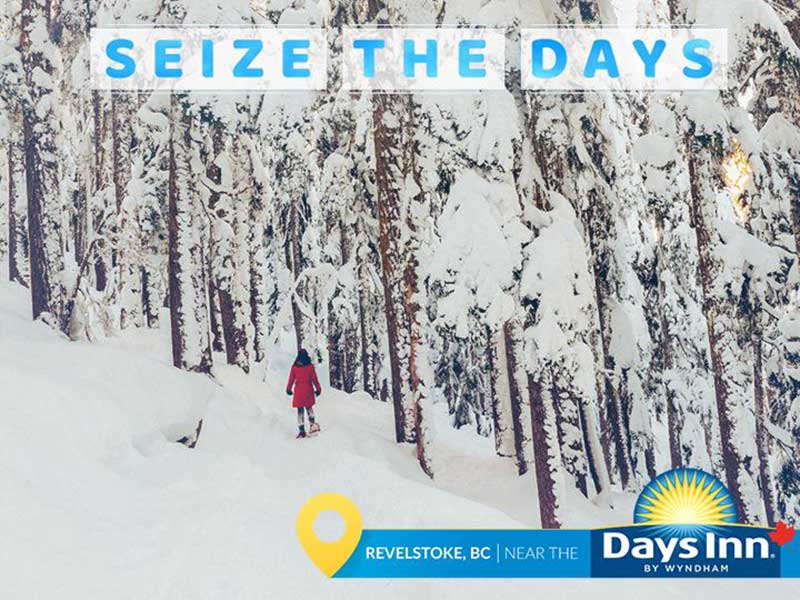 ---
Embassy Suites Hotels
Founded in: 1983
Franchising since: 1984
Franchise units: 253
Initial investment: from $39,479,000
Franchise Fee: $75,000
Royalty Fees: 5.5%
Embassy Suites by Hilton™ is an upper upscale, all-suite hotel brand that anticipates the needs of both business travelers and families. The brand delivers what matters most: space and service—plus value-added amenities that guests prefer. With more than 30 years in the industry, this award-winning brand combines full-service benefits with a focused- service staffing model.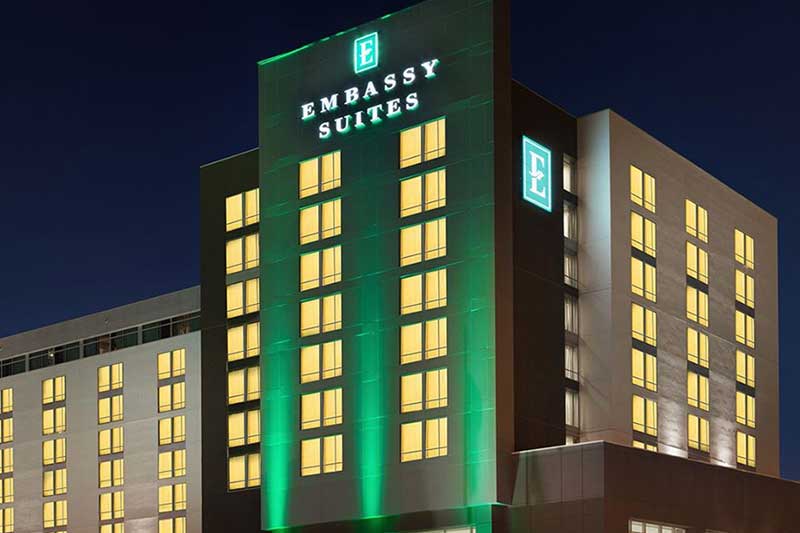 ---
Hawthorn Suites by Wyndham
Founded in: 1986
Franchising since: 1983
Franchise units: 110
Initial investment: from $256,000
Franchise Fee: $40,000
Royalty Fees: 5.5%
Hawthorn Suites by Wyndham is an extended-stay brand with guest rooms and amenities that create a home away from home for travelers. Regardless of the length of stay, Hawthorn crafts welcoming experiences for guests, encouraging them to stay longer, and stay better. With free Wi-Fi, on-site laundry services, healthy breakfast options and fitness centers, Hawthorn Suites provides everything guests need to stay on track during extended visits.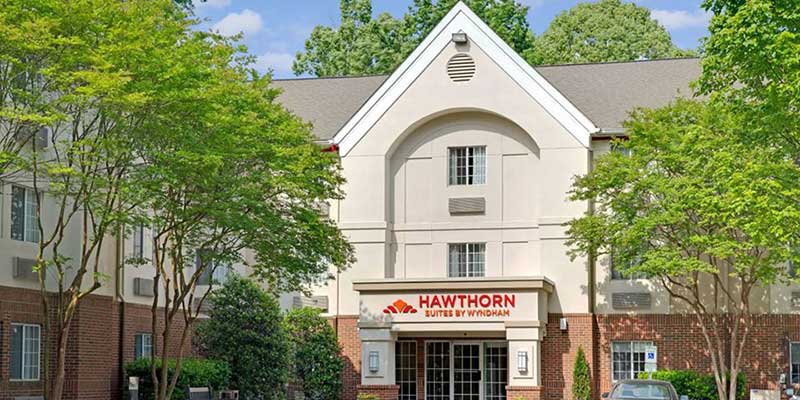 ---
Hilton Hotels & Resorts
Founded in: 1919
Franchising since: 1919
Franchise units: 398
Initial investment: from $33,710,000
Franchise Fee: $75,000
Royalty Fees: 5%
As the most recognized name in the industry, travelers all over the world have been saying "Take me to the Hilton" for almost a century. And because of our innovative approach to products, amenities and service, Hilton continues to be synonymous with hotel across the globe. Hilton Hotels & Resorts remains the stylish, forward thinking global leader of hospitality – and we help make traveling easier with our smart design, innovative restaurant concepts, authentic hospitality and commitment to the global community.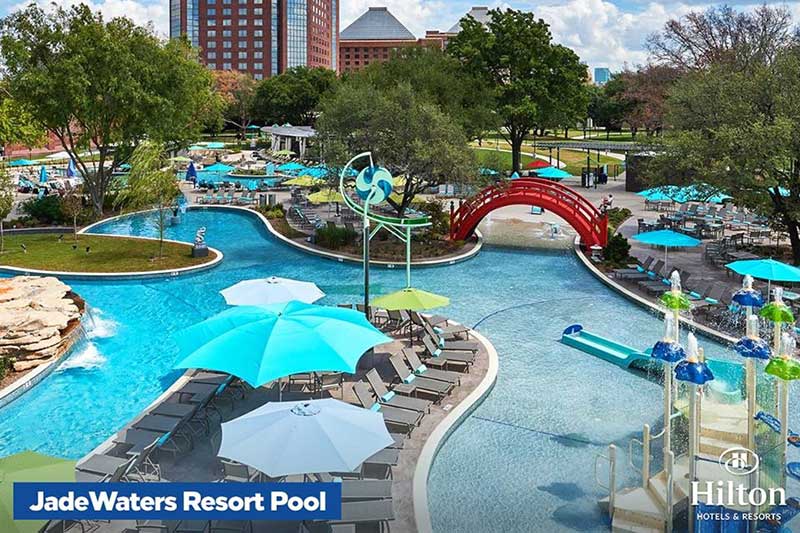 ---
Curio - A Collection by Hilton
Founded in: 2014
Franchising since: 2014
Franchise units: 74
Initial investment: from $3,448,000
Franchise Fee: $75,000
Royalty Fees: 5%
Curio - A Collection by Hilton (curiocollection.com) is a global collection of distinctive hotels that are woven into the fabric of their destinations. While each one is unique, they are united in their individuality. Curio guests are passionate travelers seeking local discovery and authentic experiences, while resting easier knowing the Hilton name is behind every stay. Curio joins a portfolio of market-leading brands from Hilton Worldwide, a leading global hospitality company.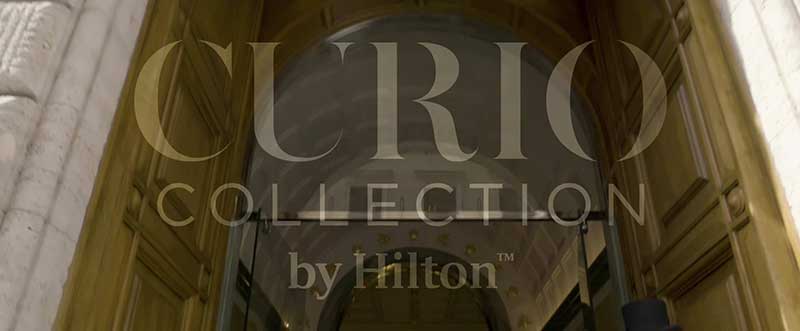 ---
Choice Hotels Canada Inc
Founded in: 1993
Franchising since: 1993
Franchise units: 317
Initial investment: from $118,825
Franchise Fee: $15,000 - $60,000
Royalty Fees: 5%
Choice Hotels Canada® is the nation's largest hotel franchisor with over 350 properties open and under development. Choose from seven distinct brands or an upscale membership program to suit any location. When you team up with Choice Hotels®, you'll benefit from powerful brands, diverse marketing programs, national sales support and industry-leading operations services. Contact us to learn more about current franchise opportunities, and the resources and programs we provide.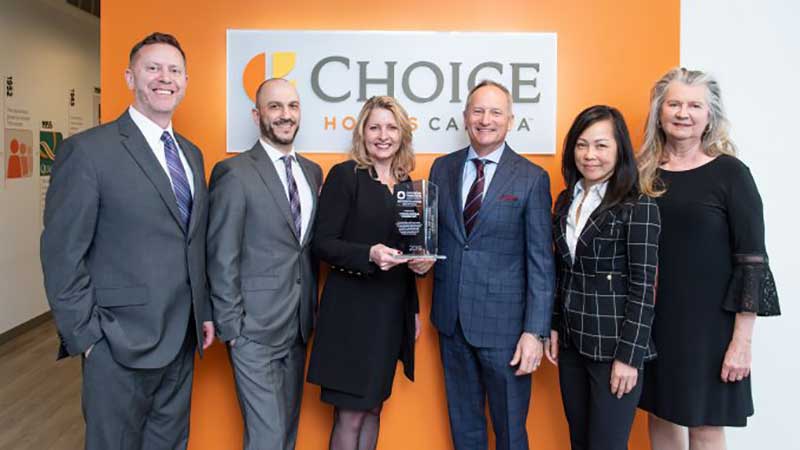 ---
Baymont by Wyndham
Founded in: 1974
Franchising since: 1987
Franchise units: 499
Initial investment: from $209,000
Franchise Fee: $26,000
Royalty Fees: 5%
One of the fastest-growing midscale hotel franchises, Baymont by Wyndham offers warm, welcoming service without pomp and circumstance. With its signature hometown hospitality and valuable extras, such as free high-speed wireless internet and breakfast corner with waffles, Baymont guests feel at home no matter where they travel. Baymont has proven its ability to strategically develop the ideal midscale prototype design in the right locations. It is the personal connection we have with every franchisee that has created the foundation of our success, and our long-term partnerships show it.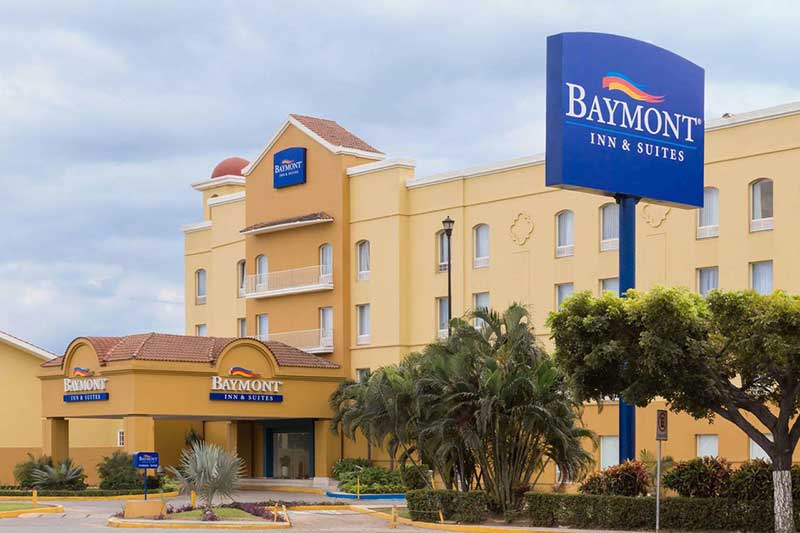 ---
Conclusion
To summarize, we can say any of the listed above hotel franchises is worth buying. But there is a lot to consider while choosing the best one for you. Pay attention to the reputation of the brand, what training and support are offered, check if the other franchisees are successful. But the main thing you need to do is to align your budget with investment requirements of the brand. In order to ease the challenge, we have made the comparison flowchart of the best hotel franchises in Canada for you. It shows the minimum estimated initial investment and initial franchise fee of each brand. By using it, you can figure out the difference in financial requirements for each franchise, and decide which one fits you the most.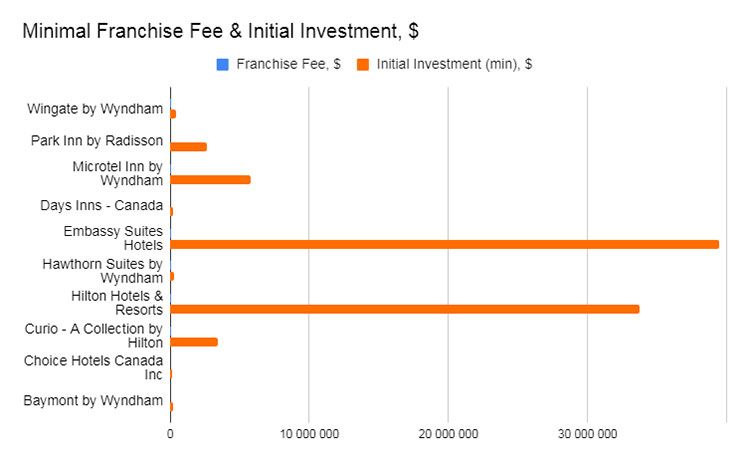 View all Hotel Franchises
Browse franchises by countries

USA

India

Canada

The UK

Indonesia

The Philippines

Australia

The UAE

Saudi Arabia

South Africa

Germany

Pakistan

Singapore

Malaysia
Other countries
Want to advertise your franchise with us and successfully boost your business?
Please send us your request and we will get back to you shortly!
DIDN'T FIND WHAT YOU WANT?
ASK THE EXPERTS