The 10 Best Home Inspection Franchise Businesses in Canada for 2022
Update: 12.11.2021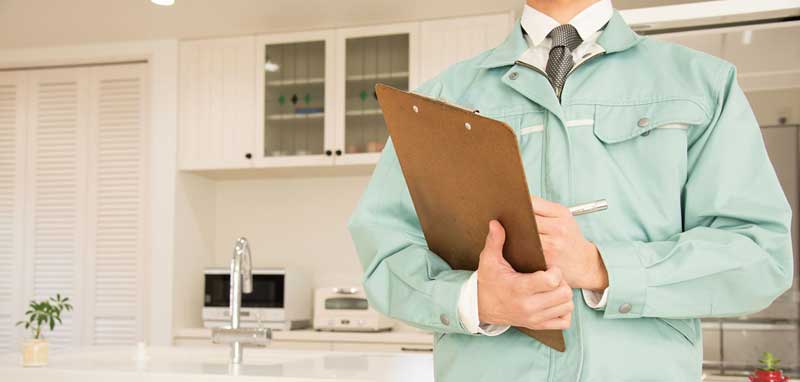 People change their place of living from time to time, and require quality home inspection services before buying a new house. Home inspection franchises in Canada will go on doing their activities in 2022. As the segment hasn't faced any critical changes, our Rating of The Best looks similar to the one of previous years.
The best home inspection franchises in Canada are fast growing companies with years of experience, a recognized brand name, thousands of loyal customers, proven marketing and business processes. They provide a full range of home inspection services, and help buyers and sellers feel more confident about having deals with commercial or residential property. Join one of top 10 home inspection franchises for 2022 out of the list below and rest assured that you will receive comprehensive trainings, access to the best practices, and professional support on all stages of running the business.
Here is the top 10 home inspection franchises in Canada
AmeriSpec Inspection Services
Founded in: 1987
Franchising since: 1988
Franchise units: 272
Initial investment: from $30,000
Royalty Fees: 7.0%
With more than 25 years as a leader in the home inspection industry, AmeriSpec helps buyers and sellers feel more confident about buying, selling and upgrading their commercial or residential property and saving our customers unforeseen costs. AmeriSpec offers comprehensive training in the industry by combining classroom instruction, in-field inspections, and hands-on technical training. Joining a network of AmeriSpec franchisees means having access to a wealth of knowledge whenever you need it. Our franchisees share best practices and strategies that continually strengthen our brand across North America.
---
Canadian Residential Inspection Services Ltd
Founded in: 1988
Franchising since: 2001
Franchise units: 30
Initial investment: from $44,000
Royalty Fees: $9,500
Canadian Residential Inspection Services, Ltd. is a solely Canadian-owned company. The company was established in 1988 to address the inspection needs of the real estate marketplace, and since that time has developed an innovative expertise in the industry. Our training program allows you to knowledgeably and confidently approach this industry and make your mark. Training is the foundation of your future as a home inspector and ensures that you develop on-going referrals from previously satisfied clients and their professionals.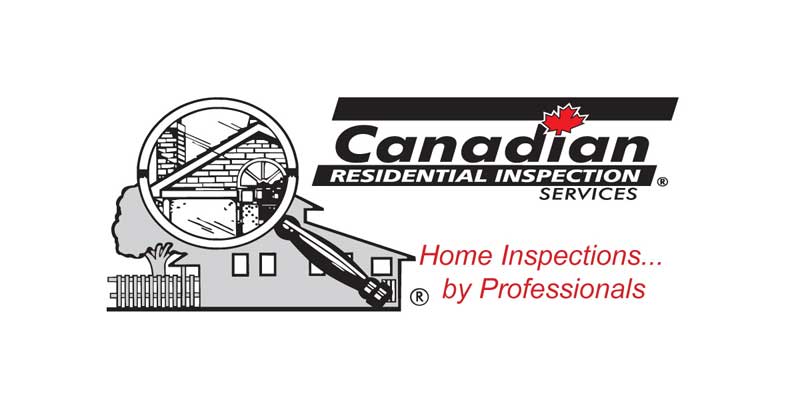 ---
Global Property Inspections
Founded in: 1987
Franchise units: 270
Initial investment: from $33,000
Royalty Fees: 8%
We are proud to be one of the oldest and most respected names in the property inspection business. Global Property Inspections offers a diverse set of inspection services for both residential and commercial real estate property. Our focus is on your long-term business success, so you'll get the most for your franchise fee. You'll receive an initial supply of marketing materials including brochures, ad layouts, business cards, poster designs, letters and much, much more to promote your business.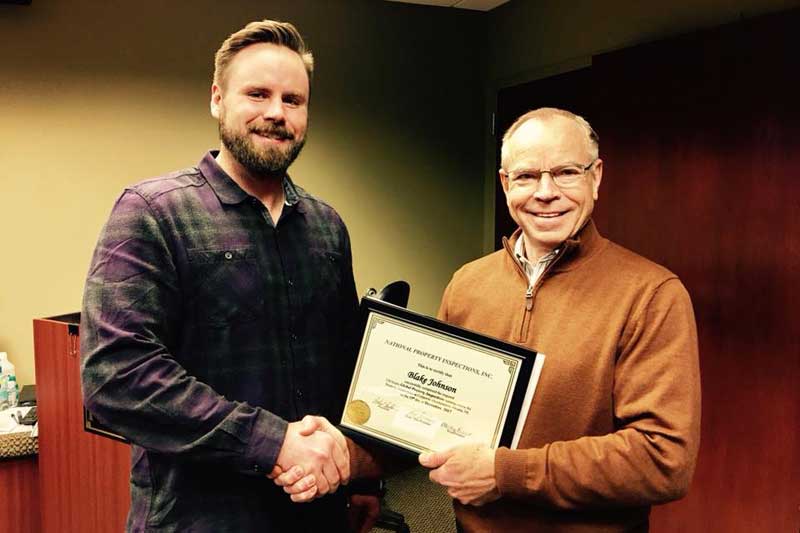 ---
A Buyer's Choice Home Inspections
Founded in: 2007
Franchising since: 2007
Franchise units: 186
Initial investment: $35,000
Royalty Fees: 8%
A Buyer's Choice Home Inspection is a national chain of inspectors that provide a complete range of home inspection services to ensure that people can make home purchases with confidence. Are you interested in a career change, or starting your own business? A home inspection franchise opportunity could be just what you're looking for. All of our inspectors must complete our comprehensive home study training course. We also host company-wide conferences and ongoing training and support activities.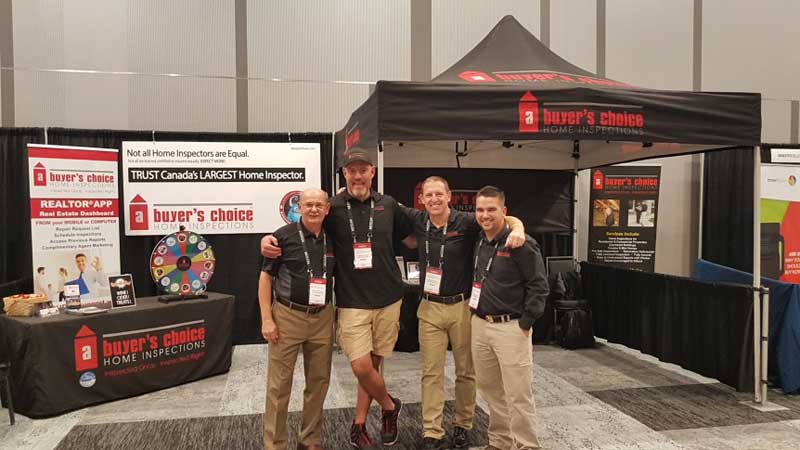 ---
Pillar To Post
Founded in: 1994
Franchising since: 1994
Franchise units: 577
Initial investment: from $36,000
Royalty Fees: 7%
Pillar To Post Home Inspectors is the largest, and fastest-growing home inspection company in North America. We have proven national and local marketing programs to drive business and book inspections. At Pillar To Post, we will show you how to build and grow a successful business using our proven Pillar To Post system. We will also provide you with in-house inspector, sales and marketing training.
---
Lighthouse Inspections Canada Ltd
Founded in: 1999
Franchising since: 2000
Franchise units: 12
Initial investment: from $20,000
Royalty Fees: 7%
Join the Lighthouse Inspections team and you'll have access to a network of inspectors with all levels of experience. With our proven model and the full support of our team, your transition to being your own boss will be an easy one. You will enjoy the freedom to spend more time with your family and set your own hours while part of an inclusive, friendly atmosphere. For a reasonable investment, you will be provided with recognized industry training and, within a short time, you will be fully operational.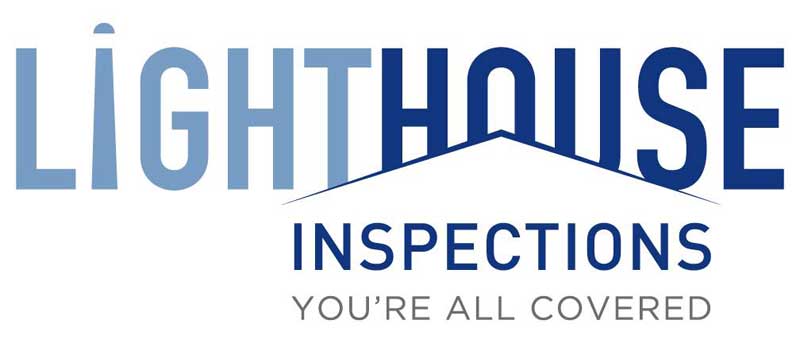 ---
HouseMaster Canada
Founded in: 1971
Franchising since: 1979
Franchise units: 313
Initial investment: from $37,000
Royalty Fees: 7.5%
Founded in 1979 and Headquartered in Somerville, NJ, HouseMaster is the oldest and one of the largest home inspection companies in North America. With more than 310 franchised areas throughout the US and Canada, HouseMaster is the most respected name in home inspections. For over 35 years, HouseMaster has built upon a foundation of solid leadership and innovation with a continued focus on delivering the highest quality service experience to their customers and providing HouseMaster franchisees the tools and support necessary to do so. Each HouseMaster franchise is an independently owned and operated business.
---
Home-Alyze
Founded in: 1978
Franchising since: 1999
Franchise units: 6
Initial investment: from $45,000
Royalty Fees: 8.0%
Home-Alyze offers professional home inspection services across Canada. Since 1978, Home-Alyze has developed many innovations in the home inspection industry including; reporting systems tailored to regional conditions, on site reporting, and the offering of Air Miles® reward miles. Our mission is to be the most credible home inspection service available, to protect our image as a valuable consumers' advocate, and to provide our customers with inspections and recommendations that are knowledgeable, thorough, fair, realistic and impartial.

---
Grassroots Home Inspection
Founded in: 1990
Franchising since: 1990
Initial investment: from $23,000
When you're looking for a Canadian home inspection franchise opportunity, we encourage you to consider joining the Grassroots® team. While as a franchisee you are running an independent business, you will do so with the support of head office and the other franchisees in our network. We are dedicated to providing excellence in home, commercial and environmental inspections. We have designed our systems to provide you with every chance of success. We help you get business in your local area as well as work on network programs to give you every possibility of success.

---
The HomeTeam Inspection Service
Founded in: 1992
Franchising since: 1992
Franchise units: 174
Initial investment: from $58,000
Royalty Fees: 6%
The HomeTeam Inspection Service franchise offers you an incredible opportunity in the professional home inspection industry. Since the beginning, HomeTeam has been the dominant leader in technology, operations, marketing, and our brand continues to set the standards for the rest of the industry. Our emphasis is to support our franchisees with a powerful marketing program. We are the only company in our industry that trains you from start to finish, ensuring that we help you establish a flourishing business that will continue to be a sound investment for many years to come.
---
Conclusion
To summarize, we can say any of the listed above home inspection franchises is worth buying. But there is a lot to consider while choosing the best one for you. Pay attention to the reputation of the brand, what training and support are offered, check if the other franchisees are successful. But the main thing you need to do is to align your budget with investment requirements of the brand. In order to ease the challenge, we have made the comparison flowchart of the best home inspection franchises in Canada for you. It shows the minimum estimated initial investment of each brand. By using it, you can figure out the difference in financial requirements for each franchise, and decide which one fits you the most.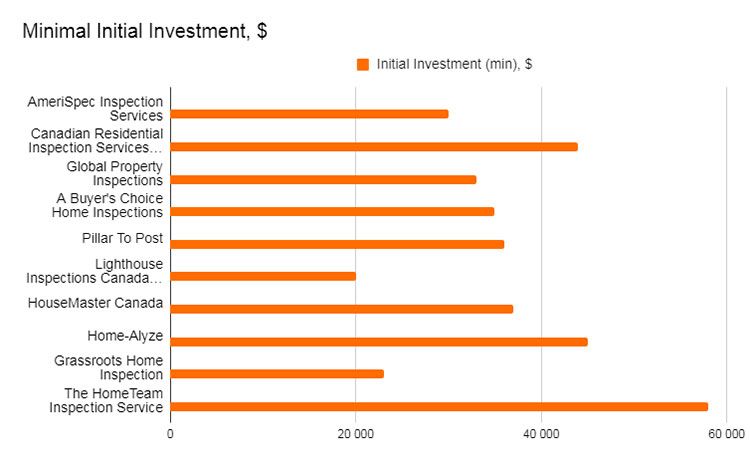 View all Home Inspection Franchises
Want to advertise your franchise with us and successfully boost your business?
Please send us your request and we will get back to you shortly!
DIDN'T FIND WHAT YOU WANT?
ASK THE EXPERTS