The 8 Best Painting Franchise Businesses in USA for 2023
Update: 12.11.2021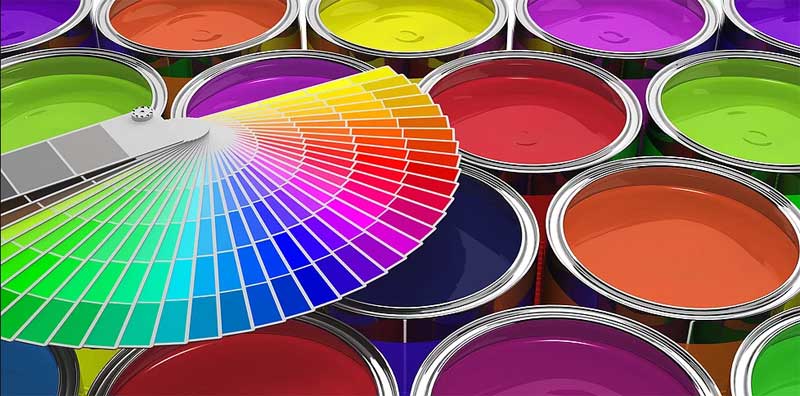 Painting franchise business is stable in the USA. That is why, the rating of the best brands operating in the field in 2022 is very similar to the one we have been watching for several years. It means that Painting franchise companies listed here are reliable, successful and worth investing in.
Painting franchise business incorporates a lot of benefits. The owner can have a part-time job, it allows you to express creativity, it includes a lot of related services which can bring additional income, and painting services are always in demand. Painting franchise sector in the USA offers various residential and commercial concepts. The best painting franchises have a proven marketing system, a comprehensive franchisee training program and the support of a reliable brand. Discover the best franchise opportunities by looking through our collection of The 8 Best Painting Franchise Businesses to own in the USA.
Here are the top 8 best painting franchise businesses in the USA
America's Color Consultants
Founded in: 2007
Franchising since: 2014
Franchise units: 2
Initial investment: from $14,635
Franchise Fee: $10,000
Royalty Fees: 6%
America's Color Consultants is a paint color consulting franchise offering interior and exterior paint color consulting for residential and small businesses. Our business model supports women who care for young school age children, family members with disabilities and/or aging parents. This is an excellent opportunity to supplement your income: become your own boss - start part-time and grow to full-time - from your own home. Perfect for partnerships or retirees!
---
Wow 1 Day Painting
Founded in: 2008
Franchising since: 2010
Franchise units: 37
Initial investment: from $67,000
Franchise Fee: $32,000
Royalty Fees: 6%
WOW 1 DAY Painting franchise combines speed with quality to complete most painting jobs in one day. When you join WOW 1 DAY PAINTING, you're a part of the O2E Brands family. You have access to the knowledge and expertise of fellow franchise partners across all four of our brands. The WOW 1 DAY PAINTING model is based on the proven systems and processes that made 1-800-GOT-JUNK? an international, multi-million-dollar brand. Franchising gives you the best of both worlds: the freedom to be your own boss, with the back-end systems and support of a trusted brand to set you up for success.
---
Fresh Coat
Founded in: 2005
Franchising since: 2005
Franchise units: 131
Initial investment: from $53,945
Franchise Fee: $44,900
Royalty Fees: 6%
Fresh Coat is America's leading residential and commercial painting company. It is not a traditional franchise with large inventory, high overhead or big investment fees, like a restaurant or retail franchise. This franchise is an excellent way to own a home-based, low investment, low overhead business in a high-growth industry. Professional home services is a hot industry, with unlimited potential for growth. With a variety of revenue streams and a proven marketing system, Fresh Coat enables you to be your own boss and live the American dream.
---
360 Painting
Founded in: 2005
Franchising since: 2006
Franchise units: 133
Initial investment: $90,455
Franchise Fee: $60,000
Royalty Fees: 6%
In today's market, where people are constantly remodeling and redecorating their homes and businesses, the painting industry continues to grow. With a 360° Painting franchise, you can tap into this growing market. 360° Painting offers the most comprehensive franchisee training program in the home services industry. The initial training a two-week program that covers all angles of running a home-based business, from initiating your marketing plan, completing estimates, to finding the right painters to complete the projects.
---
Five Star Painting
Founded in: 2002
Franchising since: 2007
Franchise units: 191
Initial investment: from $69,700
Franchise Fee: $45,000
Royalty Fees: 6%
Looking to Start a Painting Business? When you open a painting franchise rather than an isolated business, the franchisor handle the central challenges of start-up businesses alongside you. As a Five Star Painting franchise, you'll receive the management systems you need in order to run a profitable business. Rather than waste years of your time and thousands of dollars of your capital attempting to build your own systems from scratch, franchisees gain access to fully-developed systems, created over many years by hundreds of entrepreneurs working together.
---
Color World House Painting
Founded in: 1997
Franchising since: 2016
Franchise units: 24
Initial investment: from $72,260
Franchise Fee: $40,000
Royalty Fees: 6%
Color World is a one-of-a-kind painting franchise company, with a history of painting houses since 1997. Color World is a genuinely unique franchise model with very limited competition. We are looking to award franchises to motivated individuals with great people skills who are committed to upholding the high levels of profitability associated with owning a Color World. Color World Franchise owners don't need painting or other services experience—they simply manage the business and hire subcontractors to complete each job.
---
Painter1
Founded in: 2012
Franchising since: 2016
Franchise units: 16
Initial investment: from $70,910
Franchise Fee: $49,500
Royalty Fees: 5%
The Painter1 franchise is one of the fastest growing painting franchises in the nation. When you become part of the Painter1 family, you own a piece of the franchise system overall! We'll help you achieve success, gain your freedom, find more time and grow your financial security withing your own painting business. Step into a thriving industry with the best branding, marketing materials, coaching, software, tools and technologies available.
---
CertaPro Painters
Founded in: 1992
Franchising since: 1992
Franchise units: 359
Initial investment: from $133,250
Franchise Fee: $57,500
Royalty Fees: 5%
Do you dream of owning a successful business? A business you can build from the ground up and make it part of your legacy? We did it, and now we make it possible for other people do it too. Becoming a CertaPro Painters® franchise owner means hitting the ground running with a large, growing brand behind you. A brand that already has a reputation that far exceeds any other painting company. Jump into our community of thriving business owners. We'll help you along the way, as you build your own painting company.
---
Conclusion
To summarize, we can say any of the listed above painting franchises is worth buying. But there is a lot to consider while choosing the best one for you. Pay attention to the reputation of the brand, what training and support are offered, check if the other franchisees are successful. But the main thing you need to do is to align your budget with investment requirements of the brand. In order to ease the challenge, we have made the comparison flowchart of the best painting franchises in the USA for you. It shows the minimum estimated initial investment and initial franchise fee of each brand. By using it, you can figure out the difference in financial requirements for each franchise, and decide which one fits you the most.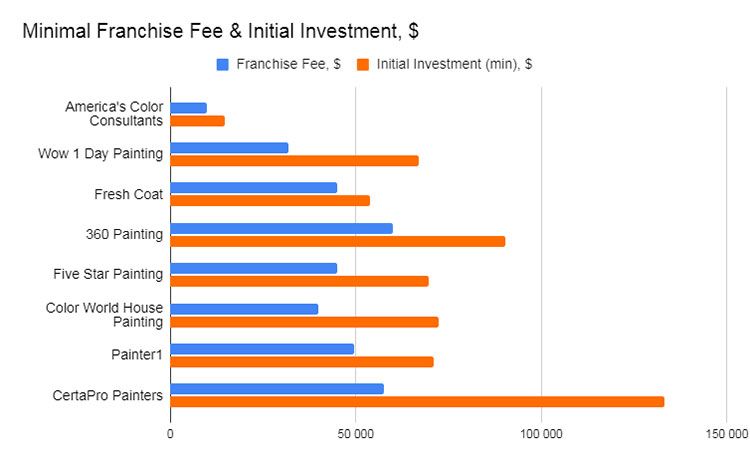 View all Painting Franchises
To know more about all stages of franchise development read our article Franchise development. How to develop a franchise.
Want to advertise your franchise with us and successfully boost your business?
Please send us your request and we will get back to you shortly!
DIDN'T FIND WHAT YOU WANT?
ASK THE EXPERTS