The 9 Best Advertising Franchise Businesses in India for 2023
Update: 04.12.2021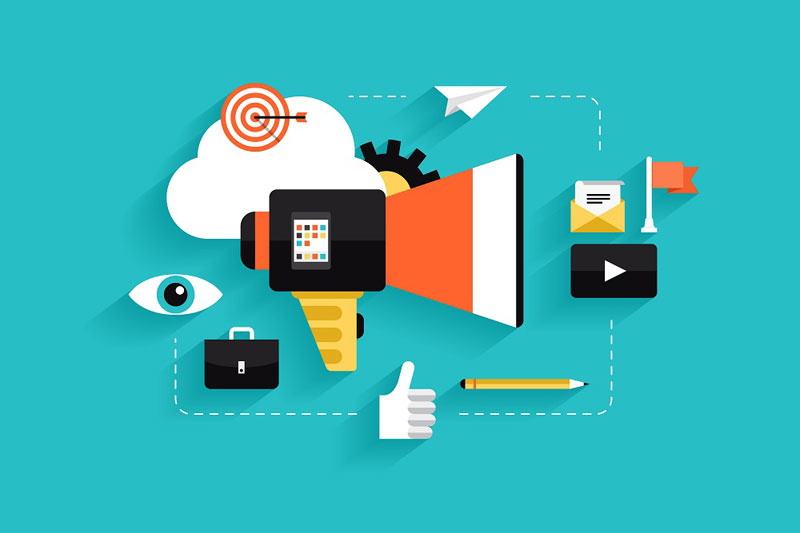 In the past few years, the advertising sector in India witnessed degrowth due to the pandemic. In 2022 it is expected to recrudesce. What we noticed is that the best advertising franchises, which were successful previously, are still on our top list. The fact means proven reliability of the brands.
Over the last 5 years India has been one of the fastest-growing advertising markets in Asia. Advertising franchises are successfully penetrating the market. The best advertising franchises in India provide their partners with trainings, support from experts, proven business models and all important tools for a profitable business. The top 9 advertising franchises 2021 in the country are leading companies for a newspaper advertisement, digital media marketing, indoor and outdoor advertising media, etc. Check out the list of popular advertising opportunities of franchising in India to pick up the best idea for you.
Here are the top 9 best advertising franchises in India
Easy Dial Solutions Pvt Ltd
Founded in: 2015
Franchising since: 2015
Initial investment: From Rs 2 Lakhs
Royalty Fees: 40%
The Easy Dial Solutions Pvt Ltd story that started in Hyderabad in 2015 soon became the largest network in the Indian industry among private players. Easy Dial Solutions Pvt Ltd family of franchisees is continuously growing and currently, its network is expanding at the rate of three franchisees a day. We have successful channel partners across India, more than 40 percent of them being first-time businessmen. Easy Dial Solutions Pvt Ltd franchise model lies at the heart of its success; and a robust Training & Development programme underpins this success. The franchisee system assists start-ups with minimal capital investment and helps them generate business and profit for themselves and for Easy Dial Solutions Pvt Ltd, in return.
---
Adlock Advertisement
Founded in: 2014
Franchising since: 2015
Initial investment: From Rs 2 Lakhs
Royalty Fees: 5%
Adlock Advertisement is the India's No.1 and leading company for newspaper advertisement where the company is working with leading Newspaper of India and various local state language newspapers. Our professional team have vast experience in Newspaper and Print Media, where we work to deliver quality from our company and aim to reach more and more audiences. The franchise benefits are franchisee training at Delhi, proper field assistance, support from experts, site selection support, proven business model to follow. Starting a new business with us will help you achieve your dreams!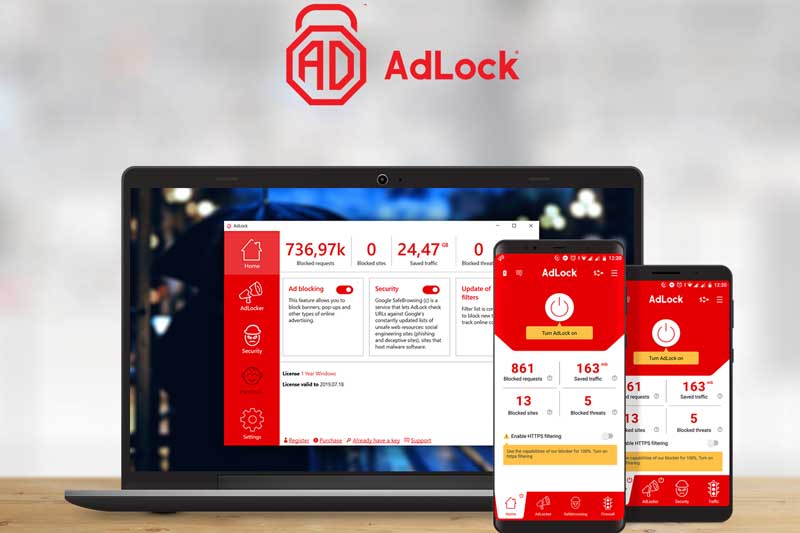 ---
JGD Advertising Media
Founded in: 2019
Franchising since: 2019
Franchise units: Less than 10
Initial investment: From Rs 0.1 Lakhs
Royalty Fees: 40%
JustFindBusiness is a Local Business Search Engine and Leading Business Advertising & Promotion site of India. Our website is all about India Business. We have lots of quality Business Advertising and Promotion features of Indian origin from India, and every day online adding new FREE Business/Services Listing with us. Our Business Opportunity Program is ideal for all Un-employed, Cyber-cafe owner, Finance Agents, LIC-Insurance Agents, Advertising agents & agencies, also for those who is planning to start their own business with low investment.

---
Live Uttar Pradesh
Founded in: 2011
Franchising since: 2015
Initial investment: From Rs 0.1 Lakhs
Live Uttar Pradesh is an INS accredited advertising company with presence in digital media marketing and public relations. It is the fastest growing news portal around the state of Uttar Pradesh. At Live Uttar Pradesh readers get amazing synergy between all the major cities of U.P. as well as the national news. News that has great appeal and relevance for U.P. and national readers, coming in around from more than 25 journalists across the entire state. Support to a franchisee involves proven business model manuals, the benefit of established brand name, marketing support, advertisement guidance, on-field support.
---
Billboard Connection
Founded in: 1980
Franchising since: 1992
Franchise units: 10000+
Initial investment: From Rs 33 Lakhs
Royalty Fees: 5%
Billboard Connection is an Ad Agency that specializes in Out-Of-Home media. Billboard Connection provides clients with expert analysis on all outdoor advertising formats. We offer knowledgeable advice on which outdoor advertising formats are best suited for your client's needs and your market, so your client can make an informed decision. The Billboard Connection business model requires a low initial investment with very little monthly overhead and in turn, provides huge profit potential. The business can be run from a virtual or shared office suite and does not require any long term lease, build-out, equipment, or furnishings.

---
Add Expert Advertisement & Media Services Inc.
Founded in: 1991
Franchising since: 2010
Franchise units: 50
Initial investment: From Rs 2 Lakhs
Royalty Fees: 10% to 75%
Add Expert Advertisement & Media Services Inc. is world's fastest growing expert indoor and outdoor advertising media brand with seamless network, customized offerings and prompt & effective deliveries of advertisement. With a motto of serving every business and individual need, the Brand constantly strives to reach the expectations of all customers. Add Expert will have to created an opportunity for aspiring entrepreneurs, Individuals, landlord, builders and businessmen to get associated with itself in the form of Franchise. The interested and prospect franchisee will be inducted into the Add Expert family as an active business partner, who becomes a major contributor to the company's growth.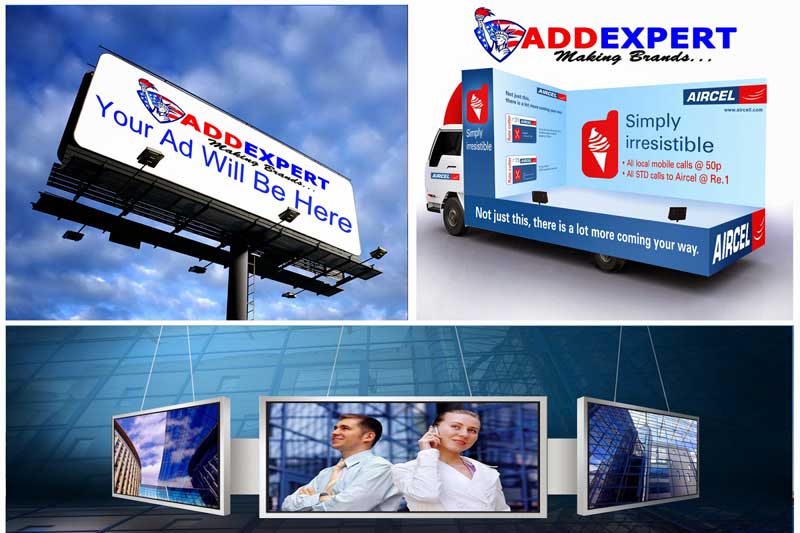 ---
Hoardings India
Founded in: 2011
Franchising since: 2014
Franchise units: Less than 10
Initial investment: From Rs 0.1 Lakhs
Royalty Fees: 30%
Hoardings India the India's most visited hoardings website having in excess of 2.5 Lac visitors per year. Launched in 2011 , Hoardings India is the online face of 1800 Crore Outdoor media industry in India, The company have a Hoarding inventory size exceeding 700 Crore INR with more than 2.5 Lac Visitors P.A. It serves as an online extension and a national gateway, catering to the Indian Hoarding Industry. Top Ranked on all search engines and marketed extensively in trade events and other media in India, the site generates regular traffic of prospective franchise. Run a profitable outdoor media business by becoming franchisee of Hoardings India!
---
Improved Business Ad Solution
Founded in: 2015
Franchising since: 2015
Franchise units: 10-20
Initial investment: From Rs 0.1 Lakhs
Royalty Fees: 40%
Since our founding in 2015, our team of bright minded and creative thinkers has been helping brands find their unique values. We map out the specific needs of each client so they can easily connect with their target audience. Our business is helping you promote yours, and we are here to ensure your successful future. Our staff at Improved Business Ad Solutions is in the business of thinking out of the box and differently. Our premium services are designed to benefit each and every one of our clients in a personal manner.

---
Nimboopani Advertisers
Founded in: 2010
Franchising since: 2015
Franchise units: Less than 10
Initial investment: From Rs 0.5 Lakhs
Royalty Fees: 40%
Nimboopani Advertisers is an ad agency offering an inspiring and creative work atmosphere for its host of clients from around the world. We deal in Ad Films / TVC, Events, Promotions, Activities and all ATL/BTL/TTL. It works with leading and emerging brands in the most demanding industry sectors around the world, building value through Corporate Communications, Advertising & New Media. To expand our business, we are offering franchise of our company. The benefits of joining us are proven business model to follow, renowned brand name & logo, high returns on investment, opportunity to become an entrepreneur in a leading industry.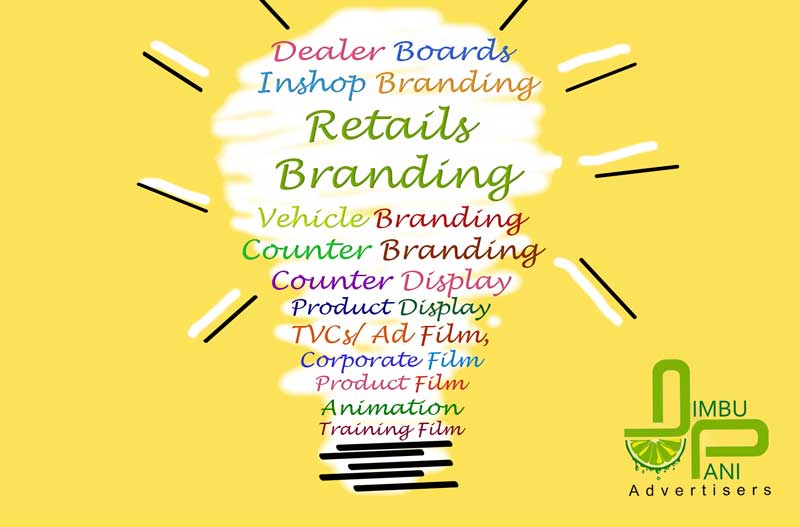 ---
Conclusion
To summarize, we can say any of the listed above advertising franchises is worth buying. But there is a lot to consider while choosing the best one for you. Pay attention to the reputation of the brand, what training and support are offered, check if the other franchisees are successful. But the main thing you need to do is to align your budget with investment requirements of the brand. In order to ease the challenge, we have made the comparison flowchart of the best advertising franchises in India for you. It shows the minimum estimated initial investment of each brand. By using it, you can figure out the difference in financial requirements for each franchise, and decide which one fits you the most.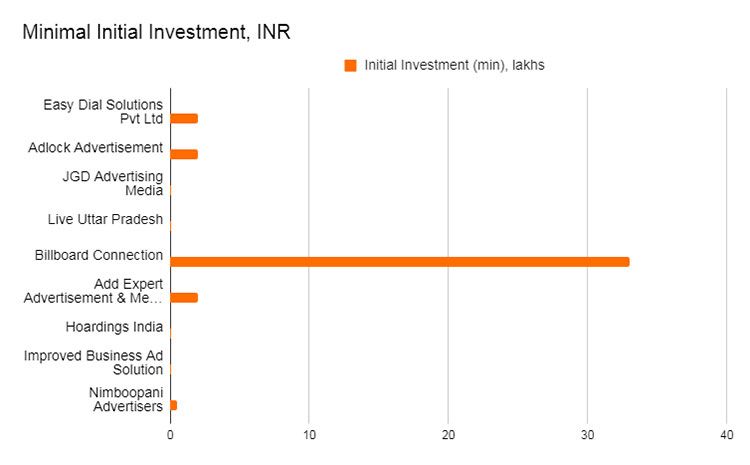 View all Advertising Franchises
Want to advertise your franchise with us and successfully boost your business?
Please send us your request and we will get back to you shortly!
DIDN'T FIND WHAT YOU WANT?
ASK THE EXPERTS