The 9 Best Printing Franchise Businesses in Canada for 2023
Update: 05.11.2021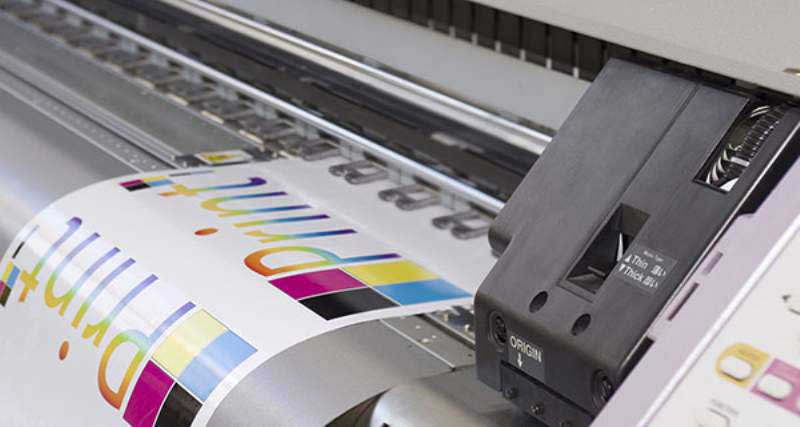 Despite any changes, the printing franchise business remains a float. It offers stuff both the office and the home user always needs. We hope the new trends of 2022 will be easily accepted by the 9 best printing franchise businesses in Canada. But we suspect a minor change in the rating of the market leaders.
Printing business helps companies establish their brands and become noticed by customers. This means that the demand for printing services will always be high. The best printing opportunities of franchising in Canada provide a range of services including marketing consultations, promotional materials, graphic design, mailing, printer solutions, etc. With a customer base, experienced team and proven business approaches offered by franchisors, a new franchisee will quickly receive a coveted income. If you feel interested in doing the business, here's a list of the 9 top printing franchise opportunities available at the moment.
Here is the top 9 printing franchises in Canada
PostNet
Founded in: 2004
Franchising since: 1993
Franchise units: 711
Initial investment: from 294,900 CAD
Royalty Fees: 6%
PostNet is the leading business-to-business franchise known for providing business-enhancing print, marketing and shipping solutions. Locally owned and operated PostNet centres offer full-service digital printing; direct mail; signs; document binding and finishing; graphic design; and ancillary business services, like private mailbox rental and more. They also offer professional packaging services and shipping with DHL, Purolator, FedEx and Canada Post. In addition, with the brand's bricks and clicks business model, each PostNet franchisee has both a physical storefront in the community as well as an Online Print Centre, offering customers the benefits of online transactions and face-to-face service.
---
InXpress Canada
Founded in: 1999
Franchising since: 2000
Franchise units: 355
Initial investment: from 128,200 CAD
Royalty Fees: 30%
We provide unique shipping solutions and savings for small & mid-sized businesses. Our world class carrier partners like DHL do the pick-ups and deliveries, we do the customer service and invoicing. The customer gets pricing , options and personalized service usually reserved for large corporations. You save customers time, hassle and money while creating leveraged residual income. Your customers save money, the carriers get revenue, you create an incredible lifestyle and ultimately freedom!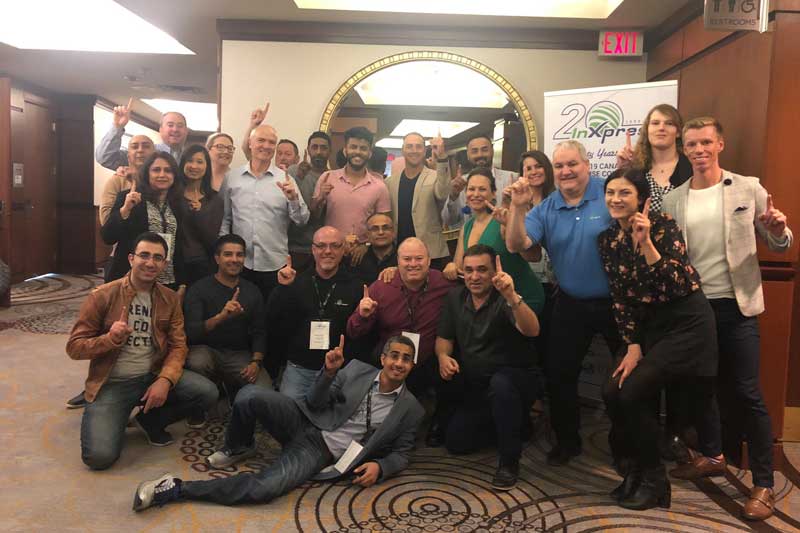 ---
KKP (KK Printing Canada ULC)
Founded in: 1979
Franchising since: 1979
Franchise units: 50
Initial investment: from 241 000 CAD
Royalty Fees: 7%
Over the past 35+ years, KKP has become a successful graphic communications franchise in Canada because of the complementary partnership with our franchisees, their clients and our vendor partners. A KKP franchise provides business services through the consultative approach our owners take with their clients in offering the core products of design, copy, print, signage and ancillary services. Our franchisees deliver Business to Business communication solutions to their client's, bringing their image to life, whether in print, signage or digitally.
---
Minuteman Press International
Founded in: 1973
Franchising since: 1975
Franchise units: 938
Initial investment: from 128,200 CAD
Royalty Fees: 6%
Serving the business community for over 40 years, Minuteman Press customer service driven business model provides digital print, design and promotional services to businesses. Today we are much more than just print, we can provide anything you can put a name, image or logo on!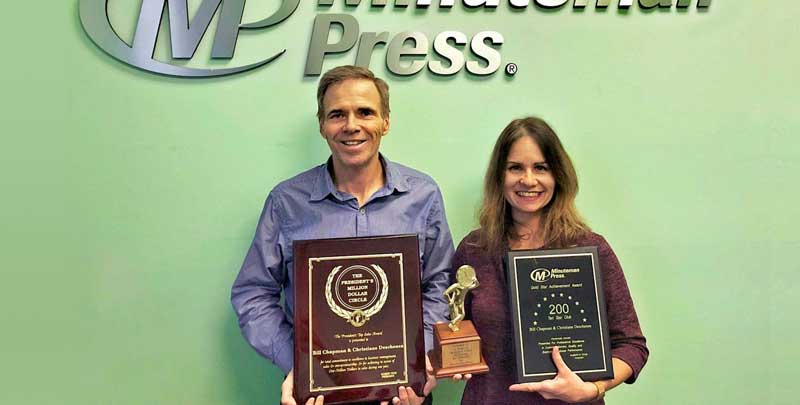 ---
Allegra Marketing Print Mail
Founded in: 1976
Franchising since: 1977
Franchise units: 260
Initial investment: from 264,200 CAD
Royalty Fees: 6%
An Allegra centre provides strategic marketing consultation, graphic design, printing, mailing and sales promotion products to small and medium-sized businesses, non-profits and institutions, a market estimated at more than $30 billion annually. Allegra offers resales and conversion opportunities. With an established customer base, experienced staff and proven track record in the market you are able to walk into an up and running opportunity.
---
Print Three
Founded in: 1981
Franchising since: 1981
Franchise units: 47
Initial investment: from 128,300 CAD
Royalty Fees: 6%
Print Three is an award-winning Business Service Franchise. Our network is focused on the rapidly expanding need for "on demand" digital imaging. Our franchises offer complete digital reproduction, design, finishing and fulfilment and are the only print franchises with a fully integrated web-based ordering system. Print Three provides total imaging solutions for the corporate community, both large and small.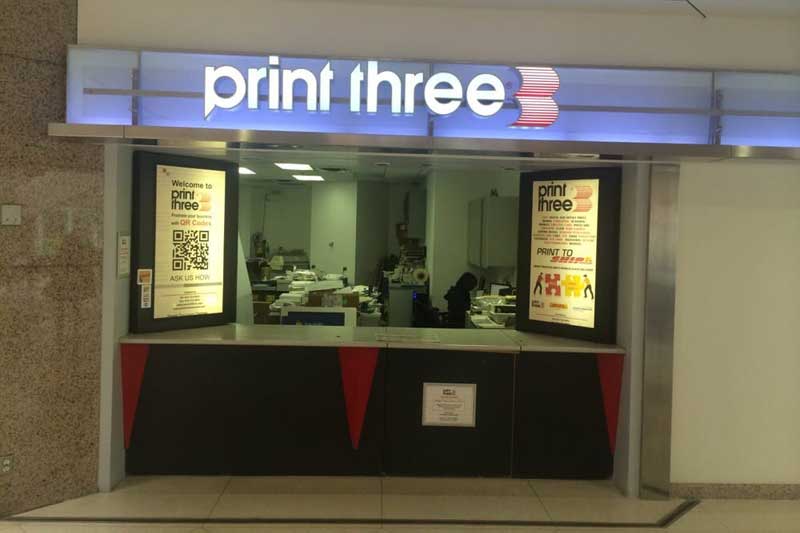 ---
Sure Print & Copy Centres
Founded in: 1986
Franchising since: 1987
Franchise units: 37
Initial investment: from 44,900 CAD
Royalty Fees: 3%
Full-service business centres offering high speed copying, commercial printing, colour copies & output, large format posters, graphics & related services, web design and web marketing services, related products and services.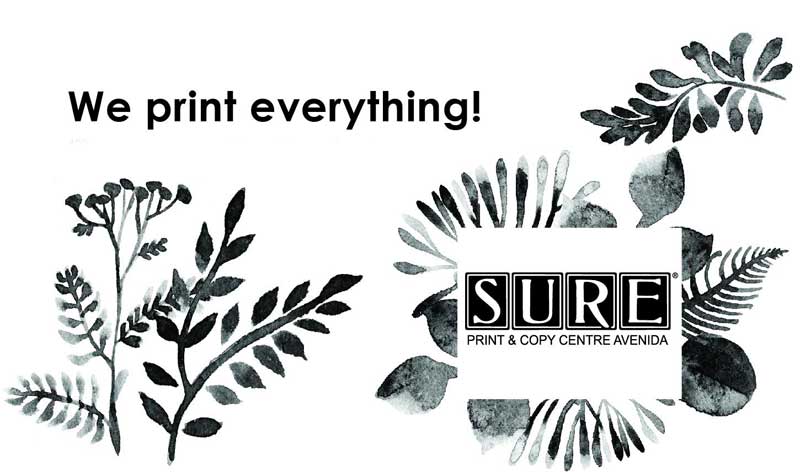 ---
The UPS Store
Founded in: 1990
Franchising since: 1988
Franchise units: 5,050
Initial investment: from 223,100 CAD
Royalty Fees: 7%
The UPS Store is Canada's largest franchised network of print and business service centres. This dynamic chain has more than 360 neighbourhood locations servicing the growing small/home office market in Canada. The UPS Store offers the convenience of a one-stop shop for services businesses need, including digital printing and photocopying, offset printing, worldwide courier services, packaging supplies and services, mailbox and fax services, document finishing and more.
---
Cartridge World
Founded in: 1988
Franchising since: 1997
Franchise units: 761
Initial investment: from 47,400 CAD
Royalty Fees: 6%
Cartridge World is a business specializing in managed print services, printer solutions, and ink and toner cartridges for domestic and commercial printers. The business model is to provide broad printing services to both home and businesses. Our new high growth Executive Franchise Office Model makes it easy to get into business fast without the need for a retail storefront. No weekends, low investment, and the premium quality products and services you need for unlimited earning potential. We provide an exclusive and innovate suite of business products and services to capitalize on the increasing demand for affordable office printing solutions.

---
Conclusion
To summarize, we can say any of the listed above printing franchises is worth buying. But there is a lot to consider while choosing the best one for you. Pay attention to the reputation of the brand, what training and support are offered, check if the other franchisees are successful. But the main thing you need to do is to align your budget with investment requirements of the brand. In order to ease the challenge, we have made the comparison flowchart of the best printing franchises in Canada for you. It shows the minimum estimated initial investment of each brand. By using it, you can figure out the difference in financial requirements for each franchise, and decide which one fits you the most.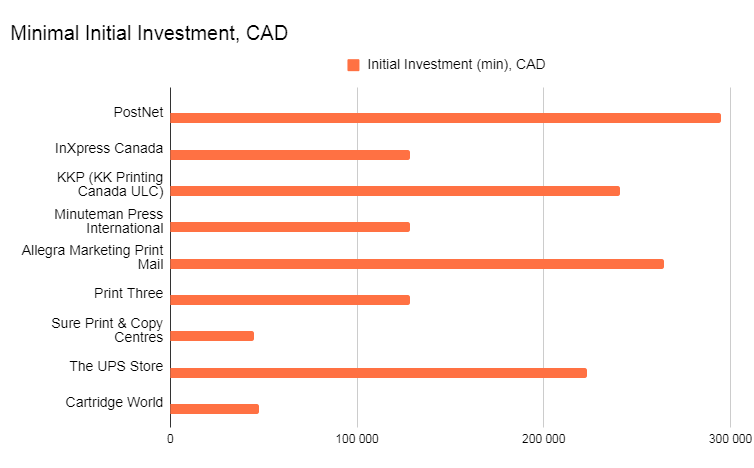 ---
View all Printing Franchises
Want to advertise your franchise with us and successfully boost your business?
Please send us your request and we will get back to you shortly!
DIDN'T FIND WHAT YOU WANT?
ASK THE EXPERTS