The Top 10 Daycare Franchise Businesses in USA for 2023
Update: 07.06.2021
Despite economic recession which many industries are experiencing, sales from daycare services are still growing according to a financial statement analysis by Sageworks. The tendency suggests that the market is not saturated enough. Starting your own child daycare business could be challenging. In the USA it requires a lot of licences to be obtained, a unique concept, strong advertising campaign, an immaculate reputation, a proper location, etc. It could be quite a headache to get it all on your own. Buying a daycare franchise, an entrepreneur kills several birds with one stone. Firstly, they receive a known brand name with a good reputation, which is really important for parents as they want their kids to be safe and well-educated. Secondly, the franchisor knows how to evade all the pitfalls of starting daycare franchise business and will provide you with their assistance. Thirdly, they have their own, proven concepts like early learning, summer camps, school preparation programs, etc. Don`t waste your time, become an owner of the best daycare franchise now.
Here are the top 10 daycare franchise businesses in the USA
Kiddie Academy
Founded in: 1981
Franchising since: 1992
Franchise units: 232
Initial investment: from $425,000
Royalty Fees: 7%
Kiddie Academy Educational Child Care is a franchise system of early learning centers with 232 franchised academies in 24 states and the District of Columbia. The company provides its franchisees with curriculum and helps them obtain all the licenses and permits necessary to build and operate the business. Kiddie Academy gives you the freedom to control your career and your future, and enables you to balance your time the way you want. The company has been listed in the Franchise 500, Entrepreneur's annual franchise recognition program in 2017, 2018 and 2019.
---
Primrose Schools
Founded in: 1982
Franchising since: 1988
Franchise units: 382
Initial investment: from $550,000
Royalty Fees: 7%
Primrose Schools is a national franchise company that provides high-quality early education and care to children, families and communities through more than 382 schools coast to coast. With 35 years of experience, an exclusive, time-tested approach and a network of successful schools, Primrose offers franchise owners the opportunity to invest in a rewarding business that provides an unparalleled early learning experience for children and their families. Each school is a licensed educational childcare facility. The company provides continuing education for all teachers, as well as corporate Quality Assurance programs.
---
The Goddard School
Founded in: 1986
Franchising since: 1988
Franchise units: 482
Initial investment: from $619,900
Royalty Fees: 7%
For more than 30 years, The Goddard School has been a trusted name among parents and families. The company offers year-round programs for children from six weeks to six years old including after-school enrichment and summer programs. Goddard School franchisees benefit from the extensive support structure that Goddard Systems, Inc. has developed over nearly 25 years in franchising. The company provides franchisees with an exceptional foundation to ensure consistency of programs and services for our customers as well as to provide guidance as they achieve their personal goals as business.
---
KidsPark
Founded in: 1988
Franchise since: 2003
Franchise units: 17
Initial investments: from $258,750
Royalty Fees: $250 per month
KidsPark is a network of hourly childcare centers in cities across the United States. If you are a business-minded individual who wants an entrepreneurial opportunity to contribute a needed service to your community and are prepared to invest between $258,750 and $472,950, take a close look at KidsPark. In 30 years of experience, the company has constructed, grown and operated multiple licensed hourly childcare centers. Previous childcare experience isn't necessary. The franchisor documented every step of owning and operating a KidsPark franchise.
---
Lightbridge Academy
Founded in: 1997
Franchising since: 2011
Franchise units: 23
Initial investment: from $541,228
Royalty Fees: 7%
Lightbridge Academy Franchise offers daycare, child care and preschool opportunities. Established in 1997, Lightbridge Academy provides early education and child care to children ages six weeks through kindergarten, as well as special programming for children up to 10 years old during school holidays, breaks and summer camp. Lightbridge Academy has grown to nearly 100 centers open or in development. Today, the company are continuing to expand franchising across several states. If you're looking to make a difference in the world, in your town and in our future, Lightbridge Academy provides a way to do it, while owning a great business.
---
Genius Kids
Founded in: 2001
Franchising since: 2011
Franchise units: 29
Initial investment: from $239,900
Royalty Fees: 6%
Genius Kids is a pre-school chain that believes in teaching by stimulating the innate genius in every child. The preschool chain is visualized and developed by well-known educationists. The preschool is committed to ensuring that all kids are assisted to develop the values articulated in the curriculum framework as part of the achievement of the outcomes. Run your own preschool under the Genius Kids brand name and earn great returns on investment.
---
Montessori Kids Universe
Founded in: 1988
Franchising since: 2013
Franchise units: 9
Initial investment: from $426,500
Royalty Fees: 6%
When you purchase a Montessori Kids Universe franchise, you are beginning a journey towards financial success and a commitment to making a difference in the lives of children. The company is proud to provide the best model of early childhood education; the best franchise brand in the child care sector and the best corporate culture. The Montessori Kids Universe provides franchisees with the complete suite of tools, resources and world class support necessary to strengthen your development as an impact-driven leader.
---
Rock and Roll Daycare
Founded in: 2012
Franchising since: 2019
Franchise units: 1
Initial investment: $351,500 - $640,000
Royalty Fees: 7%
Rock and Roll Daycare is a family owned childcare chain with four locations based in Cambridge that provides families with a premium, comprehensive, full-day, year-round childcare service. Their proprietary Rock and Roll Education Method is based on the concept of "music everyday". This unique educational model is based upon the teachings of Maria Montessori, Schinichi Suzuki, Carl Orff, and Emile Jaques-Dalcroze. RnRD is seeking new franchisees throughout the United States.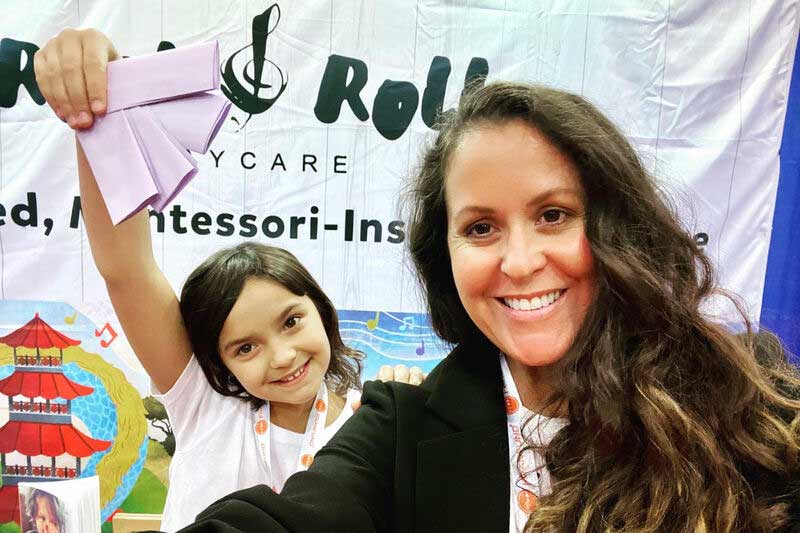 ---
Children's Lighthouse
Founded in: 1996
Franchising since: 1999
Franchise units: 49
Initial investment: from $693,500
Royalty Fees: 7%
If you want to own a daycare franchise, you've come to the right place. Children's Lighthouse believes that helping children and families achieve their goals and dreams is one of the most important things you can do in life. By taking full advantage of this franchise opportunity, you will not only become a leader in educational child care, but you will share your guidance, experience, and passion to impact other's lives as you improve your own.
---
The Learning Experience Academy of Early Education
Founded in: 1980
Franchising since: 2003
Franchise units: 217
Initial investment: $544,419 - $3,586,419
Royalty Fees: 7%
The Weissman family started The Learning Experience in 1980 with one location in Boca Raton, FL. Now TLE® is the nation's fastest-growing Academy of Early Education franchise, educating and enhancing the lives of more than 25,000 children ages 6 weeks to 6 years old each year with more than 275 locations have opened. Each center is built on the same effective early childhood programs the Weissmans developed. The company began franchising in 2003 and has extended its curriculum to include extensive enrichment programming.
---
View all daycare franchises
Want to advertise your franchise with us and successfully boost your business?
Please send us your request and we will get back to you shortly!
DIDN'T FIND WHAT YOU WANT?
ASK THE EXPERTS