The Top 10 Education Franchise Businesses in Canada for 2023
Update: 27.11.2021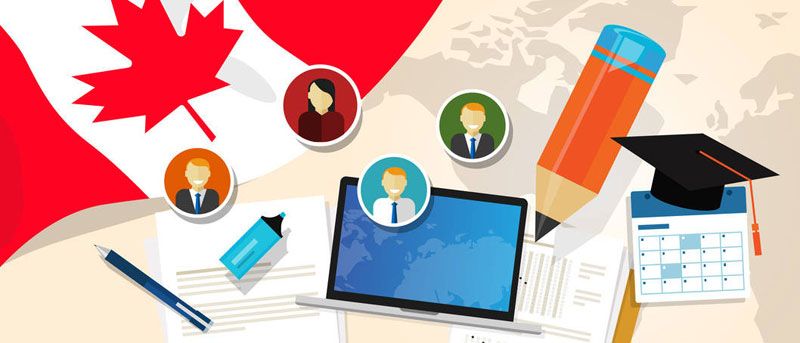 Education business has added more online concepts for the pandemic period. But 2022 is expected to be the year when global mobility of students will come back. It`s high time to buy an Education franchise especially in Canada. As the country is famous for top education brands which have been leading on the world market for years.
Canada has a strong and well-funded system of both public and private education. The country spends more on education than the average among OECD countries. Education franchises also affect the market. The list of popular education franchise opportunities in Canada includes schools and studios which provide after-school, supplemental, home-based, academic, social and physical education for kids of different ages. The best education franchises in Canada are highly-reputed companies with years of experience in running the business. They offer their franchisees a proven business system, a unique approach, and a loyal customer base.
Here is the top 10 best education franchises in Canada
Gymboree Play & Music
Founded in: 1976
Franchising since: 1978
Franchise units: 796
Initial investment: from $121,000
Franchise Fee: $35,000 - $45,000
Royalty Fees: 6%
For over 40 years, Gymboree Play & Music has offered programs to parents and children under 5 years of age. We are committed to building our world-class franchise system as we continually develop our classes and program content to incorporate cutting-edge learning techniques & activities. As the creator and leader of interactive child development franchise programs, we have built a business system that is proven to work and, with our unique approach, has resulted in a loyal customer base and a highly regarded brand. With Gymboree Play & Music, you can be the change you want to see in the world.

---
Club Scientific
Founded in: 2010
Franchising since: 2010
Franchise units: 7
Initial investment: from $55,825
Franchise Fee: $20,000
Royalty Fees: 8%
Our goal is to provide a science curriculum that a child might not normally experience until middle or even high school. Club Scientific cultivates a student's natural curiosity into a lifelong love of science or a career potential. We welcome the opportunity to partner with qualified individuals wanting to benefit from our 25+ years of experience teaching students. Partners not only invest financially, but are individuals who want to turn their passion for children, science and education into a career. We provide you step-by-step training, curriculum, operational systems and support. We have tools to help you develop your plan.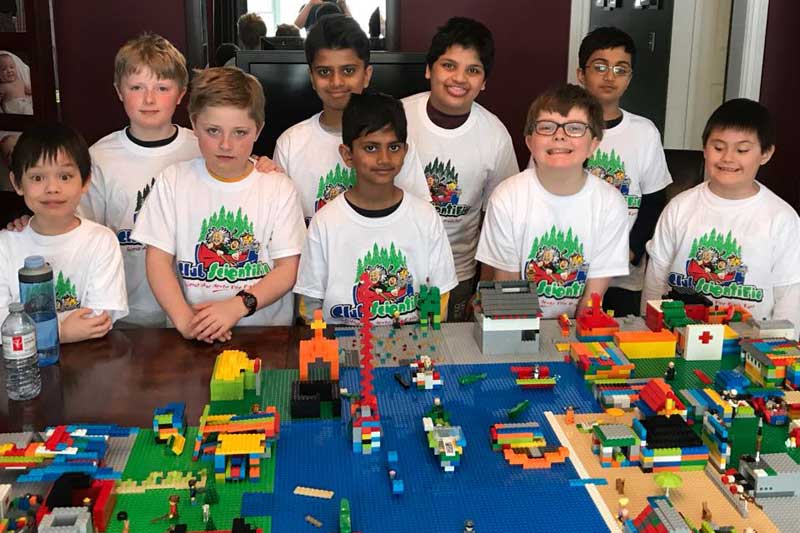 ---
Maple Bear Global Schools
Founded in: 2003
Franchising since: 2004
Franchise units: 560
Initial investment: from $500,000
Franchise Fee:$350,000
Royalty Fees: 10%
Maple Bear is the fastest-growing education franchise in the world, with more than 500 schools in 30 countries; a school in every continent of the world!Maple Bear Global Schools operates in the children's education sector, offering high-quality bilingual education at its schools, from infant care and early childhood education through to high school. At Maple Bear, students begin learning a second language, which is primarily English, in pre-school using a student-focused bilingual immersion learning system based on Canadian educational pedagogy and best practices while conforming with local education regulations of the host country.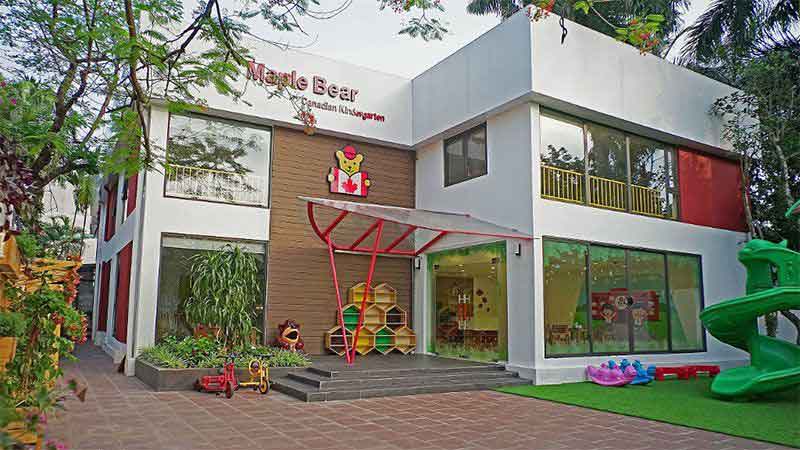 ---
Arcadia Academy of Music
Founded in: 1984
Franchising since: 2005
Franchise units: 11
Initial investment: from $100,000
Franchise Fee: $25,000
Royalty Fees: 5%
During the past 35 years, Arcadia has added the joy of music to over 130,000 young people's lives. From piano to percussion, our programs have enriched the lives of our students for decades. Our franchisees have come to us with diverse backgrounds. The support and training you receive from Arcadia will aid you in running your business. Our training is comprehensive and will assist you in getting started. Arcadia has a proven system of finding teachers. We will teach you how the system works and assist you through the process.
---
Mathnasium
Founded in: 2002
Franchising since: 2003
Franchise units: 1,006
Initial investment: from $113,000
Franchise Fee: $49,000
Royalty Fees: 10%
We offer a math-only after-school educational programs in an attractive and supportive setting for children to develop much-needed math skills and build confidence in their abilities. You don't need to be a teacher. We train you in our Mathnasium methodology. Developed more than 40 years of hands-on experience with thousands of children, the Mathnasium educational method is designed for children of all ages and skill levels. Mathnasium offers an environment and method in which children really develop the mathematics understanding they will need to succeed in the information age.
---
Tutor Doctor
Founded in: 2000
Franchising since: 2000
Franchise units: 640
Initial investment: from $84,000
Franchise Fee: $44,700 - $59,700
Royalty Fees: 8%
Tutor Doctor provides you with the opportunity to join one of the fastest-growing industries while making a difference in your community. Our franchisees have the benefit of working from home while managing a team of professional tutors that help students of all ages through our successful one-to-one in-home tutoring model. This eliminates the need for high overhead costs associated with a traditional learning center model.
---
Abrakadoodle
Founded in: 2002
Franchising since: 2004
Franchise units: 371
Initial investment: from $38,000
Franchise Fee: $25,400 - $56,900
Royalty Fees: 8%
Abrakadoodle is a global, home-based arts education franchise that partners with schools and community centers, bringing its arts classes, camps and special art events to children ages 20 months - 14 years of age. Abrakadoodle also brings its fun art classes to adults through its ArtSplash program. Programming for children and adults are all included in one Abrakadoodle franchise!
---
Inspiration Learning Center
Founded in: 2003
Franchising since: 2009
Franchise units: 10
Initial investment: from $100,000
Franchise Fee:$25,000 - $38,000
Royalty Fees: 10%
We are a Canadian based learning center and private school focused on student-centered excellence. First founded in 2003, Inspiration Learning Center has since expanded to 13 learning centers across Canada, 2 campuses overseas, and two home-away-from-home, residential, home-stay houses. Our proven business strategy offers you support and training to make sure your business is successful. You have an opportunity to experience the rewards of being your own boss, connecting with your local community, and empowering students to reach for their dreams.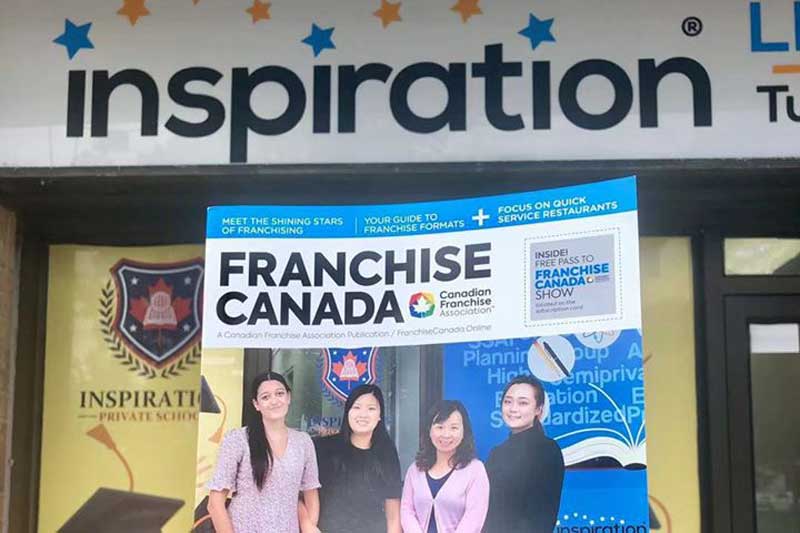 ---
Kumon
Founded in: 1958
Franchising since: 1958
Franchise units: 22,612
Initial investment: from $64,000
Franchise Fee: $2,000
Royalty Fees: 0%
With more than 50 years of success and growth, Kumon is the world's largest after-school math and reading academic enrichment program and one of the most established franchise businesses in the world. Kumon is more than just a financially sound business investment. Owning a Kumon Centre allows you to follow your life's passion - helping children become lifelong learners and prepare for success both inside and outside the classroom. Whether you're an educator or entrepreneur, a Kumon Centre could be your own success story waiting to happen.
---
CEFA Early Learning
Founded in: 1998
Franchising since: 2003
Franchise units: 26
Initial investment: from $350,000
Franchise Fee: $60,000
Royalty Fees: 6%
Cefa Early Learning School is Canada's leading private school for children ages one to five. Our curriculum is based on the latest research in child & brain development. We educate children as individuals academically, socially and physically. Our full day early childhood education and junior kindergarten programs are far beyond the typical daycare and preschool programs found throughout Canada. We support your success every step of the way from the initial site selection to preparing your classrooms. We train your teachers through our 4-month CEFA Early Learning Certification Program and guide them through our proprietary CEFA Curriculum.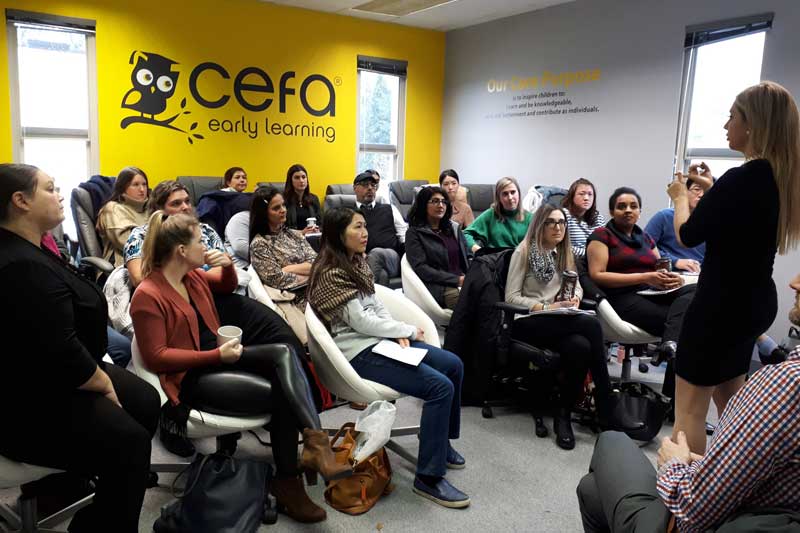 ---
Conclusion
To summarize, we can say any of the listed above education franchises is worth buying. But there is a lot to consider while choosing the best one for you. Pay attention to the reputation of the brand, what training and support are offered, check if the other franchisees are successful. But the main thing you need to do is to align your budget with investment requirements of the brand. In order to ease the challenge, we have made the comparison flowchart of the best education franchises in Canada for you. It shows the minimum estimated initial investment and initial franchise fee of each brand. By using it, you can figure out the difference in financial requirements for each franchise, and decide which one fits you the most.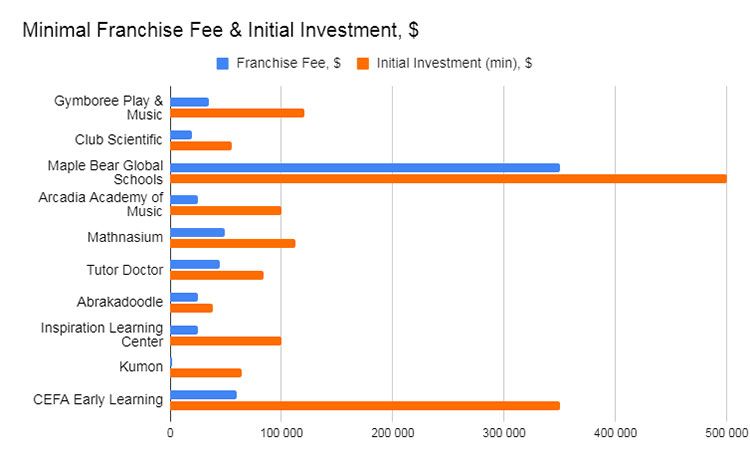 View all Education Franchises
Want to advertise your franchise with us and successfully boost your business?
Please send us your request and we will get back to you shortly!
DIDN'T FIND WHAT YOU WANT?
ASK THE EXPERTS