The Top 10 Fitness Franchise Businesses in Canada for 2023
Update: 12.11.2021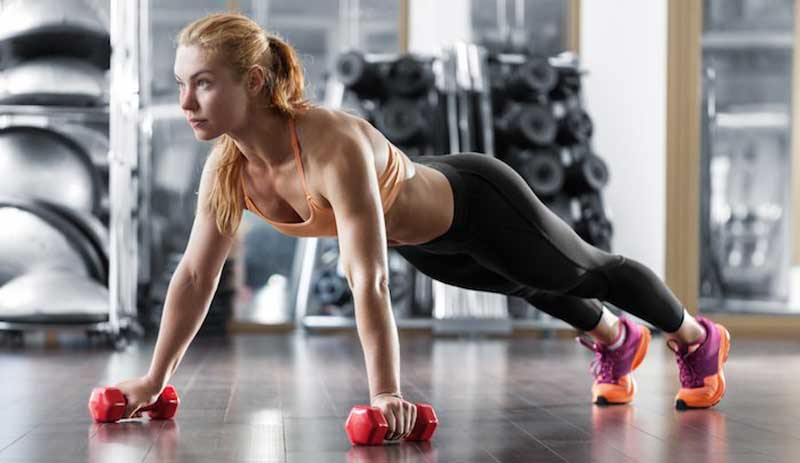 Fitness Franchise industry is going to evolve in 2022. There are new trends such as holistic fitness, shorter but more productive workouts, smaller groups and personal trainings and online fitness programs. Top fitness franchise businesses in Canada are recovering after the pandemic and are soon anticipated to come to their previous scope of expansion.
Fitness industry in Canada has shown more than 5 % annual growth over the last five years. The tendency is due to the proliferation of public health campaigns. Fitness franchises are quite popular among Canadian entrepreneurs as they are easy to start due to a well-known brand name and thoroughly established business processes. The best fitness franchise opportunities in Canada could be found in running a gym or fitness center which offer group and private fitness classes as well as promote a healthy lifestyle. If you are fond of sports and would like to make people healthier, choose one of our best fitness franchises to own in Canada.
Here is the top 10 best fitness franchises to own in Canada
Oxygen Yoga & Fitness
Founded in: 2011
Franchising since: 2012
Franchise units: 71
Initial investment: from $275,000
Franchise Fee: $46,500
Royalty Fees:7.5%
Oxygen's Infrared Hot Yoga classes are an exhilarating experience! We offer a complete full body Yoga workout in just a single session while fusing the core strengthening Pilates moves in an easy-to-follow class that will keep you excited and interested. We don`t force you to practice the same boring routine over and over, we give you lots of modifications and variations to take your practice to the next level. We don't only work on your flexibility, we also work on your core strength! Incorporating infrared heat to your Yoga practice is a fun way to workout and burn body fat which aids in weight loss.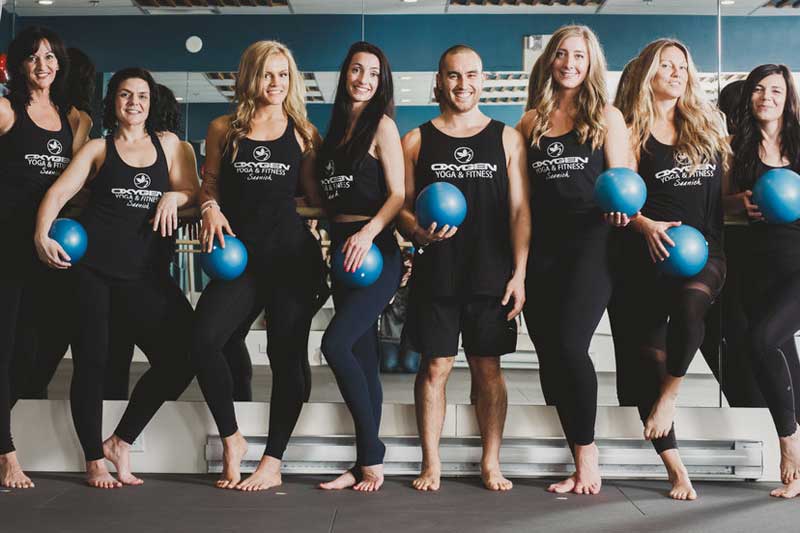 ---
Planet Fitness
Founded in: 1992
Franchising since: 2003
Franchise units: 1,730
Initial investment: from $936,600 Franchise Fee: $20,000
Royalty Fees: 7%
Planet Fitness is one of the largest and fastest-growing franchisors and operators of fitness centers in the United States by a number of members and locations. As of March 31, 2019, Planet Fitness had more than 13.6 million members and 1,806 stores in 50 states, the District of Columbia, Puerto Rico, Canada, the Dominican Republic, Panama, and Mexico. The Company's mission is to enhance people's lives by providing a high-quality fitness experience in a welcoming, non-intimidating environment, which we call the Judgement Free Zone®. More than 95% of Planet Fitness stores are owned and operated by independent business men and women.
---
3rd Degree Training
Founded in: 2008
Franchising since: 2013
Franchise units: 8
Initial investment: from $75,000
Franchise Fee: $34,900
Royalty Fees: 7%
We are a dual brand fitness and nutrition company founded in Prince Edward Island Canada. When you join the 3rd Degree Training team, you take that brand value with you everywhere you go, and build upon it within your community. Our team spends each and every day in a 3rd Degree Training facility, hitting the mats with our members. We get a birds eye view of what makes a 3rd Degree Training location come to life, and we want to share that with you! We truly believe that ongoing supporting benefits everyone.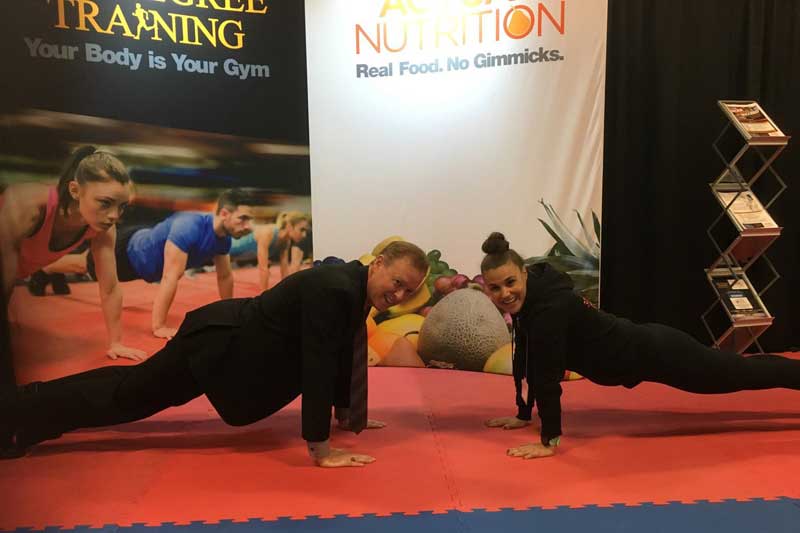 ---
9Round
Founded in: 2008
Franchising since: 2009
Franchise units: 798
Initial investment: from $94,175
Franchise Fee: $37,500
Royalty Fees: 6%
We are providing coaching in mechanical, electrical, electronics, computer sc, civil, instrumentation, mining, biotechnology, production engineering & chemical engineering. We are having faculty association with Faculty from IIT, IISc, IES qualified background. Our packages include Gate, PSU & IES coaching in regular, weekend, online & postal mode. We also provide online tutorials, online test series & printed study materials for Gate, PSU & IES. We are known for the best success rate. The Gate Coach provides all kinds of support in establishing the franchise.
---
Anytime Fitness
Founded in: 2002
Franchising since: 2002
Franchise units: 2,365
Initial investment: from $78,000
Franchise Fee: $42,500
Royalty Fees: ongoing $699 monthly paymen
Anytime Fitness is not only the largest, but also the fastest-growing fitness franchise in the world. Our unique opportunity includes varying levels of ownership and investment. The typical franchisee has a passion for fitness and an entrepreneurial spirit. Ranked as one of the top low-cost franchise options, club owners tend to experience a return on their investment at a faster pace than other businesses.
---
Body Buster Fitness
Founded in: 2007
Franchising since: 2007
Franchise units: 1
Initial investment: from $50,000
Franchise Fee: $25,000
Body Buster Fitness offers clients much more than just a "group fitness class". With an ongoing extremely high return rate, this company offers clients the emotional, mental and physical support that they are seeking which keeps them coming back for more. Body Buster Fitness is prided on their successful program offered as well as all of the added perks that Body Buster MEMBERS receive. In this program, quality assurance for each member is extremely important. All members are given the tools and motivation that they need to succeed and get the results and experience they are looking for. The Body Buster motto is: "Work Hard! Have Fun! Be Well!".
---
F45 Training
Founded in: 2011
Franchising since: 2014
Franchise units: 1,850
Initial investment: from $313,200
Franchise Fee: $50,000
Royalty Fees:$2,500+/month
F45 is a dynamic and ever-evolving leader in innovation across the health and fitness industry. Offering a unique opportunity that is driven by quality, reputation, and convenience, F45 sets itself apart from competitors with a success-proven model for franchisees. Integrating two of the most innovative and widely researched trends in the health and fitness industry, F45 has created a highly functional team training program.
---
Oranj Fitness
Founded in: 2008
Franchising since: 2008
Franchise units: 7
Initial investment: from $450,000
Franchise Fee: $40,000
Royalty Fees:7-10%
Oranj Fitness was created for those of us that like to beat to our own drum, and we definitely don't take ourselves too seriously! We offer over 90 classes each week including fitness, spin, dance and yoga classes. There are plenty of great options to choose from and ways to get involved whether you're a fitness pro or novice. With lots of fun extras like childminding, fresh fruit superfood smoothies and a beautiful retail store, it's time to pop into our studio. No matter what your goals, reach out and get connected. This community is amazing! Your franchising future is bright with our tribe behind you!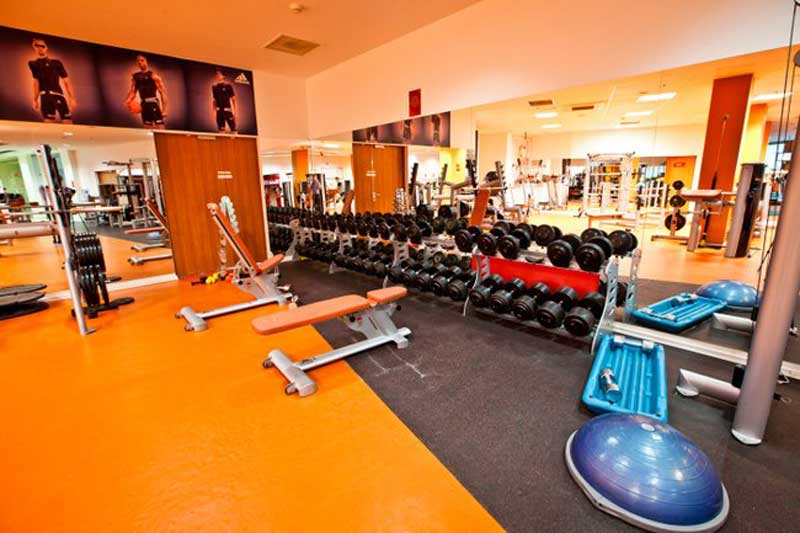 ---
Greco Fitness
Founded in: 2008
Franchising since: 2008
Franchise units: 16
Initial investment: from $100,000
Franchise Fee: $50,000
Royalty Fees: None
Greco Fitness is a fitness experience brand that delivers real results for real people. The Greco Method is the most results-based workout with trackable results. Greco Fitness provides our owners with a business model that has been developed from the ground up and proven out over 15 years of operation. Greco started as a results-based fitness experience years before the boutique fitness industry became its own category in the fitness marketplace. Our model is constantly innovating as we strive to stay ahead in a hyper-competitive space.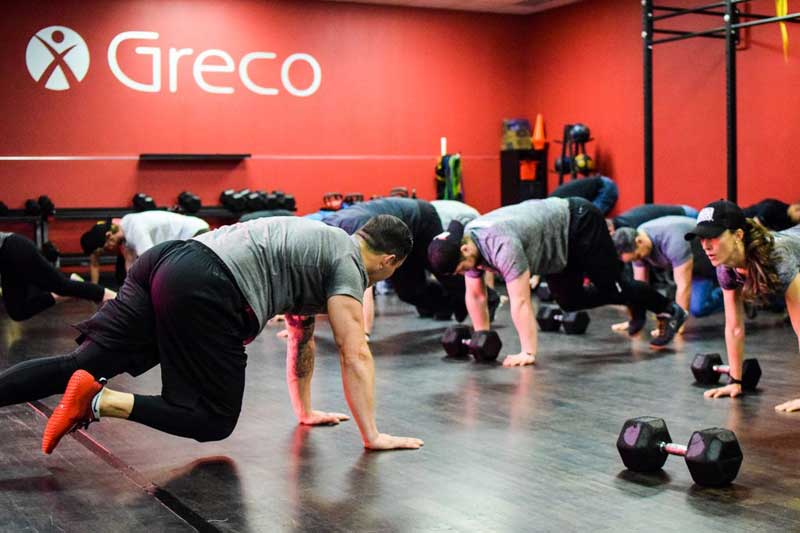 ---
30 Minute Hit
Founded in: 2004
Franchising since: 2006
Franchise units: 90
Initial investment: from $108,650
Franchise Fee: $45,000
Royalty Fees: $500-$900 per month
The 30 Minute Hit® is a high intensity, action packed Boxing/Kickboxing circuit workout designed specifically for women to achieve amazing results. With one of the lowest start up costs in the fitness franchise industry, a quick ramp-up period and the potential for great financial returns, a 30 Minute Hit franchise could be just the opportunity you have been looking for! We offer exclusive training sessions to our franchisees to not only improve your skill level but to learn from experienced instructors the most effective methods to train your members.
---
Conclusion
To summarize, we can say any of the listed above fitness franchises is worth buying. But there is a lot to consider while choosing the best one for you. Pay attention to the reputation of the brand, what training and support are offered, check if the other franchisees are successful. But the main thing you need to do is to align your budget with investment requirements of the brand. In order to ease the challenge, we have made the comparison flowchart of the best fitness franchises in Canada for you. It shows the minimum estimated initial investment and initial franchise fee of each brand. By using it, you can figure out the difference in financial requirements for each franchise, and decide which one fits you the most.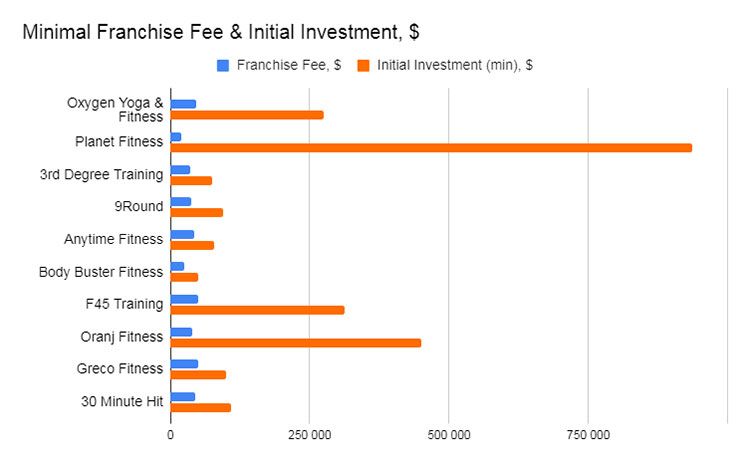 View all Gym & Fitness Franchises
Want to advertise your franchise with us and successfully boost your business?
Please send us your request and we will get back to you shortly!
DIDN'T FIND WHAT YOU WANT?
ASK THE EXPERTS