The Top 10 Fastest-Growing Franchise Businesses in USA for 2023
Update: 22.03.2023

Market analysts expect 2023 to be good for many franchises, as they are gaining traction after setbacks caused by the pandemic. The fastest-growing franchise businesses remain in the food, health, cleaning, and repair sectors. The list of leaders in the USA hasn't changed much, showing slight rotation in the ranking.
It is absolutely obvious that the fastest growing franchises offer goods and services which are always in demand such as quick service restaurants, convenience stores, shipping companies, travel agencies, fitness gyms and commercial cleaning organizations. However, not all businesses are expanding smoothly and fast. The most successful franchises have a special philosophy. It means that a franchisor looks out for their franchisees and supports them. Find on our list of top growing franchises the ones which seized growth opportunities by sharing their experience and assistance with their franchise partners.
Here are the 10 best growing franchises in the USA
Stratus Building Solutions
Founded in: 2004
Franchising since: 2006
Franchise units: 2,418
Initial investment: from $4,000
Franchise Fee: $3,600 - $69,000
Royalty Fees: 5%
Stratus Building Solutions operates as a commercial cleaning franchising company serving businesses in the United States. The company offers commercial janitorial, green service selection, floor and carpet cleaning and maintenance, restroom sanitization, pressure washing, post construction site clearing and cleaning, and day porter services; and hygienic cleaning and public health options for schools and medical clinics.
---
Orangetheory Fitness
Founded in: 2010
Franchising since: 2010
Franchise units: 1,369
Initial investment: from $576,000
Franchise Fee: $59,950
Royalty Fees: 8%
Orangetheory® Fitness is the first of its kind and only heart-rate-monitored, high-intensity interval training based on science. Orangetheory® is a proven system that includes ongoing training and marketing – with Franchisor advice on location, programming, operations, business plan and branding. The company wants franchisees and area developers that value an active lifestyle and are motivated by an opportunity to run their own business. Orangetheory® Fitness is an opportunity to be your own boss, with a network of support in an industry that changes peoples lives.
---
Dream Vacations
Founded in: 1991
Franchising since: 1992
Franchise units: 1,489
Initial investment: from $2,000
Franchise Fee: $495 - $10,500
Royalty Fees: 1.5 - 3%
Become a travel agent! The Dream Vacations Franchise opportunity requires no inventory and low overhead costs. This means there is minimal risk standing in the way of a dream career as a travel agent. The Dream Vacations team offers high-quality training and education with ongoing support to help franchise owners reach their goals. Dream Vacations Franchise offers all of the tools you need to become a successful travel agent from home. Once you've applied and are a certified travel agent, you'll receive an immersive 6-day training to successfully launch your business.
---
Great Clips
Founded in: 1982
Franchising since: 1983
Franchise units: 4,472
Initial investment: from $147,000
Franchise Fee: $20,000
Royalty Fees: 6%
One of the many reasons Great Clips has surpassed the industry competitors is due to technological innovations, which have not only lead to a more convenient and satisfying experience for customers, but has placed the company on the forefront of the future of the industry. Starting a Great Clips franchise comes with 24/7 support, not only from franchisor experienced staff and proprietary software, but the network of Great Clips owners as well. Great Clips ideal franchise candidate is someone who has the desire and time to manage a salon manager, is financially qualified, will be involved and engaged.
---
Taco Bell
Founded in: 1962
Franchising since: 1964
Franchise units: 7,090
Initial investment: from $576,000
Franchise Fee: $25,000 - $45,000
Royalty Fees: 5.5%
Taco Bell Corp. is a subsidiary of Yum! Brands, Inc., and the nation's leading Mexican-style quick service restaurant chain. Taco Bell® serves more than 2 billion consumers each year in more than 5,800 restaurants in the U.S. In 2005, Taco Bell generated sales of $1.8 billion in company restaurants and $4.4 billion in franchise restaurants. More than 80 percent of our restaurants are owned and operated by independent franchisees. The company's proven process supports you every step of the way with development experts, business coaches and a peer network of more than 1,200 experienced franchisees, all part of the Yum!
---
7-Eleven
Founded in: 1927
Franchising since: 1964
Franchise units: 71,401
Initial investment: from $70,000
Franchise Fee: $0 - $1,000,000
Royalty Fees: Varies
7-Eleven is an international chain of over 66,000 convenience stores operating in 17 countries worldwide. 7-Eleven helps Franchisees tailor their businesses "to the individuality of their selected market bases and customer needs," and that means happier customers that come back. Services include obtaining and bearing the ongoing cost of the land, building and store equipment, record keeping, bill paying, and payroll services for store operations fees, and financing for all normal store operating expenses. 7-Eleven's corporate office even pays for the franchisee's water, sewer, gas, and electric utilities.
---
Kona Ice
Founded in: 2007
Franchising since: 2008
Franchise units: 1,369
Initial investment: $150,000
Franchise Fee: $15,000
Royalty Fees: $3,000 - $4,000 per year
Kona Ice is a mobile, Hawaiian-style shaved ice franchise based in Florence, Kentucky. We pride ourselves on our franchising process. When you decide you want to start your own business, we understand that you don't want to wait years to make that dream a reality. We can guarantee that we'll have you in business, generating revenue within 30-60 days of your deposit. This is an opportunity to own your own business and make a difference in your community. We want to be the company that can get you where you need to go. Don't miss this opportunity!
---
Pizza Hut
Founded in: 1958
Franchising since: 1959
Franchise units: 16,535
Initial investment: from $367,000
Franchise Fee: $25,000
Royalty Fees: 6%
Pizza Hut is an American restaurant chain and international franchise which is known for its Italian-American cuisine menu, including pizza and pasta, as well as side dishes and desserts. It is a subsidiary of Yum! Brands, Inc., one of the world's largest restaurant companies. Pizza Hut Franchise is one of the most popular pizza franchises in the world and is always looking for new franchisees ready to embrace their winning culture and commitment to superior restaurant-quality food.
---
The UPS Store
Founded in: 1980
Franchising since: 1980
Franchise units: 5,359
Initial investment: from $185,000
Franchise Fee: $29,950
Royalty Fees: 5%
Serving the small business community for more than 30 years, The UPS Store, Inc. is the world's largest franchisor of retail shipping, postal, printing and business service centers. The UPS Store comprises nearly 4,700 independently owned locations in the U.S., Puerto Rico and Canada, providing convenient and value-added business services to the small-office/home-office (SOHO) market, corporate "road warriors," and consumers. The UPS Store franchise development team assists you in selecting a location, negotiating the terms of the lease, designing your store and getting it up and running. The company provides guidance every step of the way.
---
UBreakiFix
Founded in: 2009
Franchising since: 2013
Franchise units: 451
Initial investment: from $82,000
Franchise Fee: $0 - $40,000
Royalty Fees: 7%
uBreakiFix is a leader in the tech repair industry and provides customers with the best affordable repair options. uBreakiFix actively seeks highly-qualified individuals to become franchisees. Prior business experience is preferred, but not a necessity. Our brand means everything to us, and when you become a franchisee, you're an extended part of the uBreakiFix brand and community. Our training program is second to none. It consists of 3 weeks of training at our corporate facility in sunny Orlando, FL and 3 weeks of intensive onsite training in your store.
---
Conclusion
To summarize, we can say any of the listed above fastest-growing franchises is worth buying. But there is a lot to consider while choosing the best one for you. Pay attention to the reputation of the brand, what training and support are offered, check if the other franchisees are successful. But the main thing you need to do is to align your budget with investment requirements of the brand. In order to ease the challenge, we have made the comparison flowchart of the best fastest-growing franchises in the USA for you. It shows the minimum estimated initial investment and initial franchise fee of each brand. By using it, you can figure out the difference in financial requirements for each franchise, and decide which one fits you the most.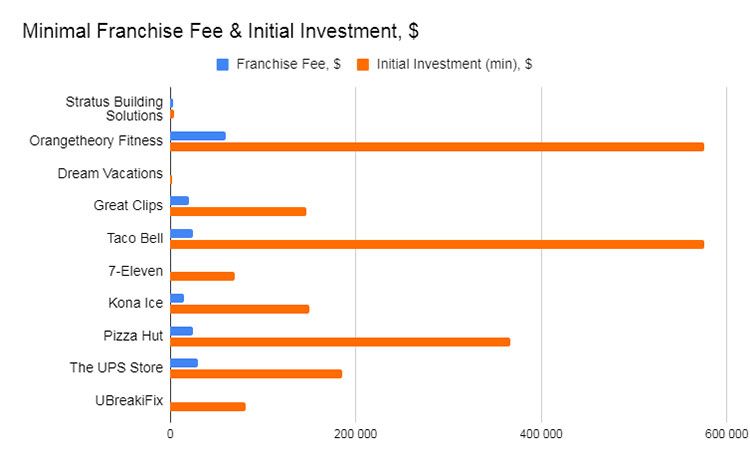 View all Franchises
Want to advertise your franchise with us and successfully boost your business?
Please send us your request and we will get back to you shortly!
DIDN'T FIND WHAT YOU WANT?
ASK THE EXPERTS