10 Best Work From Home Franchises in USA for 2021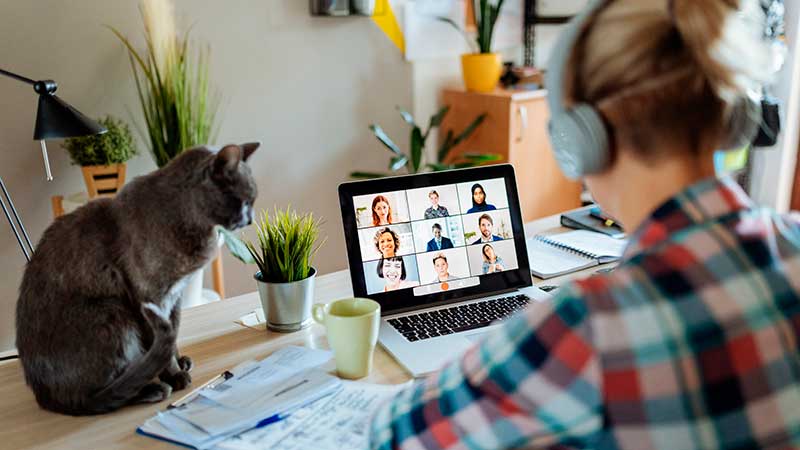 A few years ago work from home franchise opportunities were limited mostly within retail and marketing or advertising services. Covid -19 pandemic has caused drastic changes in the industry. A lot of businesses like education, medical, fitness, pet care, travelling, cleaning and others have either changed their model to online or added online ordering or buying services. The tendency affected the growing number of franchise jobs from home which has a lot of advantages for both customers and entrepreneurs. The model allows franchisees to plan their schedule; save on renting cost and salary for employees; and provide services or sell goods to a wider range of consumers. Another significant benefit of home franchises is that they are really inexpensive. So anyone willing to start their own one, can do it even with a small budget. If you find such a business model to be right for you, go over a list of the best work from home franchises here.
Here is the top 10 best work from home franchise businesses in USA
Molly Maid
Founded in: 1979
Franchising since: 1979
Franchise units: 900
Initial investment: $110,200 - $155,200
Franchise Fee: $14,900
Royalty Fees: 3% - 6,5%
Molly Maid provides cleaning services from carpets to counters and baseboards to bathrooms to homeowners across the country. Franchise owners can often manage most of their operations from home as they have staff (maids) and support to help with the actual cleaning services. The collective customer database is constantly growing, driving cross-promotion campaigns.
---
Green Home Solutions
Founded in: 2010
Franchising since: 2010
Franchise units: 208
Initial investment: $53,095 - $160,070
Franchise Fee: $5,000 - $35,000
Royalty Fees: 7% - 10%
Green Home Solutions is a franchise for indoor air quality control, mold removal, odor and allergen removal. It is a growing green-component industry that is attracting modern homeowners as disinfection and indoor air quality are becoming top priorities for many Americans. The franchise company provides on-site support, business coaching and lead acquisition assistance. Green Home Solutions is ranked annually in the top 500 home services franchises in the country for its eco-friendly services.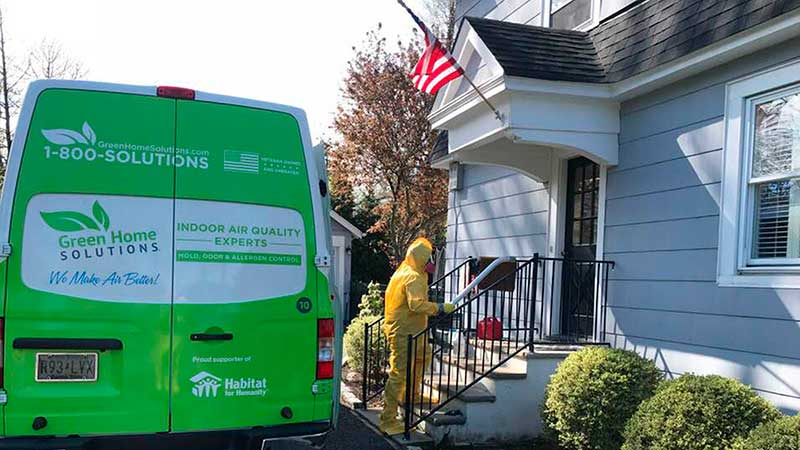 ---
The Junkluggers
Founded in: 2006
Franchising since: 2012
Franchise units: 40
Initial investment: $105,535 - $230,760
Franchise Fee: $50,000
Royalty Fees: 7%
The Junkluggers is a franchise that provides clean waste collection services for residential and commercial premises, including offices, real estate, retail outlets, and construction sites. The Junkluggers strive to minimize the contribution to landfill through the highest possible donation, resale, recycling and recycling.
---
Snap-on Tools
Founded in: 1920
Franchising since: 1991
Franchise units: 4570
Initial investment: $169,223 - $382,235
Franchise Fee: $8,000 - $16,000
Royalty Fees: $130/month
Snap-on Tools is a mobile store franchise selling high quality repair and diagnostic tools and equipment. Snap-on Tools sells tools and equipment directly to the businesses that need them most. The company uses a mobile sales model. Each franchisee has a truck and a set of inventory. Franchisees can perform administrative operations from home and manage their route on their own schedule.
---
Fresh Coat
Founded in: 2005
Franchising since: 2005
Franchise units: 158
Initial investment: $53,945 - $76,845
Franchise Fee: $44,900
Royalty Fees: 6%
Fresh Coat Painters is a company that provides residential and commercial painting services to home and business owners in over 100 cities from coast to coast. Fresh Coat Painters was born out of a radically simple concept: people desperately needed professional painting, not just people who knew how to use a brush.
---
Cruise Planners
Founded in: 1994
Franchising since: 1999
Franchise units: 3150
Initial investment: $2,295 - $23,665
Franchise Fee: $695 - $10,995
Royalty Fees: 1% - 3%
Cruise Planners have been inspiring travelers to explore the world by land or sea since 1994. As the travel agent for American Express, Cruise Planners offers many unique perks, benefits and amenities for cruises, hotels and resorts around the world.
---
TeamLogic IT
Founded in: 2004
Franchising since: 2005
Franchise units: 192
Initial investment: $109,550 - $142,800
Franchise Fee: $45,000
Royalty Fees: 7%
TeamLogic IT provides IT service solutions, IT outsourcing services such as hardware and software procurement, installation, appraisal and relocation, networking, data communications and security services for small and medium-sized businesses. The company has been ranked # 1 in technology franchises by Franchise Business Review and Entrepreneur Magazine.
---
ChemDry
Founded in: 1977
Franchising since: 1978
Franchise units: 3,577
Initial investment: $68,145 - $191,196
Franchise Fee: $23,500
Royalty Fees: $414/month
Chem-Dry is a carpet cleaning and upholstery cleaning franchise chain with over 3,500 franchises worldwide and over 35 years' experience making people's homes cleaner and healthier/ The company has locations throughout Australia and is ready to serve residential or commercial cleaning needs. Chem-Dry franchise owners have the flexibility to operate a single van when starting a cleaning business or expand their single territory into a carpet cleaning empire.
---
Fetch Pet Care
Founded in: 2002
Franchising since: 2004
Franchise units: 72
Initial investment: $67,467 - $83,667
Franchise Fee: $59,500
Royalty Fees: 7%
Fetch Pet Care is the nation's largest and most trusted provider of professional pet grooming and dog walking services. Fetch Pet Care caters to pets of all types, ages and life cycles, becoming a reliable companion for a healthy and happy pet.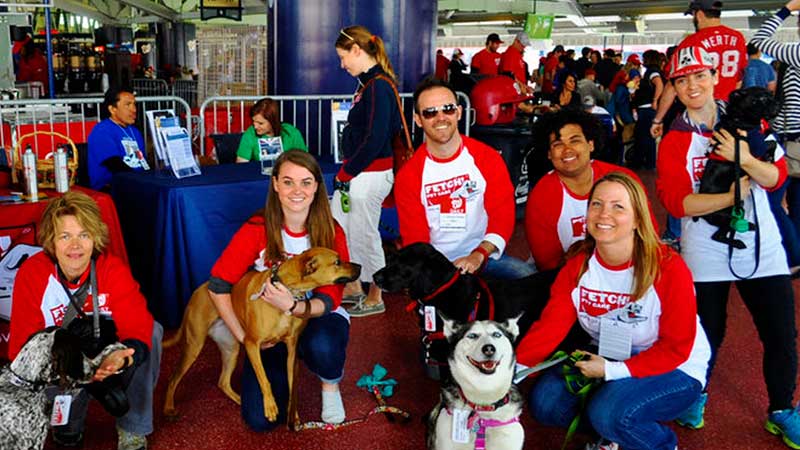 ---
Budget Blinds
Founded in: 1992
Franchising since: 1994
Franchise units: 1,279
Initial investment: $125,580 - $192,900
Franchise Fee: $19,950
Royalty Fees: $300 - $2000/month
Home Franchise Concepts (HFC) is the top-selling family of direct-to-consumer brands in the home-related goods and services space, one of the world's largest franchise businesses and a recognized leader in franchisee-franchisor relationships. HFC's three brands including Budget Blinds®, Tailored Living® and Concrete Craft® are consistently rated at the top of their categories and supported by nearly 1,200 franchise territories in the U.S., Canada and Mexico.
---
Conclusion
To summarize, we can say any of the listed above work from home franchises is worth buying. But there is a lot to consider while choosing the best one for you. Pay attention to the reputation of the brand, what training and support are offered, check if the other franchisees are successful. But the main thing you need to do is to align your budget with investment requirements of the brand. In order to ease the challenge, we have made the comparison flowchart of the best work from home franchises in the USA for you. It shows the minimum estimated initial investment and initial franchise fee of each brand. By using it, you can figure out the difference in financial requirements for each franchise, and decide which one fits you the most.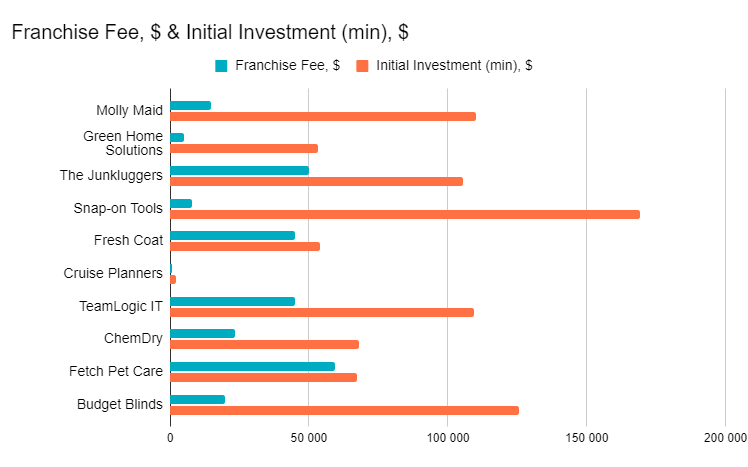 View all Work From Home franchises
DIDN'T FIND WHAT YOU WANT?
ASK THE EXPERTS