The 10 Best Clothing Franchises Businesses in USA for 2023
Update: 04.06.2021
Clothing business offers absolutely different opportunities. They vary in assortment, concepts, scope and many other things. Which means that the apparel business could suit a lot of entrepreneurs to own. Clothing Franchises are becoming more popular due to several reasons. People want to buy clothes of reliable brands which have their own style and offer good quality. Popular brands have well-established business models which can be easily operated in many countries. Franchising makes the process of starting and running clothing business easier. View the Top 10 Clothing Franchise Concepts listed below and pick up the best one.
Here are the top 10 best clothing franchise businesses to open in the USA
Plato's Closet
Founded in: 1998
Franchising since: 1999
Franchise units: 479
Initial investment: from $255,000
Royalty Fees: 5%
Plato's Closet continues its dominance as the leading national retail resale store of its kind and we are looking for more passionate entrepreneurs that want to start their own business and share this journey with us. Plato's Closet brand continues to provide marketplace success for franchisees passionate about delivering the latest trends and styles to the ever-changing fashion needs of young men and women. If you're interested in owning and operating your own dynamic, fast-paced teen retail-resale store, then our team at Winmark is ready to hear from you.
---
Mainstream Boutique
Founded in: 1991
Franchising since: 1998
Franchise units: 76
Initial investment: from $140,175
Royalty Fees: 7.5%
Mainstream Boutique is an exciting retail fashion and accessories franchise concept. We have learned what works and what doesn't. This valuable experience has been assembled into a dynamic franchise opportunity for enterprising individuals like you. Our extensive training program revolves around a combination of classroom instruction, on-the-job training in franchisee-owned boutiques, online training and meetings, plus real-world insights on marketing, finance, and management systems.
---
Clothes Mentor
Founded in: 2001
Franchising since: 2007
Franchise units: 134
Initial investment: from $173,000
Royalty Fees: 4%
Clothes Mentor sells gently used name-brand and designer clothing, shoes and accessories for up to 70% off of original retail prices. Interest in Clothes Mentor has spread quickly in its 12 years as a franchise. We conduct three separate, comprehensive training programs that provide our new owners with both pre-opening and post-opening classes ranging from business planning, financial management and real-estate selection to store operations, merchandising, inventory management and POS system training as well as a full week of in-store training.
---
Flip Flop Shops
Founded in: 1998
Franchise since: 2004
Franchise units: 57
Initial investments: from $210,800
Royalty Fees: 5%
Founded in 2004, Flip Flop Shops has been franchising since 2008. We have shops all over the world and continue to expand our footprint. Our management team is made up of Footwear Industry Veterans not just Franchisors. We have a long history of ordering, selling, and merchandising shoes. Under new ownership in June 2018 Flip Flop Shops aggressively has begun updating shops to evolve with the modern customer. Updates include mobile check out, updated interior design with a new material pallet and color scheme, and introductions of new brands and accessories.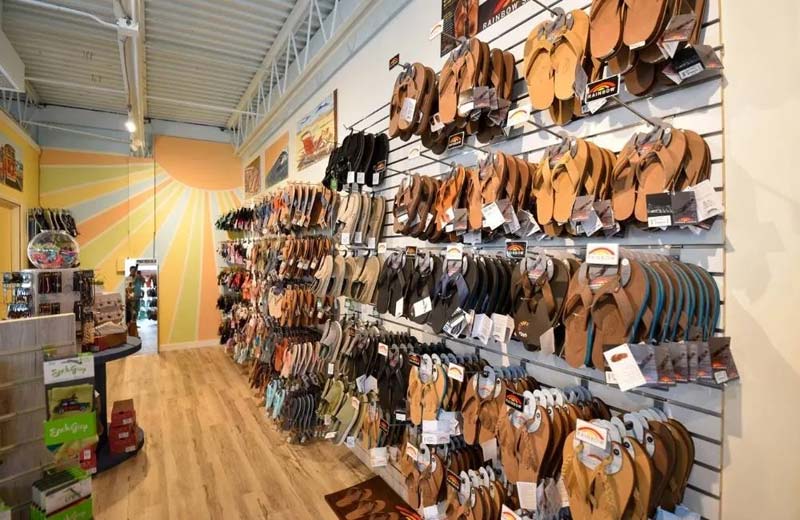 ---
Apricot Lane Boutique
Founded in: 1996
Franchising since: 2004
Franchise units: 60
Initial investment: from $132,550
Royalty Fees: 5.5%
Apricot Lane Boutique is the leading clothing boutique franchise to offer branded fashion apparel, jewelry, handbags, accessories, and gifts in the latest styles and current trends that customers are looking for. Apricot Lane is unique in its mission to bring the hottest new styles and trends to shelves as soon as they hit the runway. From training to technology to marketing and more, when you open your clothing store franchise with us, we make sure to do everything we can to set you up for success.
See more Franchises in USA in the catalog →
Uptown Cheapskate
Founded in: 2008
Franchising since: 2008
Franchise units: 65
Initial investment: from $259,660
Royalty Fees: 5%
As a franchise opportunity, Uptown Cheapskate has no equal. Founded by the visionary leadership team who made Kid to Kid a national resale clothing franchise with more than 100 locations throughout the country, Uptown Cheapskate knows exactly how to empower entrepreneurs to own thriving businesses that make a difference. Our franchise owners buy gently used clothing from their customers, and give those items a second life by selling them at a significantly reduced price. Uptown Cheapskate offers world-class support that begins the moment a franchise owner starts their journey with us.
---
Pro Image Sports
Founded in: 1985
Franchising since: 1986
Franchise units: 131
Initial investment: from $155,500
Royalty Fees: 4%
Pro Image Sports has been the leading sports franchise for over 30 years. Our stores have a strong following of customers looking for authentic, fashionable, licensed sports apparel & novelty items. Pro Image Sports is a great option for entrepreneurs looking for a low-risk, growth business with a relatively low investment and royalty requirements. Pro Image Sports offers many marketing and sales strategies throughout the year for you to promote your business. Our experienced leasing team has nearly 30 years of experience and relationships with mall owners across the country. We seek to help you secure the best location and rent package available.
---
Style Encore
Founded in: 2013
Franchising since: 2013
Franchise units: 64
Initial investment: from $264,200
Royalty Fees: 5%
Style Encore is the newest member of Winmark® family of high-quality retail-resale brands. Designed as the big sister to Plato's Closet®, Style Encore provides gently used apparel, shoes and accessories for women in their late twenties and up. Do good for your community, for your customers and for the environment in this franchise opportunity focused on recycling women's apparel and accessories back into your community by paying much needed cash to your customers for their gently used merchandise and offering fabulous fashions at greatly reduced prices to the women in your community.
---
Big Frog
Founded in: 2007
Franchising since: 2008
Franchise units: 88
Initial investment: from $114,501
Royalty Fees: 6%
Big Frog is a light manufacturing retail business based on new technology that can create custom designed t-shirts for anyone and everyone. Big Frog Franchisees provide top quality custom products driven by easy to use all-digital, green technology! Customers can not only get their new favorite T-shirt, but their new favorite hoodie, tank, jacket and more. As a Big Frog Franchisee, you will have unprecedented Access to the Founders. They know this business inside and out and are literally a phone call away.
---
TaylorMarie's
Founded in: 2003
Franchising since: 2009
Franchise units: 5
Initial investment: from $103,650
Royalty Fees: 6%
If you like fashion and working with senior women, you'll love TaylorMarie's! Owning a TaylorMarie's franchise is the perfect fit for individuals that appreciate the freedom and low overhead that working from home and controlling your own schedule provides. We offer a proven business system, established name, high margins, low wage cost, the buying power of a large retail chain and... none of the costly commercial real estate overhead! In operation since 2003 and franchising since 2008, TaylorMarie's is an easy-to-operate mobile pop-up retail model tailored to fit a busy personal schedule.

---
View all сlothing franchises
Want to advertise your franchise with us and successfully boost your business?
Please send us your request and we will get back to you shortly!
DIDN'T FIND WHAT YOU WANT?
ASK THE EXPERTS