The 10 Best Restaurant Franchises to Buy & Own in the USA of 2023
About restaurant franchise opportunities in 2023
Although traditional restaurant businesses are having a rough time recovering from lockdowns, the industry still remains one of the most profitable and demanding. The best restaurant franchises are looking for innovative ways of serving food. Therefore, they implement new or develop existing services that can replace traditional dine-in. Drive through, take away, catering and other off-premise services are becoming more and more popular. Despite the new trends the best restaurant franchises to own in the USA are well-known brands that have already built their reputation and have millions of loyal visitors. Such businesses are not cheap to start but they will begin to bring profit immediately. An entrepreneur willing to invest in popular restaurant franchises will save on advertising but they have to spend on buying or renting premises, equipment, and other stuff which will meet the high requirements of a franchisor. Discover the information about franchise requirements and fees in a list of top 10 restaurant franchises to buy here.

Restaurant franchises remain one of the most popular and sustainable businesses. After the pandemic hit, many brands had to adapt and come up with solutions to keep their network afloat and even continue to open units. Franchisors implemented new technologies and innovative ways to serve customers. Delivery and online ordering became very popular. Even though the food industry had to face the economic turbulence of the past years, it managed to survive and thrive no matter the obstacles. Franchising is a convenient and efficient model of business operation. It is an excellent opportunity to quickly and successfully enter the market without additional challenges.

So, what restaurant franchises are worth looking into? The best franchisors are those that have good management and support systems, that provide to franchisees help with finding location and navigating business aspects

Explore the best restaurant franchises and find out what each brand has to offer, including its requirements, costs, and fees.
Here is the top 10 restaurant franchise business opportunities in the US
Golden Krust Caribbean Restaurant
Founded in: 1989
Franchising since: 1996
Franchise units: 125
Initial investment: $225,900 - $687,000
Franchise Fee: $40,000
Royalty Fees: 5%
Golden Krust Caribbean Restaurant is a premier producer and the largest franchisor of authentic Caribbean cuisine sold in over 125 franchise restaurants throughout North America. The original restaurant was formed 30 years ago and still exists today. Golden Krust produces over 40 million Jamaican patties per year, with systemwide sales of over $100 million and employs over 1,800 teammates. We exist to provide a fresh, new dining experience for today's ever demanding consumer and a savvy business opportunity for you, the success-minded entrepreneur.
---
Denny's
Founded in: 1953
Franchising since: 1963
Franchise units: 1,580
Initial investment: $305,000 - $2,326,540
Franchise Fee: $10,000 - $30,000
Royalty Fees: 4,5 - 7%
Denny's is an American table service diner-style restaurant chain, which operates over 1,700 restaurants in many countries. Since 1953, our industry has changed, but we've stuck to what we know—providing a great America's diner experience. We've cultivated Denny's into the established restaurant franchise business model it is today, offering franchisee partners long-term stability and support. Our resiliency has established Denny's as a part of communities today, tomorrow, and far into the future. Today's business climate presents new challenges and unique opportunities. Denny's is ready to help hungry operators like you turn these into a winning combination.
---
Huddle House
Founded in: 1964
Franchising since: 1966
Franchise units: 256
Initial investment: $560,435 - $1,379,575
Franchise Fee: $35,000
Royalty Fees: 4,75%
If you're looking for a business opportunity that brings a hometown family classic to your community, consider opening a Huddle House franchise! We are a 55-year-old family restaurant franchise famous for 'round-the-clock breakfast, Southern hospitality, and being the best place in town for friends to gather. We offer an exciting endeavor that will allow you to create something special that is both long-lasting and financially rewarding. As a Huddle House franchise owner, you will enjoy small-town appeal and a strong brand culture, backed by a system with over 50 years of success.
---
Taco Bell
Founded in: 1962
Franchising since: 1964
Franchise units: 7,090
Initial investment: $575,600 - $3,370,100
Franchise Fee: $25,000 - $45,000
Royalty Fees: 5,5%
Taco Bell is an American-based chain of fast-food restaurants originating in Irvine, California in 1962, by founder Glen Bell. Taco Bell is a subsidiary of Yum! Brands, Inc. The restaurants serve a variety of Mexican-inspired foods, that include: tacos, burritos, quesadillas, nachos, novelty and specialty items, along with a variety of "value menu" items. As of 2021, Taco Bell serves over two billion customers each year, at 7,567 restaurants, more than 93 percent of which are owned and operated by independent franchisees and licensees. Do more, expect more and partner with the leader in the Mexican quick-service restaurant industry. Own a Taco Bell franchise!
---
Melting Pot
Founded in: 1975
Franchising since: 1984
Franchise units: 94
Initial investment: $1,339,023 - $1,587,201
Franchise Fee: $45,000
Royalty Fees: 5%
Melting Pot is more than just cheese and chocolate. We offer a unique, easy-to-operate restaurant franchise for leaders who are passionate about creating memorable guest experiences with each fondue pot. Melting Pot embraces more than 45 years of experience and success - including increasing sales by 20% in 2021. Melting Pot has developed extensive training, systems, and guidance to help you make the most of our fondue restaurant franchise opportunities. With more than 50 Restaurant Support Center All-Stars at the home office and in the field, our training and support covers all aspects of your business.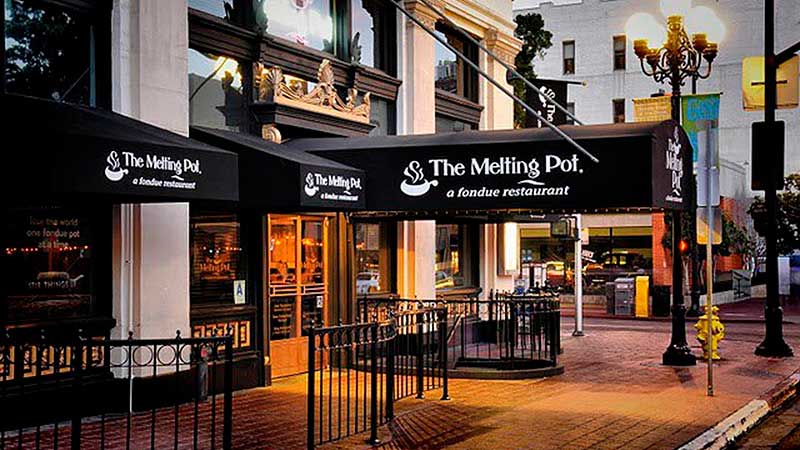 ---
McDonald's
Founded in: 1940
Franchising since: 1955
Franchise units: 36,717
Initial investment: $1,314,500 - $2,313,295
Franchise Fee: $45,000
Royalty Fees: 4%
McDonald's is an American fast-food company, founded in 1940 as a restaurant operated by Richard and Maurice McDonald, in San Bernardino, California, United States. McDonald's has been around for more than seven decades, and many franchises have been established in that time. For this reason, the vast majority of entrepreneurs wanting to get into the restaurant franchise business buy existing franchises rather than launch new ones. Existing franchises typically come with trained staff and built-in customers, so in that sense, these are true turnkey businesses.
---
Del Taco
Founded in: 1964
Franchising since: 1967
Franchise units: 301
Initial investment: $862,700 - $2,136,500
Franchise Fee: $35,000
Royalty Fees: 5%
For more than 50 years, Del Taco has been serving freshly prepared, craveable food at an unbeatable value. This rare combination is one of the many reasons that we are one of the leading brands in the fast-growing Mexican quick-service restaurant (QSR) category. Led by an experienced executive team, Del Taco's established brand legacy, proven business model, creative marketing strategies, and solid company financials offer franchisees the support systems and resources needed to establish, manage, and grow their business. We are expanding rapidly across the country, with exclusive development territories available throughout the United States for qualified candidates.
---
Zoup! Eatery
Founded in: 1998
Franchising since: 2003
Franchise units: 66
Initial investment: $357,900 - $675,500
Franchise Fee: $39,900
Royalty Fees: 6%
While we started with a single restaurant and 12 rotating daily soups, today's Zoup! Eateries offer an enticing, innovative menu that pays homage to our rich soup and broth heritage. From salads and sandwiches to mac, broth bowls, grain bowls craft beverages and more, we've evolved our menu, but that's not all. Our experienced Franchisee Support Team is trained and ready with the best-in-class support and systems you need to run a successful Zoup! Eatery. From operations and training to technology and marketing, our professionals are proactive planners and creative problem solvers with a passion for helping your business thrive.
---
KFC
Founded in: 1930
Franchising since: 1952
Franchise units: 25,390
Initial investment: $1,442,600 - $2,771,550
Franchise Fee: $45,000
Royalty Fees: 4 - 5%
Based in Louisville, Kentucky, KFC Corporation is the franchisor of the world's most popular chicken restaurant chain, specializing in Original Recipe®, Extra Crispy™, Kentucky Grilled Chicken® and Extra Crispy™ Tenders with home-style sides, Hot Wings™ pieces and freshly made chicken sandwiches. Famous for its Original Recipe® fried chicken, which is made with the same secret blend of 11 herbs & spices that Colonel Sanders perfected more than a half century ago, KFC has been serving customers complete, freshly prepared family meals since Colonel Harland Sanders founded the concept in 1952.
---
Popeyes Louisiana Kitchen
Founded in: 1972
Franchising since: 1976
Franchise units: 3,534
Initial investment: $383,500 - $3,545,800
Franchise Fee: $50,000
Royalty Fees: 5%
Popeyes Louisiana Kitchen is an American multinational chain of fried chicken fast-food restaurants that was founded in 1972 in New Orleans, Louisiana and headquartered in Miami, Florida. Popeye's Louisiana Kitchen great recipes, extensive menu offering, service and franchise support system are just some of the reasons Popeyes is continually ranked as one of the top restaurant franchise choices of both customers and franchisees. Restaurants work well in a range of settings, including freestanding locations, shopping malls, airports, and university campuses. The company must approve the site selected to open a restaurant before any building or fit-out work can take place.
---
Conclusion
To summarize, we can say any of the listed above popular restaurant franchises is worth buying. But there is a lot to consider while choosing the best one for you. Pay attention to the reputation of the brand, what training and support are offered, check if the other franchisees are successful. But the main thing you need to do is to align your budget with investment requirements of the brand. In order to ease the challenge, we have made the comparison flowchart of the best restaurant franchises to own in the USA for you. It shows the minimum estimated initial investment and initial franchise fee of each brand. By using it, you can figure out the difference in financial requirements for each franchise, and decide which one fits you the most.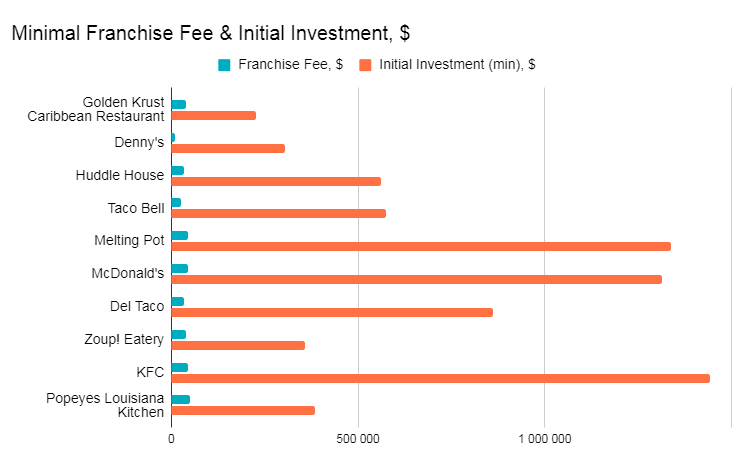 View all Restaurant franchises
Want to advertise your franchise with us and successfully boost your business?
Please send us your request and we will get back to you shortly!
DIDN'T FIND WHAT YOU WANT?
ASK THE EXPERTS