The 5 Best Construction Franchise Businesses in Canada for 2023
Update: 12.11.2021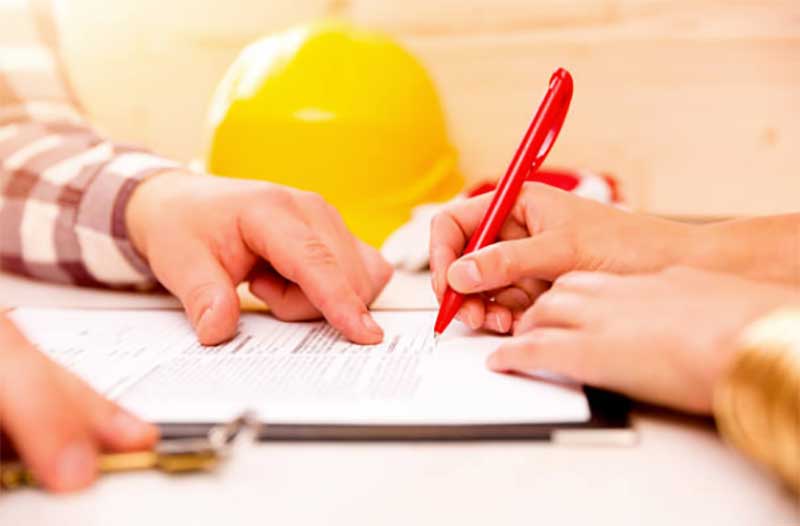 Construction franchise industry in Canada is forecast to continue growing in 2022 after the decline. The leaders on the market are the companies which have been known for their innovative solutions. Thus, the list of the best Construction franchise businesses remained unchanged for the last years which means the reliability of the leading brands.
Construction Franchise Businesses in Canada are flourishing and in demand for skilled entrepreneurs. If you are thinking of your own lucrative company, choose a building franchise and you will never regret. The industry offers various traditional and innovative concepts such as installing a mini disposal system, concrete production, handyman, screw piles foundation and other solutions. The best construction franchises in Canada provide new franchisees with personal business coach support as well as an extensive training, operations manuals and marketing templates. Here's a list of the 5 top construction franchise opportunities available right now.
Here is the top 5 construction franchises in Canada
Handyman Pro
Founded in: 2018
Franchising since: 2018
Franchise units: 3
Initial investment: from $50,000
Royalty Fees: 6%
Handyman Pro is a Premium Service Brands company that offers franchise partners the unparalleled opportunity to join a veteran franchising company in creating a successful local business. Handyman Pro is your neighborhood handyman company that handles all problems big and small. It fills a gap in the $400 billion home improvement industry between the small-time repairman and the large remodeling companies, attracting projects of all types and scope. Training with Handyman Pro begins the moment you've signed the papers and never stops. After launch, your personal business coach supports new owners and boosts veteran owners to new professional heights.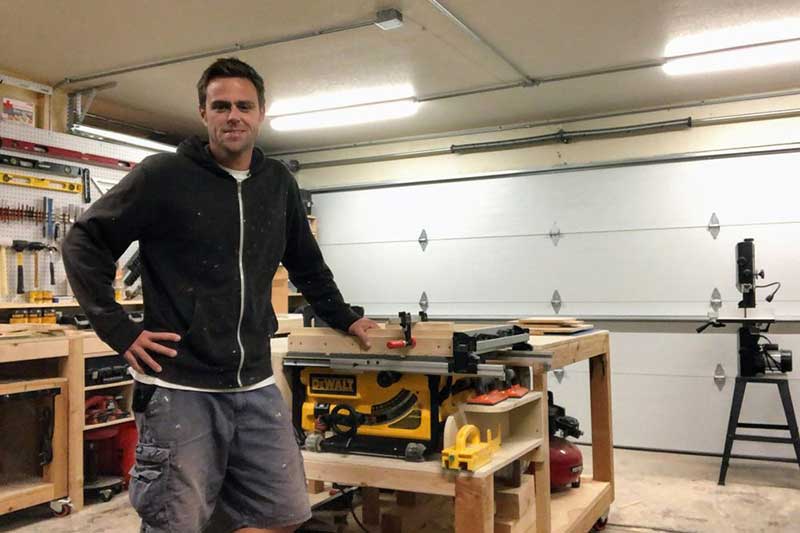 ---
Xtreme Post
Founded in: 2005
Franchising since: 2005
Franchise units: 24
Initial investment: from $43,250
Royalty Fees: 0%
Founded in 2005, Xtreme Post is dedicated to providing the highest standards of the industry and especially the most efficient solutions in terms of screw piles foundations. Our reliable technology is recognized by thousands of clients, engineers, construction professionals, municipalities, and many more. Our franchise network has grown steadily and our trained professionals are ready to serve many customers in many parts of Canada. Xtreme Post is looking for people driven by the desire to serve its loyal customers all over Canada and who are willing to continue developing the company's recognized expertise.

---
Concrete Raising of America
Founded in: 1947
Franchising since: 1995
Franchise units: 11
Initial investment: from $34,000
Royalty Fees: 8%
CRC Concrete Raising of America is the world's premier concrete franchise opportunity as recognized by independent authorities throughout the franchise community. Concrete Raising of America relies on its 70+ years of experience raising settled concrete to establish new, dynamic franchise locations in metropolitan areas. Look around. This unique opportunity is literally beneath your feet. Our industry is serviced by existing contractors as a supplement to their existing line of work, or by entrepreneurs, as a stand-alone business that satisfies the need to remove tripping hazards and hollow voids.

---
Pro-Lift Garage Doors
Founded in: 2015
Franchising since: 2016
Franchise units: 27
Initial investment: from $50,000
Royalty Fees: 6%
Opening a Pro-Lift Garage Doors franchise opens doors to your financial and professional success. As part of the Premium Service Brands family, corner the under-served garage door installation and repair market, and create a trusted neighborhood business. Our proven sales techniques and intensive training process sets you up for maximum success. After launch, personal business coaches support new owners and boost veteran owners to unlimited financial success, creating a business culture of consistent improvement and constant development.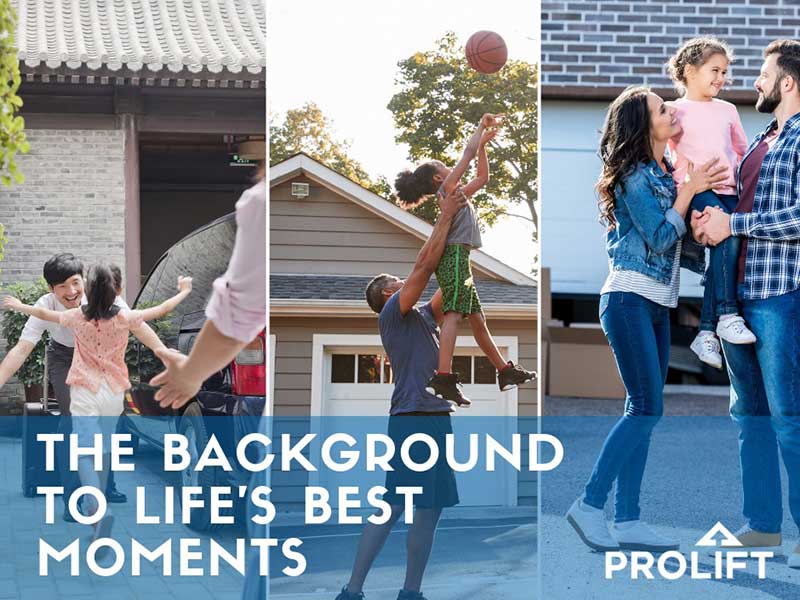 ---
Bin There Dump That
Founded in: 2001
Franchising since: 2003
Franchise units: 145
Initial investment: from $125,000
Royalty Fees: $500-$1K/vehicle/mo.
Trash in North America is a $45 billion industry. Bin There Dump That is one of the most successful emerging mini disposal systems in North America. We take away virtually anything that isn't hazardous waste. Our unique system supplies prompt customer response and varied bin sizes. Our bin trucks use a unique, efficient roll-off system, bins are accessible via rear opening doors and are non-damaging to driveways. Our team is professional and courteous and always in uniform. Training, operations manuals and marketing templates are only part of the full and ongoing support offered to our franchisees.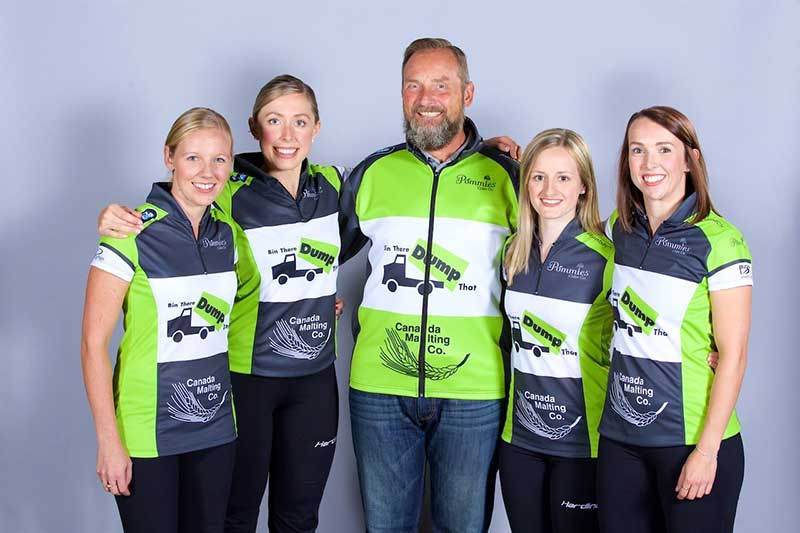 ---
Conclusion
To summarize, we can say any of the listed above construction franchises is worth buying. But there is a lot to consider while choosing the best one for you. Pay attention to the reputation of the brand, what training and support are offered, check if the other franchisees are successful. But the main thing you need to do is to align your budget with investment requirements of the brand. In order to ease the challenge, we have made the comparison flowchart of the best construction franchises in Canada for you. It shows the minimum estimated initial investment of each brand. By using it, you can figure out the difference in financial requirements for each franchise, and decide which one fits you the most.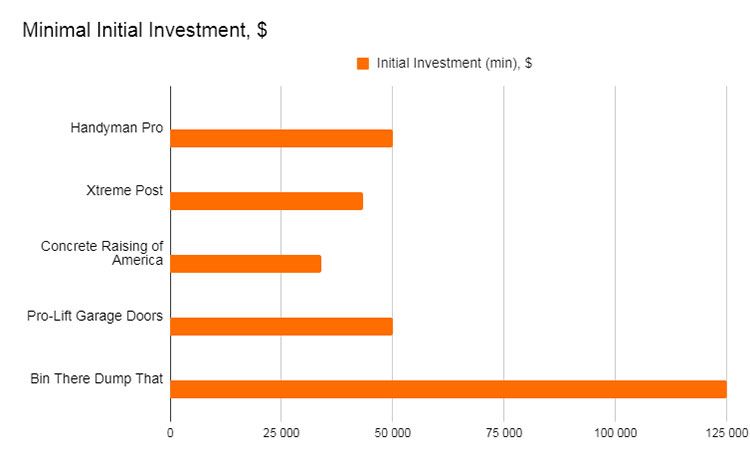 View all Building & Construction Franchises
Browse franchises by countries

USA

India

Canada

The UK

Indonesia

The Philippines

Australia

The UAE

Saudi Arabia

South Africa

Germany

Pakistan

Singapore

Malaysia
Other countries
Want to advertise your franchise with us and successfully boost your business?
Please send us your request and we will get back to you shortly!
DIDN'T FIND WHAT YOU WANT?
ASK THE EXPERTS