The 4 Best Event Planning Franchise Businesses in India for 2023
Update: 12.11.2021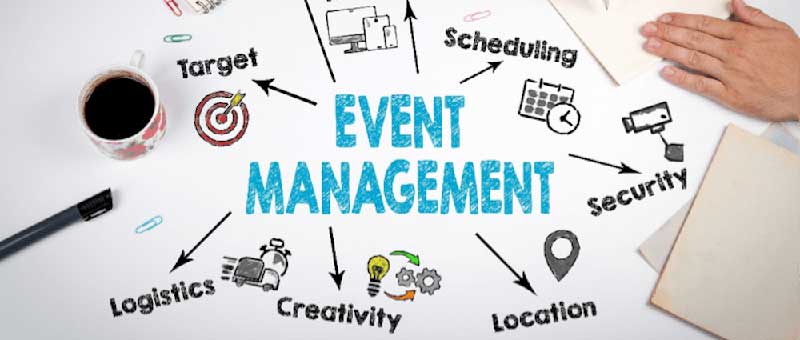 No wonder, event planning franchises are always highly successful in India. The industry is expected to continue evolving in 2022, incorporating new trends with old traditions. The rating of top 4 best event planning franchises show some insignificant change in placing. However, the competition takes place among the same flagmans.
The best event planning franchises in India are successful businesses, which bring joy to people and a good income to owners. Event market offers great opportunities for entrepreneurs who would like to express their creativity, seek for their own flexible schedule of work and look for networking and communication. If you made up your mind to start an event planning franchise business in India, consider the top 4 event planning franchises 2022. They provide decor, event equipment rental, transport, catering, designing, entertainment for different occasions. The list of popular event planning opportunities of franchising in India includes franchisors with a perfect reputation and a proven concept.
Here are the top 4 best event planning franchises in India
Ravva Events Private Limited
Founded in: 2012
Franchising since: 2018
Franchise units: Less than 10
Initial investment: From Rs 5 Lakhs
Royalty Fees: 10%
Nakshatra Events is a growing 360 degrees ISO certified event management company based in Vijayawada, since 2012. By the time, we have organized about 1500+ successful events. We are perennial vendors for Hotel Murali Fortune & Olive Tree. At Nakshatra Events, we deliver a portfolio of exceptional services, which comprises of wedding packages, corporate events, social events, innovative party concepts, entertainment options, celebrity management, musical nights.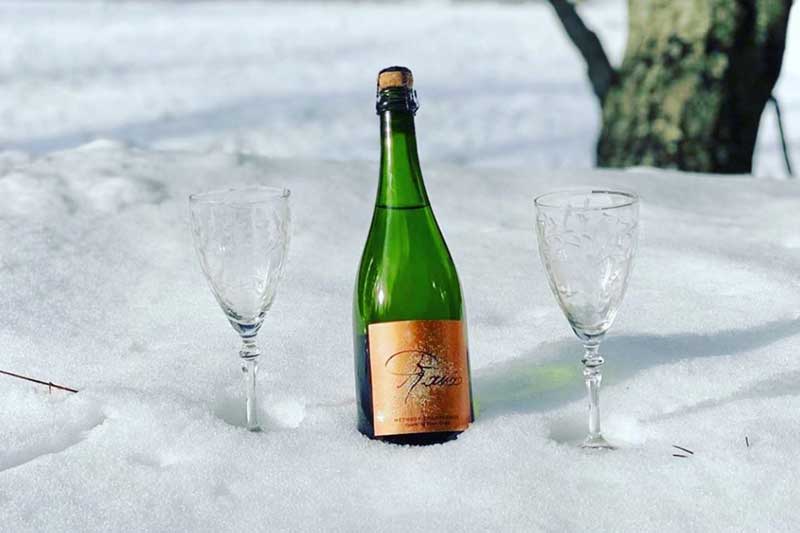 ---
Dreamz Event Management
Founded in: 2013
Franchising since: 2014
Franchise units: 1
Initial investment: From Rs 0.1 Lakhs
Royalty Fees: 10%
Dreamz is a fully-fledged event management firm based in Mumbai. We bring a fresh, unique approach to the event management industry. We focus on all types of events private or corporate. Private events include parties, weddings, functions and more, whereas we also undertake corporate events, exhibitions, shows and more. We cover all the aspects of an event like transport, catering, set-up, on-site management, designing, entertainment, security and so on. We are also trying to excel in the field of branding and promotions, which we feel is an integral part of any event. Start your own event management business by becoming Dreamz franchisee!

---
Hire4Event.com
Founded in: 2012
Franchising since: 2012
Initial investment: From Rs 6 Lakhs
Royalty Fees: 25%
hire4event.com is a new startup concept of global magic consulting private limited for online event equipment rental services, came into existence in 2012, to provide total event related services to the different types of event organizers in terms of event equipment and manpower. hire4event.com is a professionally managed and a very much experienced professionals in organization extending support services to other Indian and international event management companies. Support services include event equipment in Delhi, promotions & exhibition services in Delhi, loyalty programs, and manpower services for hospitality, ushering, brand promoter, security services promotions & exhibition services in Delhi and loyalty programs, event manpower in Delhi NCR.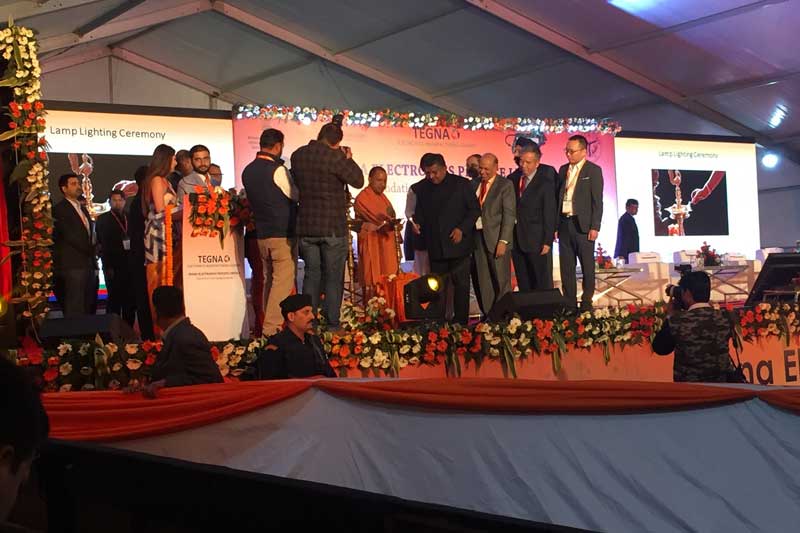 ---
Party Cruisers India Limited
Founded in: 1994
Franchising since: 2011
Franchise units: Less than 10
Initial investment: From Rs 5 Lakhs
Royalty Fees: 15%
Party Cruisers India Limited brings Vivaah franchise model for wedding decor services! Based out of Mumbai, Vivaah is a full-service event planner that has successfully grown her brand to become a wedding decor stylist and consultant. Today, Vivaah and its amazing team are trendsetters and innovators best known for their unexpected decor accents, creative ideas and exquisite attention to every last detail. The franchise benefits are proven system in place, higher likelihood of success, corporate image and brand awareness, easier to obtain financing, training, ongoing support, marketing assistance.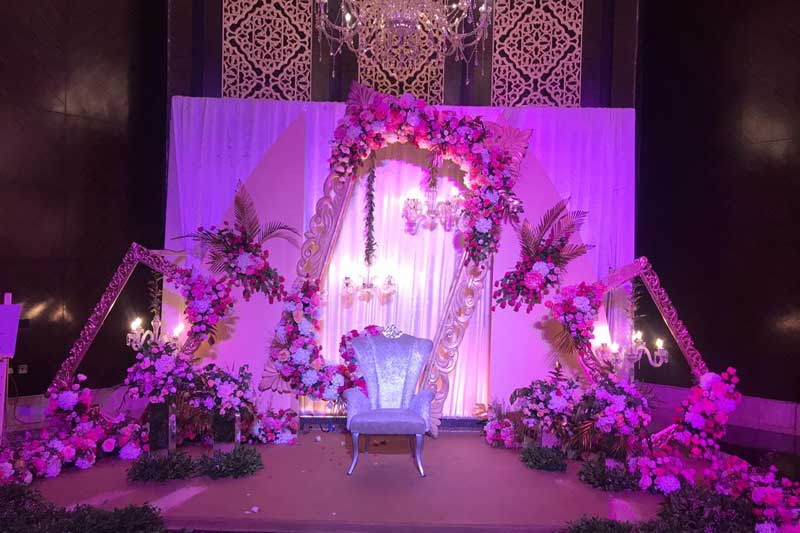 ---
Conclusion
To summarize, we can say any of the listed above event planning franchises is worth buying. But there is a lot to consider while choosing the best one for you. Pay attention to the reputation of the brand, what training and support are offered, check if the other franchisees are successful. But the main thing you need to do is to align your budget with investment requirements of the brand. In order to ease the challenge, we have made the comparison flowchart of the best event planning franchises in India for you. It shows the minimum estimated initial investment of each brand. By using it, you can figure out the difference in financial requirements for each franchise, and decide which one fits you the most.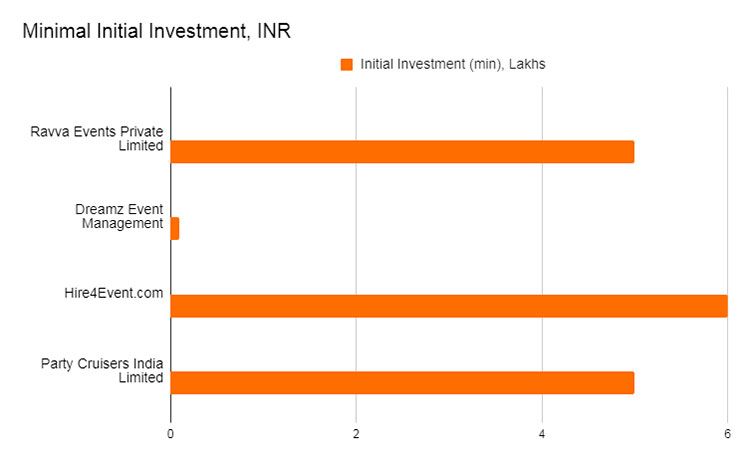 View all Party & Event Planning Franchises
Want to advertise your franchise with us and successfully boost your business?
Please send us your request and we will get back to you shortly!
DIDN'T FIND WHAT YOU WANT?
ASK THE EXPERTS