TOP 9 Real Estate Franchises in India for 2023
Update: 04.12.2021

Preparing a list of the best Real Estate franchises in India for 2022, we noticed no change in the brand names and their positions in the ranking. Similar to previous years, the leaders in the Indian market don't give in to other brands. The tendency suggests the reliability of businesses for investments.
The growing number of urban citizens affected the development of businesses related to real-estate. Starting a real-estate agency is not a bad idea. There are several options for it. One of them is buying a real-estate franchise. Compared to an independent agency, franchise business offers a good brand recognition as well as franchisor support at all the stages of running the business. There are various types of Real Estate franchises to choose from. They include property selling, commercial property, housing property, real estate brokerage, renting service, etc. Explore the TOP 9 Real Estate opportunities in India below to find the one right for you.
Here are the top 9 real estate franchises in India
L.J. Hooker
Founded in: 1950
Franchising since: 1980
Franchise units: 730 Worldwide
Initial investment: Rs. 10 lakhs - Rs. 15 lakhs
L.J. Hooker, one of the world's largest and most trusted real estate companies, provides services that assist the customer through all phases associated with buying, selling, renting & leasing a property, including services such as financing, conveyancing, insurance, relocating and utility connections. L.J. Hooker's mission is to provide a one-stop-shop for the customer. This creates many opportunities to our franchise both in terms of income and multiplying business.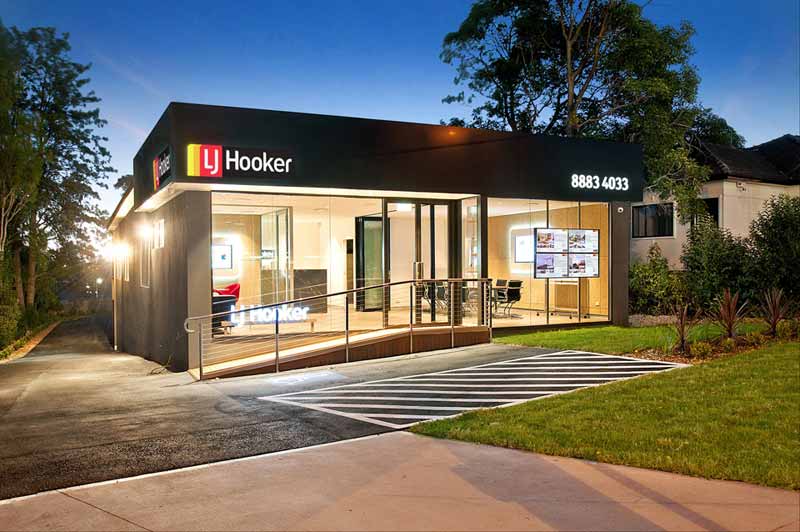 ---
Ray White India
Founded in: 1970
Franchising since: 2009
Franchise units: 1300
Initial investment: Rs. 5 lakhs - Rs. 10 lakhs
Ray White, a real estate company of Australia and New Zealand, is going to expand its business in the India. The Australian company had expressed an interest in having partnership in Delhi.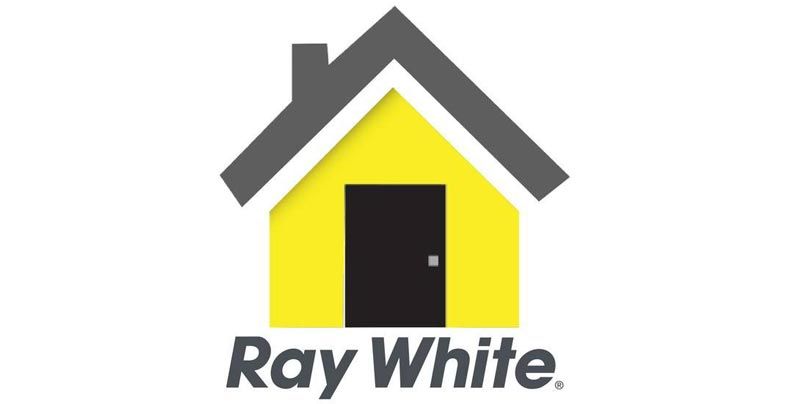 ---
Propertyfry.com
Founded in: 2014
Franchising since: 2016
Franchise units: 20
Initial investment: Rs. 2 - 5 lacs
Franchise Fee: INR 10,000
Propertyfry.com is India's fastest growing online real estate service provider launched in 2014. It's single platform is to meet the needs of buyers, sellers and brokers of India property.

---
18Flats
Founded in: 2013
Franchising since: 2014
Franchise units: 225
Initial investment: Rs. 10,000 - Rs. 50,000
18flats.com facilitates end-user with Genuine Residential and Commercial Properties available for Rent & Sell & Lease Pan India with presence in 225 cities. Company has an online portal that helps an individual looking to buy a new property. It could be defined as a platform for property transactions. 18FLATS is seeking for partners in growth in form of Advertisers, Service Points Partners, Business Franchisee and Business Investors.

---
RE-FUTURE Group
Founded in: 1999
Franchising since: 2014
Franchise units: 60+
Initial investment: Rs. 2 Lakhs - 5 Lakhs
Royalty Fees: 5 - 10%
RE-FUTURE is one of the leading Real Estate brokerage and franchise networks based in Ahmedabad. RE-FUTURE is Idea to Provide Best & Fast Solution for Customer requirement of Property Sale, Purchase, Rent, Lease with our Well-Professional Franchise & Agents Network of an Area of your City.

---
Regrob
Founded in: 2011
Franchising since: 2011
Franchise units: 20 - 50
Initial investment: Rs. 10 - 20 lacs
Regrob is technology-powered real estate brokerage; which help people buy and sell homes. Regrob is an Online to Offline (O2O) platform in India's real estate brokerage industry. Regrob looks forward to expanding its network and inviting state , city and area franchisees and affiliates who will be responsible for finding real estate properties and business development in a particular region and will facilitate the process of finding right properties for the buyers.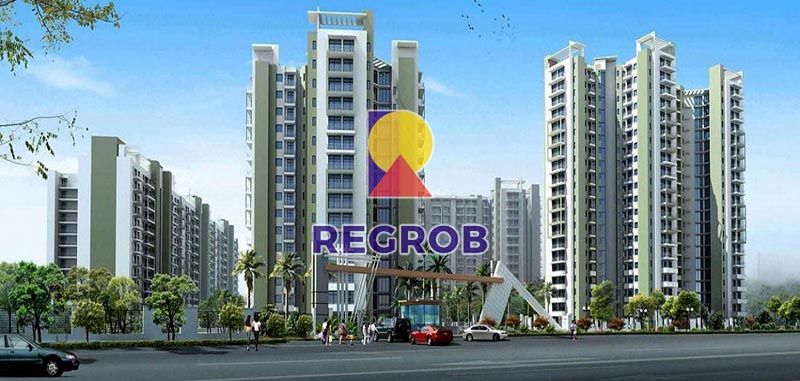 ---
OSS Retails Pvt. Ltd.
Founded in: 2005
Franchising since: 2006
Franchise units: 50
Initial investment: Rs. 10,000 - Rs. 50,000
The OSS Group of Companies is one of the most well-known corporate business houses in India. It has diversified interests in a number of key industries and it has successfully establish itself as a respected industry leader in all the segments of market which it has explored.

---
REBI
Founded in: 2006
Franchising since: 2007
Franchise units: 120
Initial investment: Rs. 5 - 10 lakhs
REBI (REAL ESTATE BANK INDIA PVT LTD) is a pioneering concept and a paradigm shift in real estate selling and other services, where the customer experience in transacting real estate is akin to enjoying coffee at a nearby Starbucks. REBI has a multi layered Franchise system at the heart of its operations. REBI's Franchising Model is a network of "Property Shops" through the franchisee route giving opportunity to a large number of entrepreneurs across India.

---
RE/MAX
Founded in: 1973
Franchising since: 2002
Franchise units: 7000+ Franchise Offices Worldwide
Initial investment: Rs. 10 - 20 lakhs
Royalty Fees: 20%
RE/MAX is one of the World's largest and most successful network of Real Estate Brokerage. When you choose RE/MAX you have the power and support of our worldwide network and the proof is in the results – Nobody in the world sells more Real Estate than RE/MAX.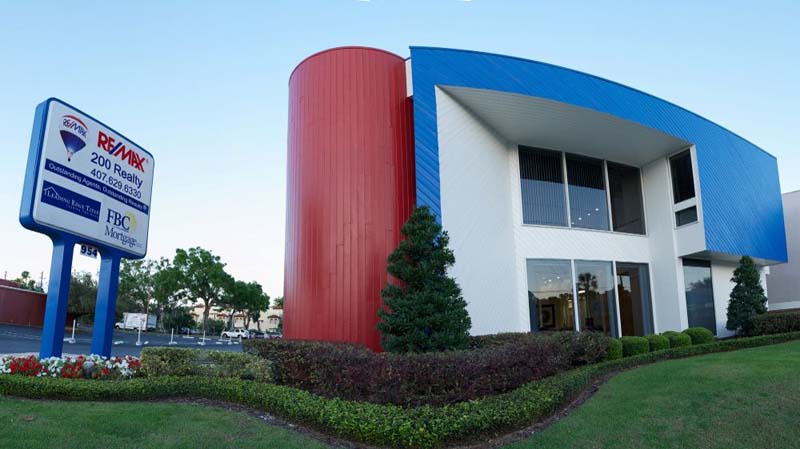 ---
Conclusion
To summarize, we can say any of the listed above real estate franchises is worth buying. But there is a lot to consider while choosing the best one for you. Pay attention to the reputation of the brand, what training and support are offered, check if the other franchisees are successful. But the main thing you need to do is to align your budget with investment requirements of the brand. In order to ease the challenge, we have made the comparison flowchart of the best real estate franchises in India for you. It shows the minimum estimated initial investment of each brand. By using it, you can figure out the difference in financial requirements for each franchise, and decide which one fits you the most.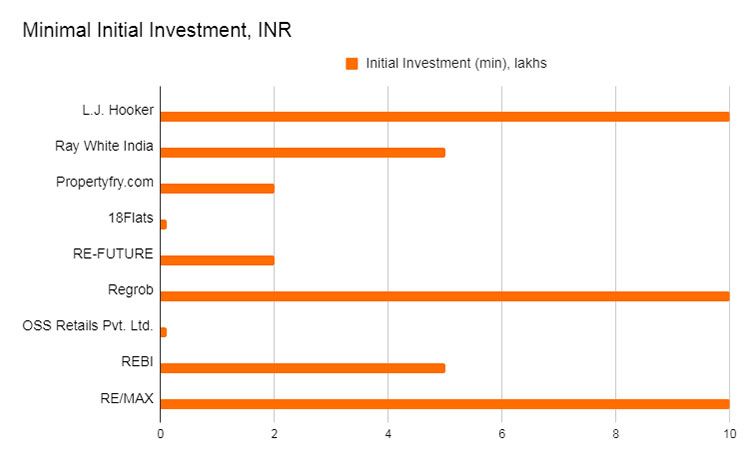 View all Real Estate Franchises
Browse franchises by countries

USA

India

Canada

The UK

Indonesia

The Philippines

Australia

The UAE

Saudi Arabia

South Africa

Germany

Pakistan

Singapore

Malaysia
Other countries
Want to advertise your franchise with us and successfully boost your business?
Please send us your request and we will get back to you shortly!
DIDN'T FIND WHAT YOU WANT?
ASK THE EXPERTS