The 10 Best Bakery Franchise Businesses in USA for 2021
Update: 04.06.2021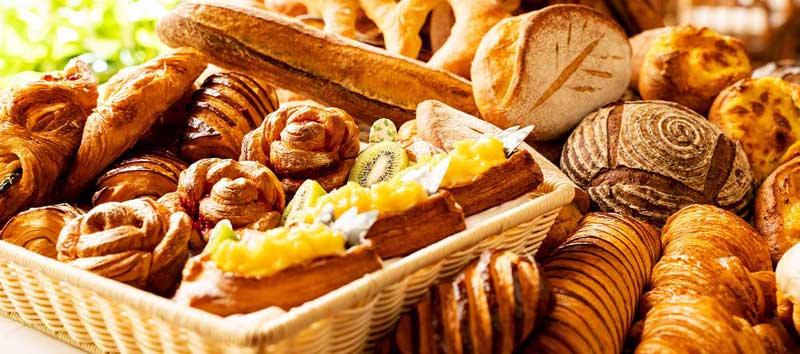 According to the American Bakers Association, the baking industry includes 6,000 retail bakeries in the USA. Many of them operate by means of franchising. Bakery franchises are not all the same. They vary in concepts, related products and services, scope, and popularity among Americans. The list of 10 Best Bakery Franchise Businesses in the USA includes the most recognizable brands which have a number of loyal customers. They are ready to expand both nationally and internationally. The success of the franchise businesses is in the constant support of their franchisee, a proven business model and unique recipes loved by thousands.
Here are the top 10 best bakery franchises in the USA
Dunkin'
Founded in: 1950
Franchising since: 1955
Franchise units: 12,676
Initial investment: from $228,620
Royalty Fees: 5.9%
If you want to open a Dunkin' Donuts franchise, know that it offers some of the best field-support experts in franchising, development, and more. Franchising with Dunkin' Brands means working with a leader in the quick service restaurant industry. It means taking advantage of our vast support network and franchising experience. You work hard to create your success, and we're on hand to help you along the way. Dunkin' Brands has more than 1,100 corporate employees to support our franchise systems worldwide, so you can see that meeting the needs of customers and franchisees is our priority - every day.
---
Cinnabon
Founded in: 1985
Franchising since: 1986
Franchise units: 1,512
Initial investment: from $30,000
Royalty Fees: 6%
Cinnabon bakery restaurant known for cinnamon rolls, cinnamon products, coffee and frozen drinks. Become a Cinnabon® franchise owner, and learn what it means to be the most popular kid on the block! Our one-of-a-kind, insanely craveable baked goods and specialty beverages have made Cinnabon® a world-class brand with world-class economics. With build-out formats to fit any venue, our franchise owners have the opportunity to make life in their communities a little sweeter.
---
Auntie Anne's
Founded in: 1988
Franchising since: 1989
Franchise units: 1,934
Initial investment: from $199,475
Royalty Fees: 7%
Join us in putting the hand-rolled deliciousness of Auntie Anne's® soft pretzels into more people's hands. We are looking for franchise owners to extend our reach into street side locations, tourist locations, colleges, and more. Our guests savor Auntie Anne's® pretzels' unique flavor profile. You'll value the strong financials, culture that promotes community involvement, and opportunities afforded you by our impressive global footprint. The future is looking bright for our franchise owners. Get in on the goodness now.
---
Shipley Do-Nuts
Founded in: 1936
Franchising since: 1987
Franchise units: 285
Initial investment: $340,900
Royalty Fees: 5%
Shipley Do-Nuts offers over 60 different varieties of Do-Nuts, pastries, and kolaches that are all produced from the same simple to use donut mix. The Shipley Do-Nuts concept, like many successful foodservice operations, relies on well trained and qualified staff to support its daily goal of quality and consistent performance. We have strived over the past seventy-eight years to simplify its operation through experience and hard work. The concept requires the development of a staff which is committed to this daily goal to ensure the maintenance of the standards we have set.
---
Wetzel's Pretzels
Founded in: 1994
Franchising since: 1996
Franchise units: 323
Initial investment: from $164,950
Royalty Fees: 7%
Every Wetzel's Pretzels bakery lives by the original vision of its founders; that each super-premium pretzel will be crafted from fresh dough and baked in-store consistently throughout the day, to ensure a delicious offering for each customer, regardless of when the craving for a pretzel strikes. We are looking for franchise owners with an entrepreneurial spirit, a passion for food and a desire to delight guests. Wetzel's Pretzels is ideal for a new business owner looking for a simple business that is easy to start, easy to run and easy to scale!
---
Nothing Bundt Cakes
Founded in: 1997
Franchising since: 2006
Franchise units: 166
Initial investment: from $408,187
Royalty Fees: 5%
Nothing Bundt Cakes is a successful, niche bakery concept with more than 300 bakeries across the U.S. We are a unique franchise concept. When our guests visit our bakeries, they are often surprised to find out it is a franchise. Our stores have a "Mom and Pop shop" feel to them which alleviates a common business concern in franchising. We also grant a unique experience to our franchise owners with our positive work environment and family friendly work schedules.
---
Pretzelmaker
Founded in: 1991
Franchising since: 1992
Franchise units: 264
Initial investment: from $205,200
Royalty Fees: 7%
Pretzelmaker has made a name for ourselves by serving freshly baked pretzels, innovative snacks, and a delicious menu complete with drinks and dipping sauces. But we aren't ready to stop there! We are continuing to innovate so that we can offer our franchisees the ultimate in flexibility. With the support of an expansive corporate network, a Pretzelmaker franchise generates steady revenue, whether it's in a busy shopping center, a strip mall, or even a stand-alone location.
---
Big Apple Bagels / My Favorite Muffin
Founded in: 1993
Franchising since: 1993
Franchise units: 80
Initial investment: from $284,500
Royalty Fees: 5%
Big Apple Bagels franchise is on the forefront of the fast casual dining boom. The Big Apple Bagels® restaurant concept was developed to delight not only customers, but our franchise owner-operators as well. As a Big Apple Bagels® franchisee, you'll be able to produce freshly baked Big Apple Bagels brand bagels, My Favorite Muffin brand gourmet muffins, a wide assortment of delicious sandwiches and salads, and serve our own Brewster's brand of brewed coffee and specialty drinks. If you share the passion for excellence on which the Big Apple Bagels® concept was founded, we invite you to consider this franchise opportunity and encourage you to review our Franchise Support, Training, Investment, Photo Gallery and Frequently Asked Questions.
---
Great American Cookies
Founded in: 1977
Franchising since: 1977
Franchise units: 376
Initial investment: from $160,500
Royalty Fees: 6%
Great American Cookies offers low cost cookie franchise in the US. We provide delicious cookies that bring happines to customers. ​The decision to invest in a Great American Cookies franchise is an investment in your career as well as your community. Our cookie franchise is a great way to start your career as a business owner or even to expand your current business. As a franchise owner, you will receive help from our corporate personnel with everything from real estate identification to lease negotiations to location build-out.
---
Breadsmith
Founded in: 1993
Franchising since: 1993
Franchise units: 32
Initial investment: from $354,250
Royalty Fees: 7-5%
If you have a passion for baking fresh, made-from-scratch artisan breads while actively serving your community, it's time to learn more about opening your own neighborhood Breadsmith. Take a look at why franchising with Breadsmith is a great business opportunity and learn more about our requirements for getting started. Our experienced team is ready to guide you through each step of the franchising process.
---
View all bakery franchises
Want to advertise your franchise with us and successfully boost your business?
Please send us your request and we will get back to you shortly!
DIDN'T FIND WHAT YOU WANT?
ASK THE EXPERTS