The Best 10 Food Franchise Businesses to Own in the USA for 2023
Update: 26.12.2021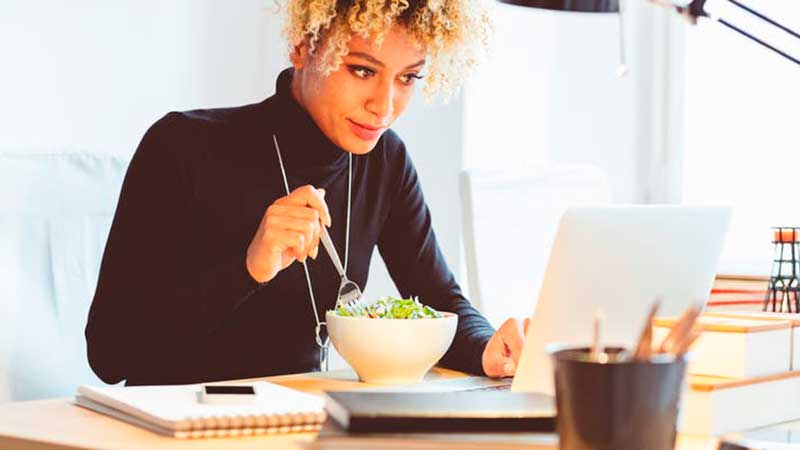 According to Trend reports, 2022 is considered a Year of Climb from stagnation caused by the pandemic. It promises the best food franchise opportunities too. Speaking about the main trends which an upcoming year will bring in the industry, we`d mention zero waste and sustainability of the food system, immunity boosting and plant based food as well as comfortable ways of delivery. The list of top 10 food franchises to buy introduced by us includes brands which try to follow the latest trends. Here you can find companies offering absolutely different business concepts such as juice and smoothie bars, baked goods stores and quick service restaurants, coffee shops and ice cream cafes. The most successful food franchises to own in the USA are proven companies with world famous brand names which are looking for ways to expand. They offer their franchisees favorable conditions for collaboration including affordable franchise fees, training at the beginning and support on all stages of running the business.
Here is top 10 most successful food franchise opportunities in the USA
Cinnabon
Founded in: 1985
Franchising since: 1986
Franchise units: 1,767
Initial investment: $112,000 - $475,700
Franchise Fee: $5,500 - $30,500
Royalty Fees: 6%
Cinnabon is an American chain of baked goods stores and kiosks, normally found in areas with high pedestrian traffic such as malls, airports and rest stops. The company's signature item is a cinnamon roll. As of December 2021, there are more than 1,700 Cinnabon bakeries operating worldwide. Cinnabon® offers comprehensive certified training for franchise owners and key managers. Additionally, you are granted access to online training tools and development support to train your teams efficiently and effectively. Become a Cinnabon® food franchise owner, and learn what it means to be the most popular kid on the block! Our one-of-a-kind, insanely craveable baked goods and specialty beverages have made Cinnabon® a world-class brand with world-class economics.
---
Smoothie King
Founded in: 1973
Franchising since: 1988
Franchise units: 1,289
Initial investment: $268,900 - $858,900
Franchise Fee: $15,000 - $30,000
Royalty Fees: 6%
Smoothie King is an American privately held smoothie company. Founded in 1973, the company was bought by a South Korean franchisee in 2012. Fruit, juice, yogurt, and dairy are all commodities that anyone can provide. Our smoothie franchise creates specialized Smoothies that are expertly blended for specific needs, goals, and ambitions. As a Smoothie King franchisee, you'll be part of this rapidly expanding food franchise industry and will contribute to something you believe in – helping people eat healthily and live happily. At Smoothie King, our mission is to inspire people to lead a healthy and active lifestyle.
---
Jersey Mike's Subs
Founded in: 1956
Franchising since: 1987
Franchise units: 1,942
Initial investment: $144,700 - $786,200
Franchise Fee: $18,500
Royalty Fees: 6,5%
Jersey Mike's Subs, is an American submarine sandwich chain headquartered in Manasquan, New Jersey. Whether you're a jazz musician or a businessman, it's said timing is everything. When it comes to food franchise opportunities, timing is equally important. You want an established brand with well-defined systems and a strong customer following. But you also want growth potential. The Jersey Mike's brand is uniquely poised for that growth opportunity. With over 50 years under our belt, our systems are time-tested and our customers are passionate about our product and the Jersey Mike's experience. Our growth, however, is just beginning. Territories throughout the country are now available for development. The time is now; the opportunity is right in front of you.
---
Popeyes Louisiana Kitchen
Founded in: 1972
Franchising since: 1976
Franchise units: 3,534
Initial investment: $383,500 - $3,545,800
Franchise Fee: $50,000
Royalty Fees: 5%
Founded in 1972, Popeyes® has more than 40 years of history and culinary tradition. The unique and flavorful food has allowed Popeyes to become one of the world's largest chicken quick-service restaurants, with over 3,500 restaurants in the U.S. and around the world. There has never been a more exciting time to join and grow with Popeyes, one of the most successful food franchises in the world. Popeyes culinary heritage is built upon the rich Cajun and Creole flavor profiles that are unmistakably Louisiana. We continuously draw upon and celebrate this heritage to inspire new, authentic menu creations the world craves. Popeyes distinguishes itself with a unique New Orleans style menu featuring spicy chicken, chicken tenders, fried shrimp and other regional items.
---
Dunkin' Donuts
Founded in: 1950
Franchising since: 1955
Franchise units: 12,800
Initial investment: $437,500 - $1,787,700
Franchise Fee: $40,000 - $90,000
Royalty Fees: 5,9%
Dunkin' Donuts, also known as Dunkin', is an American multinational coffee and doughnut company, as well as a quick-service restaurant. It was founded by William Rosenberg in Quincy, Massachusetts, in 1950. Dunkin' Donuts has innovative menu items and technology to accompany it. With the Dunkin' Mobile app, customers can send virtual gift cards, load and re-load their DD card, locate the closest stores and view menu items. Dunkin' Donuts offers the best franchisee support in the industry. Experts to help you with development, construction, training, marketing and operations will be accessible. If you're an experienced entrepreneur from the foodservice or retail industries and are looking for a multi-unit food franchise opportunity, Dunkin' Donuts wants to hear from you.
---
Baskin-Robbins
Founded in: 1945
Franchising since: 1948
Franchise units: 7,752
Initial investment: $90,985 - $625,185
Franchise Fee: $12,500 - $25,000
Royalty Fees: 5,9%
Baskin-Robbins is an American multinational chain of ice cream and cake specialty shop restaurants owned by Inspire Brands. It claims to be the world's largest chain of ice cream specialty stores, with more than eight thousand locations, including nearly 2,500 shops in the United States and over five thousand in other countries. The Baskin-Robbins franchise opportunity offers rewarding potential. Consider the pleasure of being in business for yourself but not by yourself: the security of joining an innovative network with more than 60 years of QSR and food franchising experience, and the power of one of the world's most admired and recognized organizations with over 99% public brand awareness. As a Baskin-Robbins franchisee, you'll receive support, guidance and comprehensive information from experts who stand ready to assist you.
---
Pizza Hut
Founded in: 1958
Franchising since: 1959
Franchise units: 16,588
Initial investment: $367,000 - $2,063,500
Franchise Fee: $25,000
Royalty Fees: 6%
Pizza Hut is an American multinational restaurant chain and international food franchise founded in 1958 in Wichita, Kansas by Dan and Frank Carney. It provides pizza and other Italian-American dishes, including pasta, side dishes and desserts. From a single 500-square-foot pizza place in Kansas to the Pizza Hut you know today, we've been serving up small-town passion, big-minded innovation, and lots of great pizza for over 60 years. Pizza Hut is always looking for new franchisees ready to embrace our winning culture and commitment to superior restaurant-quality food.
---
Denny's
Founded in: 1953
Franchising since: 1963
Franchise units: 1,580
Initial investment: $74,221 - $179,840
Franchise Fee: $59,900
Royalty Fees: 8 - 10%
Denny's (also known as Denny's Diner on some of the locations' signage) is an American table service diner-style restaurant chain. It operates over 1,700 restaurants in many countries. Since 1953, our industry has changed, but we've stuck to what we know - providing a great America's diner experience. We've cultivated Denny's into the established business model it is today, offering franchisee partners long-term stability and support. Our resiliency has established Denny's as a part of communities today, tomorrow, and far into the future. Today's business climate presents new challenges and unique food franchise opportunities. Denny's is ready to help hungry operators like you turn these into a winning combination.
---
Nekter Juice Bar
Founded in: 2010
Franchising since: 2012
Franchise units: 131
Initial investment: $214,000 - $620,100
Franchise Fee: $35,000
Royalty Fees: 6%
Nekter Juice Bar is leading the truly healthy juice and smoothie franchise industry, and is on pace for outstanding franchise growth. Unlike other franchise support teams you'll find, Nékter corporate support knows what our Franchise Owners need most because we're our own largest Franchise Owner! Over 30 Nékter locations are currently corporately-owned, meaning we have been in the trenches and know firsthand what it's like to own and operate a Nékter Juice Bar. This intimate understanding of the day-to-day aspects of running a Nékter franchise, along with our "Franchise First" mentality, gives us a unique perspective that has allowed us to perfect our model and provide quick, effective support for all our Franchise Owners.
---
Taco Bell
Founded in: 1962
Franchising since: 1964
Franchise units: 7,090
Initial investment: $575,600 - $3,370,100
Franchise Fee: $25,000 - $45,000
Royalty Fees: 5,5%
Taco Bell is an American-based chain of fast-food restaurants originating in Irvine, California in 1962, by founder Glen Bell. Taco Bell is a subsidiary of Yum! Brands, Inc. The restaurants serve a variety of Mexican-inspired foods, that include: tacos, burritos, quesadillas, nachos, novelty and specialty items, along with a variety of "value menu" items. As of 2021, Taco Bell serves over two billion customers each year, at 7,500 restaurants, more than 93 percent of which are owned and operated by independent franchisees and licensees. Training for opening a Taco Bell franchise occurs through a minimum seven-week course through Yum! University and its immersion course in Irvine, California, where franchisees get a crash course on managing a Taco Bell franchise.
---
Conclusion
To summarize, we can say any of the listed above food franchises is worth buying. But there is a lot to consider while choosing the best one for you. Pay attention to the reputation of the brand, what training and support are offered, check if the other franchisees are successful. But the main thing you need to do is to align your budget with the investment requirements of the brand. In order to ease the challenge, we have made the comparison flowchart of the best food franchises to own in the USA for you. It shows the minimum estimated initial investment and an initial franchise fee for each brand. By using it, you can figure out the difference in financial requirements for each franchise, and decide which one fits you the most.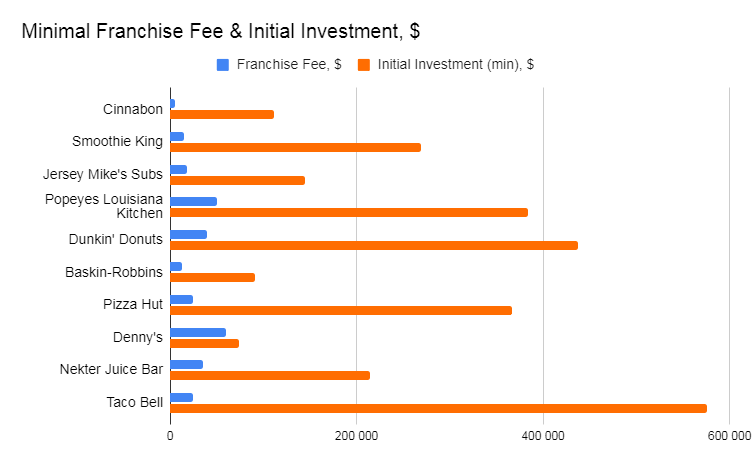 View all Food franchises
Want to advertise your franchise with us and successfully boost your business?
Please send us your request and we will get back to you shortly!
DIDN'T FIND WHAT YOU WANT?
ASK THE EXPERTS