Top 9 Children's Clothing Franchise Opportunities in USA in 2022
Update: 04.11.2021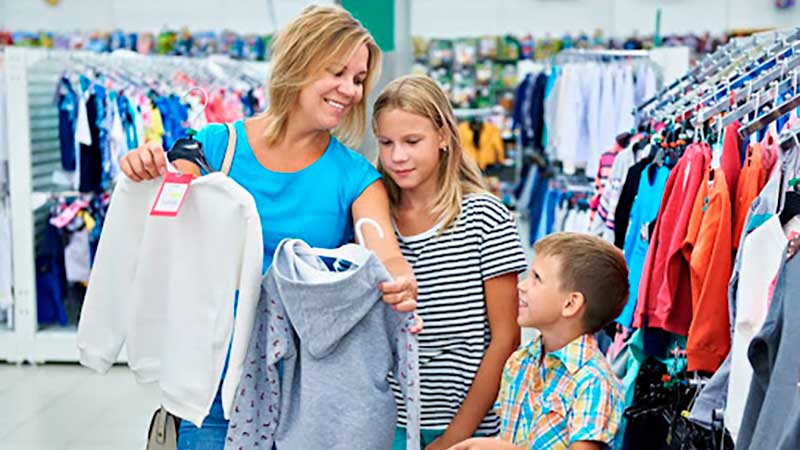 Children's clothing franchise business is always in demand as parents never save on kids and are ready to buy the best things for them. Moreover, selling products for kids is interesting and rewarding. There are a lot of concepts operating in the segment in the USA. They offer a lot of products and approaches. Some of the brands specialize in trendy kids apparel, the others sell used stuff, yet the others sell sports clothes. As for the business ideas, they also vary from traditional shops to shopping zones with entertainment for kids. If you are searching for a top children's clothing franchise for sale for you to buy, look no further. Here is a list of successful brands operating in the field. The companies are expanding by means of their franchisees. The franchisors offer the best children's clothing franchise opportunities to their partners as well as required training and assistance at grand opening and running the business.
Here is the best 9 Children's Clothing franchise businesses in USA
Uptown Cheapskate
Founded in: 2008
Franchising since: 2008
Franchise units: 91
Initial investment: $301,580 - $491,580
Franchise Fee: $25,000
Royalty Fees: 5%
Uptown Cheapskate is revolutionizing the $24 billion resale clothing industry. With more than 75 locations throughout the country, Uptown Cheapskate is the premier upscale resale clothing franchise in the nation. By focusing on providing a chic and trendy customer experience, a commitment to giving back and environmental sustainability, Uptown Cheapskate is poised to grow for years to come. We might be an upscale retail franchise, but that doesn't mean that the costs to own an Uptown Cheapskate franchise are high. On the contrary, Uptown Cheapskate is one of the most affordable franchise brands in the resale industry - and we offer financing to help make your journey to business ownership even easier. With a proven business model, world-class ongoing support and incredible brand recognition, Uptown Cheapskate is a best-bet.
---
Once Upon A Child
Founded in: 1984
Franchising since: 1992
Franchise units: 397
Initial investment: $259,700 - $401,600
Franchise Fee: $25,000
Royalty Fees: 5%
Once Upon A Child is the top-rated children's franchise in North America. We outpace our competition in both average sales and number of franchise locations by a wide margin. We buy and sell gently used kid's merchandise, serving kids and young families in hundreds of communities across the continent. This is your chance to change your life and make a difference in your community while also joining up with the leader in the resale industry. There is an amazing amount of nearly-new clothing, toys, baby gear, and more hidden in every family's home, which presents fantastic opportunities for both franchise owners and customers alike. Making the decision to be your own boss and be in control of your future is an exciting adventure, and we appreciate being considered in your business search.
---
Children's Orchard
Founded in: 1980
Franchising since: 1985
Franchise units: 23
Initial investment: $212,500 - $326,500
Franchise Fee: $25,000
Royalty Fees: 4%
Children's Orchard is not consignment and it's not thrift, it's an upscale resale store that offers a new and fun shopping experience for both parents and kids. To help make shopping a bit less stressful, each Children's Orchard has a fun and safe play area where kids can watch videos, use toys and just hangout while their parents shop. Dressing rooms are large so families are comfortable when trying on items to make sure they fit. The unique resale concept of Children's Orchard serves local communities by promoting the reuse of quality goods, which benefits the environment, and buying inventory directly from customers, which puts money back into the pockets of people within the communities. When you visit any Children's Orchard store, you'll always find superior merchandise and a friendly, professional staff that provides great customer service.
---
Kid to Kid
Founded in: 1992
Franchising since: 1994
Franchise units: 112
Initial investment: $300,825 - $498,825
Franchise Fee: $25,000
Royalty Fees: 5%
Parents spend a fortune outfitting their kids – but they don't have to. Kid to Kid, the iconic children's resale clothing franchise, helps families save big on fashionable, name brand clothing and other kids' products in a way that is both environmentally sustainable and personally empowering. Since our founding in 1992, Kid to Kid has grown to close to 100 locations in the US, Canada and Europe, and has helped dozens of entrepreneurs realize their dream of owning a business that truly makes a difference. Owning a Kid to Kid franchise is a great opportunity. Not only is the customer base constantly renewing itself, the business model is recession-resistant and minimizes the impact on the environment. This business is a win-win for franchisees and their customers alike.
---
Destination Athlete
Founded in: 2008
Franchising since: 2008
Franchise units: 173
Initial investment: $28,300 - $93,610
Franchise Fee: $20,000 - $50,000
Royalty Fees: 5 - 8%
Since our beginning in 2008, the purpose of Destination Athlete® has been Building Better Communities Through Athletes™. We exist to help athletes get to their personal destination by providing a one-stop resource with superior service for everything team: sports and field equipment, uniforms, spirit wear, varsity jackets, fundraising solutions and more. We have franchised our innovative business model so that other sports enthusiast like yourself can get involved on a local level and benefit for our success as a national brand. Begin a new and rewarding entrepreneurial career with an award-winning, home-based sports franchise!
---
Stork News of America Inc.
Founded in: 1983
Franchising since: 1984
Franchise units: 83
Initial investment: $11,530 - $75,700
Franchise Fee: $8,000 - $30,000
Royalty Fees: $800 - $1,200 per year
Stork News of America Inc. was founded in 1983 and began franchising in 1984. It has more than 135 locations in the United States and Canada. Stork News has an arrangement with Babies 'R' Us that places Stork News displays in all Babies 'R' Us units that are located in an area where a Stork News franchisee is present, thus offering franchisees automatic advertising. Stork News of America is based in Fayetteville, North Carolina. As the network grows state-by-state, so do the opportunities for individual franchise owners to tie in with national concerns who can use and promote Stork News. Your customer base is not only in your town but extends nationwide through the Wire-a-stork service that is advertised by each and every stork news owner and this media.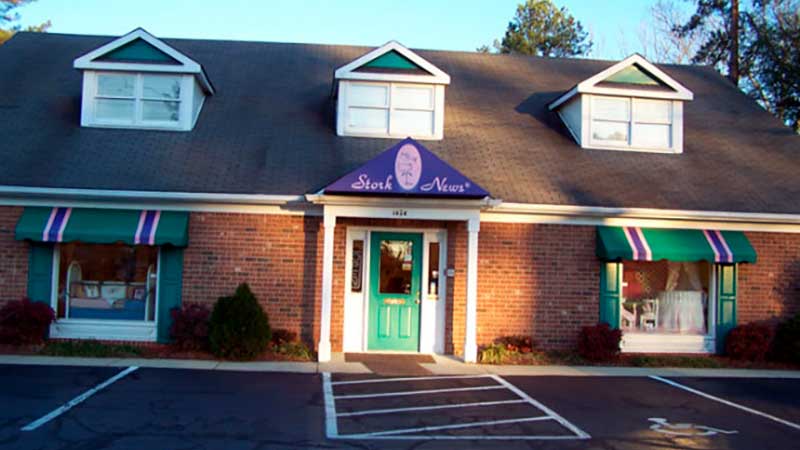 ---
Club Tabby Franchise LLC
Founded in: 2007
Franchising since: 2009
Franchise units: 6
Initial investment: $166,600 - $315,000
Franchise Fee: $36,000 - $63,000
Royalty Fees: 7,5%
Club Tabby is the place to go for retail boutique products, parties and makeovers that will have any girl feeling pampered and special. We at Club Tabby strive to deliver exceptional customer service, giving their customers the pampering that they deserve. Our product lines and services represent the highest quality and value, while representing the most current styles and fashions. We are committed to supporting you each step of the way. From our franchisee portal to ongoing operational support, we make it possible for you to take care of your business and focusing on what makes the Club Tabby brand special, world class customer service.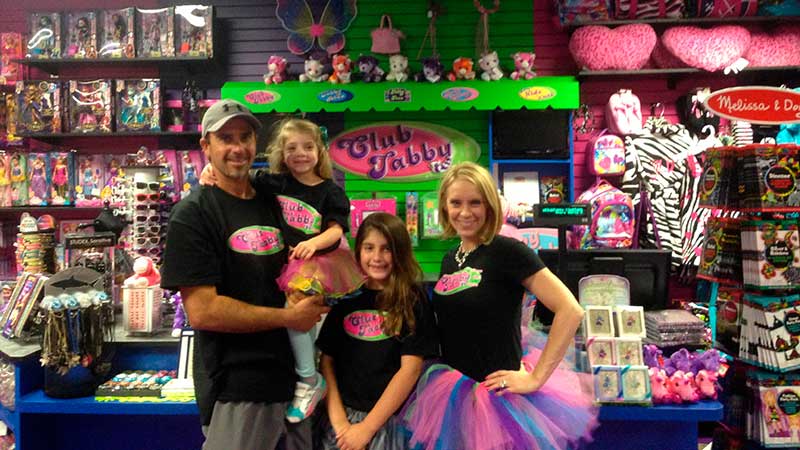 ---
Other Mothers
Founded in: 1979
Franchising since: 2007
Franchise units: 3
Initial investment: $140,180 - $202,180
Franchise Fee: $24,995
Royalty Fees: 2%
Other Mothers offers a clothing exchange to the public that specializes in quality used children's and women's clothing and children's furniture, toys and accessories. We know how to get and keep customers and we know how to train and support Other Mothers Franchisees. From the day you join our family, through site selection, leasing, training, store build-out, inventory selection and purchasing, merchandising, Grand Opening, and on-going training and support - we work with you and support you every step of the way.
---
JACADI
Founded in: 1976
Franchising since: 1991
Franchise units: 270
Initial investment: $190,000 – $313,000
Franchise Fee: $20,000
Royalty Fees: 4%
Jacadi is an international clothier for children and babies. Jacadi's authentic and timeless children's fashions are inspired by the French tradition, and the clothier maintains a strong commitment to quality, incomparable fabrics, exclusive patterns and attention to detail. Jacadi's products include clothing, footwear and nursery items for newborns, toddlers and boys and girls up to 12 years old. Shop at Jacadi to reflect elegance and refinement in children's wear. Jacadi franchisees become members of a global franchise association, and benefit from an experienced franchise team from which they learn numerous skills pertaining to the operation of a successful franchise. Franchisees receive assistance on site selection, lease negotiation and other aspects of opening a franchise.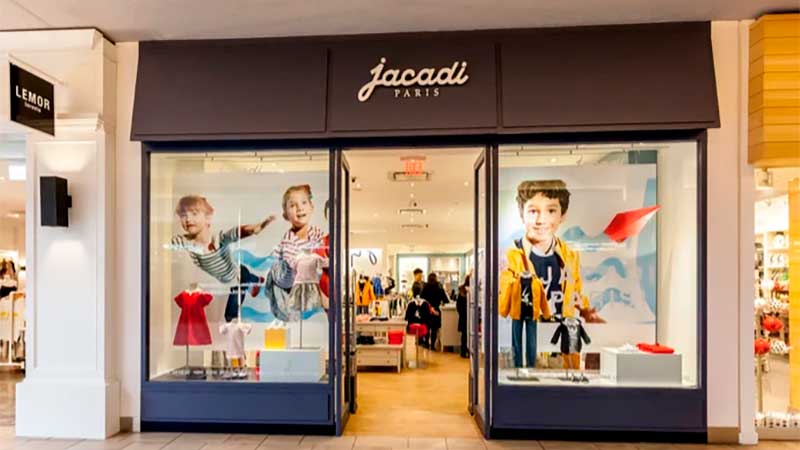 ---
Conclusion
To summarize, we can say any of the listed above children's clothing franchises is worth buying. But there is a lot to consider while choosing the best one for you. Pay attention to the reputation of the brand, what training and support are offered, check if the other franchisees are successful. But the main thing you need to do is to align your budget with investment requirements of the brand. In order to ease the challenge, we have made the comparison flowchart of the best children's clothing franchises in the USA for you. It shows the minimum estimated initial investment and initial franchise fee of each brand. By using it, you can figure out the difference in financial requirements for each franchise, and decide which one fits you the most.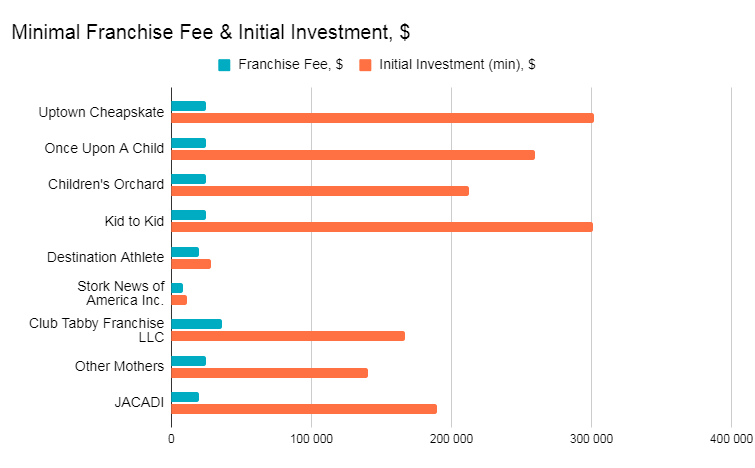 View all Children's Clothing franchises
DIDN'T FIND WHAT YOU WANT?
ASK THE EXPERTS