The Best 9 Show Franchise Opportunities in Canada in 2022
Update: 03.11.2021
Bringing people happiness and joy is inspiring. Running a show franchise business means to have a job which is creative, entertaining, engaging and profitable. Show franchises include a wide variety of activities for both adults and kids. They are child party venues, simulators, escape rooms, video games, entertainment and many others. 58% of Canadians acknowledge that they value experiences more than things. The number of people in the country who are ready to spend extra dollar for entertainment grew to 39% in 2020 vs 25% in 2019. If you are you ready to start a show franchise in Canada, look at the Best 9 opportunities of franchising below.
Here are the top 9 show franchises in Canada
Claustrophobia
Founded in: 2013
Franchise since: 2014
Franchise units: 38
Initial investment: from $35,700
Franchise Fees: $3,000
You will have at your disposal a catalog of top quest scripts, which have proved their popularity among the players, as well as an opportunity to create something new and original. After that, our professionals will take care of creating all necessary sets and visual effects. They will develop most efficient engineering solutions, assembly the escape room in full at the production facility, and then – at your location.
---
Funtopia
Founded in: 2014
Franchise since: 2015
Franchise units: 6
Initial investment: $825, 088 – $1,295,723
Franchise Fees: $60,000
Funtopia business philosophy capitalizes on a growing trend towards healthier, active lifestyles. More than just a place for kids to play, Funtopia is an adventure park where family and friends challenge themselves. Our mix of sports and fun, coupled with an amazing brand experience, has enabled our locations to enjoy the benefits customer loyalty.
---
Flip Out
Founded in: 2012
Franchise units: 2013
Franchise units: 70+
Initial investment: from $1,400,000
Franchise Fees: $50,000
Royalties: 4.5%
Flip Out parks are unlike your traditional backyard trampolines, as the structures are custom built and industrially made to withstand the normal wear and tear of commercial use. Manufactured from water resistant materials for indoor and outdoor use, these trampoline parks are a creative, multi-climate entertainment solution. Flip Out franchises are also highly community-focused, engaging schools, local businesses and sporting clubs in the area to hold their special events in an unconventional, yet extremely popular venue.
---
Ctrl V
Founded in: 2016
Franchise units: 2016
Franchise units: 18
Initial investment: $250,000 - $300,000
Franchise Fees: $30,000
Ctrl V is the world's fastest growing and largest virtual reality arcade. Visitors book their virtual reality session online, make their payment, and show up at their location of choice to start gaming. With a large and growing game selection, visitors can have full control over their experience and are assisted by professional and knowledgeable staff using top of the line hardware in a welcoming and entertaining atmosphere. Ctrl V brings a compelling technology to the masses.
---
Motorsport Simulator
Founded in: 2002
Franchise since: 2016
Franchise units: 200+
Initial investment: from $97,500
In recent years, racing simulators have become a part of an exciting racing world, which brings a good profit. Motorsport Simulator offers an attractive investment opportunity. In addition to simulator hardware, we provide complete software, our own website, advertising, promotional materials and staff training.
---
Gymalaya
Founded in: 2006
Franchise since: 2016
Franchise units: 2
Initial investment: from $250,000
Franchise Fees: from $30,000
Gymalaya is a recreational gymnastics business that offers children a non-competitive gymnastics experience in a colourful and fun environment. With two corporate locations and over 10 years in business this is your chance to own a piece of this Canadian success story.
---
Pinot's Palette
Founded in: 2009
Franchise since: 2010
Franchise units: 137
Initial investment: from $97,450
Initial Franchise Fee: $22,500 - $27,500
Ongoing Royalty Fee: 6%
Ad Royalty Fee: 2%
Pinot's Palette is an American national paint and sip franchise headquartered in Houston, Texas. Founded in: 2009, Pinot's Palette offers step-by-step group art lessons accompanied by wine or cocktails.
---
FreeFly
Founded in: 2017
Initial investment: on request
Average monthly turnover: from $59,000
Royalty: 7 % (no royalties for the first three months)
Wind Tunnel is Skydiving Simulator. It is a construction which moves air up with high power creating the same conditions you would find in freefall. Nowadays the demand for wind tunnel skydiving is growing all over the world. According to some surveys there are 155 wind tunnel locations, 50 more are going to be launched soon and 35 are being built.
---
Enchanted Castle
Founded in: 2009
Franchise since: 2012
Franchise units: 5
Initial investment: from $90,000
Franchise Fees: from $25,000
Enchanted Castle offers an exciting place for children and adults of all ages to enjoy fun educational games, toys and activities. Families can enjoy large climbing structure with slides, ball pits, sliding bar, suspension bridges, cannons, and much, much more!
---
Axe Monkeys
Founded in: 2016
Franchise since: 2018
Franchise units: 2
Initial investment: from $220,000
Franchise Fees: $35,000
Axe Monkeys is an entertainment franchise that specializes in axe throwing, spear throwing, and knife throwing experiences. We offer a large indoor axe-throwing arena, and a mobile unit that's perfect for birthday parties, weddings, and bachelor/bachelorette parties.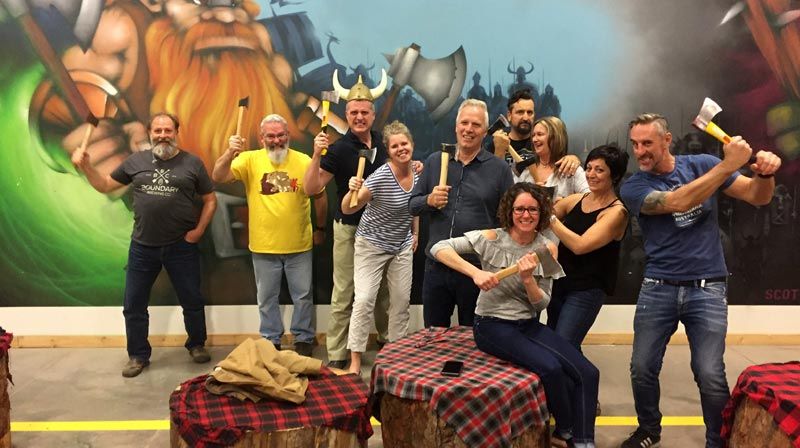 ---
View all entertainment franchises
Want to advertise your franchise with us and successfully boost your business?
Please send us your request and we will get back to you shortly!
DIDN'T FIND WHAT YOU WANT?
ASK THE EXPERTS